Last Updated on November 24, 2014 by hobbr.com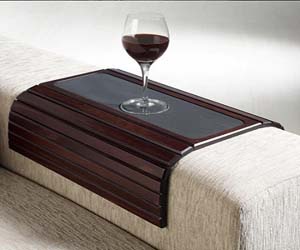 The Couchmaid allows you to keep your glass close while chilling on the couch.
After all, we all know those moments when you are just too tired (or lazy) to reach for it. This flexible tray can be placed on the sofa, its edge or arms or be used for breakfast in bed. It's valued for its practical use on an ottoman too.
The mid section is made out of moisture absorbing material so there's no need to dry the bottom of your beer bottle or fret about spilling a little. Another nice feature, it doubles as a laptop stand when flipped over.
Here's a similar couch arm tray by Embrace by Spell.