Last Updated on November 15, 2016 by hobbr.com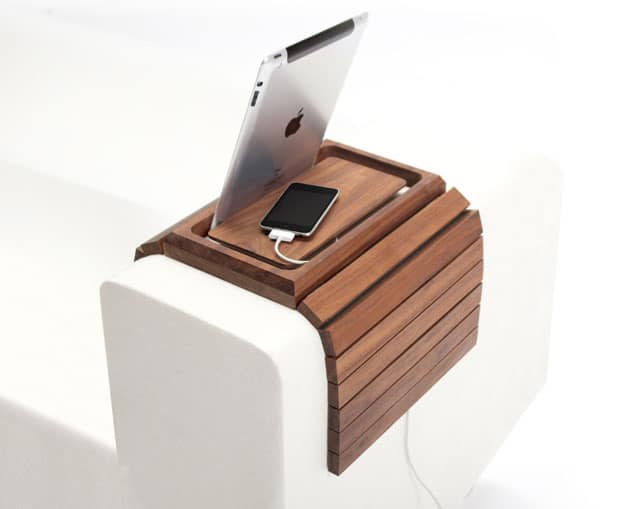 Let's be upfront about it, the iPhone or iPad charging cable is too short. As a result you'll find yourself reaching from the couch to your beloved electronic toys because it's hooked up in the power outlet.
The interaction platform offers a solution. Not only does it offer cable management to hide cables from sight but also allows you to conveniently charge your tablet, smartphone and other devices on your sofa.
Apart from plugging in your electronics Embrace makes the ideal place to rest your phone while on the couch, it has a groove that functions as a tablet stand and it's a space saving coffee table too. Thus ending the need to stick your tablet between the couch pillows or having to reach for it all the time. (sometimes you just want to enjoy being lazy.)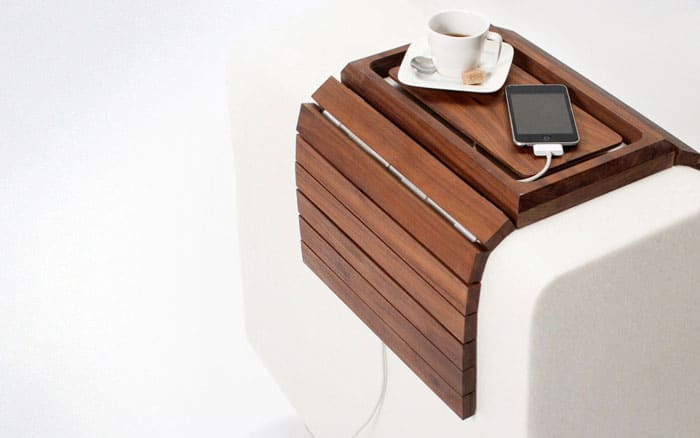 Embrace offers an elegant solution to the problem of our modern day, having too much at hands such as handhelds, coffee cups, remote controls, when chilling on the couch. Since holographic screens and voice or thought commands are still virtually non-existent such clever pieces of furniture can be highly convenient for many of us.
The Embrace device holder slash coffee table lets you browse the internet, twitter, update your Facebook status, or watch a movie while charging the battery in a more comfortable way. Not to forget it looks pretty neat too.
Made from solid American walnut with an oil finish, epoxy coated steel, and durable microsuede fabric by Dutch design company Spell. Get yours for € 333.
You may like