Last Updated on October 1, 2015 by hobbr.com
Cardboard furniture is the new craze. As are stand desks and active sitting chairs. Both trends encompass much more than just appearance. This cardboard standing desk is very strong, lightweight, inexpensive and fully recyclable. In this way it's good for you as well as for your environment.
Chairigami, the name says it already, you fold your furniture together. The benefits are abound. No nails, glue, or tools needed for assembly. Very easily disassembled, which makes transportation a breeze. The desk as well as other products in their line are manufactured with a focus on ergonomy for better posture.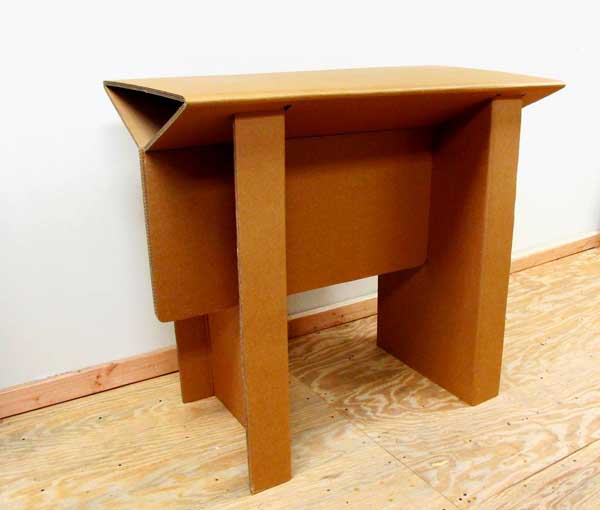 What's also cool, you can easily make your own alterations. Easily make slight adjustments in favor of ergonomy. Or what about creating your own extensions? Especially now that 3D printing is in everyone's reach the possibilities are virtually endless.
Obviously taste is subjective but if you'd ask me, the natural vibe the cardboard breathes is pretty appealing. Now that we are shifting towards living in spaces that are more in touch with nature, whether it is cleaner air or more natural resources in our surroundings, cardboard furniture is only a logical step in the right direction.
Many items are packed in cardboard, as you can see much more with the material. If you would like, you can furnish your entire living room with cardboard. Chairigami, the company that makes this standing desk also sells chairs, desks, cabinets, sofas and tables.
"With the cardboard standing desk, we hope to bring sustainability, creativity, and spontaneous collaboration to the workplace of the future."
The Chairigami standing desk is $95. Check the desk and their other furniture out at the Chairigami website.