When speaking of bike safety gear we think automatically of the iconic orange fluorescent flag and archaic safety lights. Recent technological innovations, however, have sparked a surge in smart gadgets that boost bicycle safety.
Products that are specifically designed to aid personal safety, to help you get noticed in traffic, and help avoid accidents in other ways, thus protect your vulnerable body from the devastating impact of cars and other traffic.
Here's an overview of the best bicycle safety accessories you can currently get in order to make your bike rides more safe. Essential gear for both the urban as well as the rural cyclist.
1. Revolights System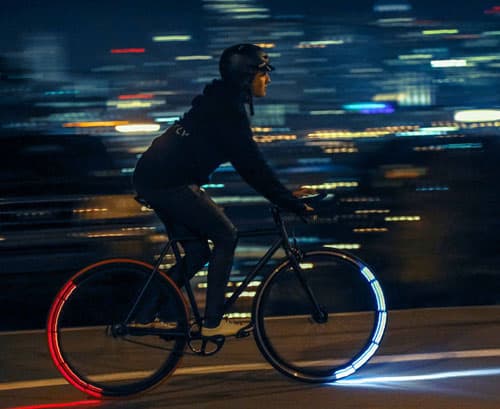 There's something about a peaceful night bike ride that calms the nerves and enlivens the spirit. However, the dangers faced by cyclists at night are many, so it's important to have proper safety equipment. The Revolights Skyline Bicycle Lighting System makes sure you stay safe while going on your favorite night ride.
The Revolights System includes a front shining light that projects on the road in front of you, lighting your path, and the smart brake light flickers when you hit the brakes to show traffic you are slowing down. The 360° view of the headlights means cars are sure to see you.
Find out more here.
2. Orp Bike Horn and Light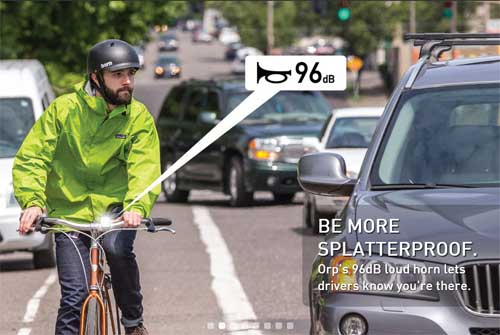 The two best safety devices for your bike have come together in the new Orp dual bike horn. The 96 decibel bike horn comes with a highly illuminating light attached, and the horn switch (cleverly called the Remorp) can be placed anywhere on your handlebars for maximum ease when honking.
For the "nice" honk, the noise level can be lowered to 76 decibels to give cars and fellow riders a polite reminder that you're in the vicinity. Several quirky color options are available, such as Wail Blue, Aorta Red, and Snot Green (yuck!) to help you personalize your Orp as you ride the roadways.
3. Brainy Bike Lights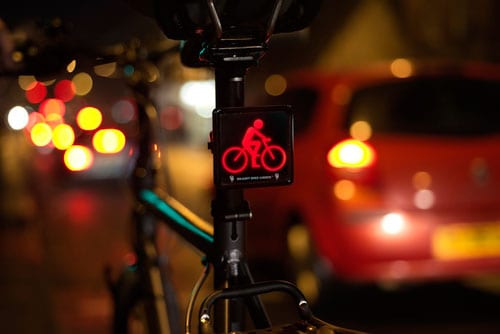 In the late evening and night hours, it can be hard to tell there's a cyclist on the road. Since bike's are much smaller than cars and are much harder to see, drivers need to be able to tell where you are to avoid hitting you. The Brainy Bike Light uses the universal symbol for a person on a bike on its light instead of a regular bike light.
Through studies, the developers of the Brainy Bike Light found out reaction times were quicker when people saw an easily identifiable symbol. Drivers instantly know you're a cyclist with this clever lighting system.
Order here.
4. Wireless Bicycle Turn Signal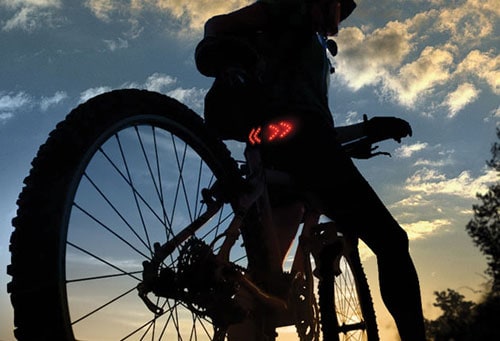 Have you ever wished you could have the convenience of a turn signal on your bike? Those bold red brake lights sure would come in handy. Luckily, Buztronics has developed the Wireless Bicycle Turn Signal. This easy-mounting light system lets you signal your turns without taking your hands off the handlebars, avoiding falls that result in the car behind you running you over.
You won't have to test your balancing skills with the Wireless Bicycle Turn Signal. Simply press the left or right turn signal buttons to let cars know which way you're going. The lighting system also includes a hazard light.
Grab yours here.
5. Helios Bars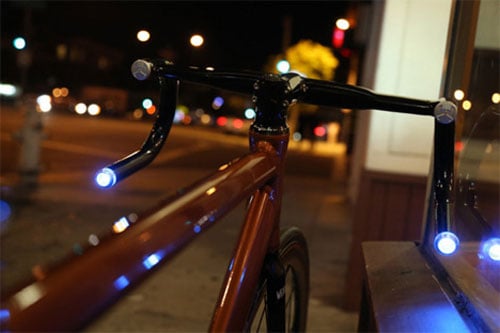 Lighting your way through the late night urban landscape is as simple as having a good set of handlebars. Helios' smart handlebars have everything a biker needs to stay safe on the roads. Bright LED lights are on both the front of the device and the two rear-facing handlebars.
By hooking up your phone using Helios' Bluetooth navigating system, you can use its GPS to guide you to your destination without having to look down at your phone. Handlebars blink in the direction you need to turn, making traveling easy and safe.
Hit up Ride Helios to learn more.
6. Cyclic Fly Camera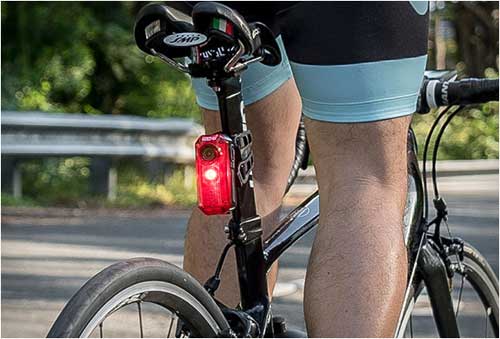 If the unthinkable should happen, and you have a cycling accident with an automobile, make sure you can let the authorities know you were in the right. The Cycliq Fly 6 Rear LED Light & HD Camera has got your back. Not only does it function as a taillight, but it also records what's going on behind you in case a not-so-friendly driver decides to get too close. The HD picture captured is more than clear enough to read license plates, and it sports a 100° rear-facing view.
Order here.
7. Torch Bicycle Helmet with light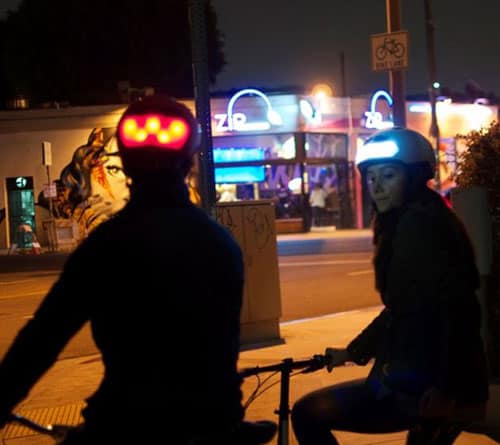 Light up the dark areas of your vision with the Torch Bicycle Helmet. The bright LED lights on this helmet have 360° visibility and can be seen over obstacles such as other cars. The Torch Helmet has a front-facing light that shines wherever you are looking, making it easy to see exactly where you are going. The back of the helmet has a red taillight so cars behind you can define you on the roads, ensuring a safe ride to your favorite night spots.
Hit up Torch Apparel to learn more.
8. Halo Belt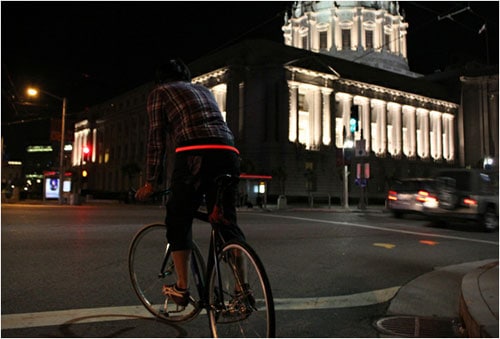 Whether you're jogging at night or cycling through the metro during the evening hours, you need something to make others aware you're on the roads. The Halo Belt is a clever, stylish solution that you can wear directly on your person to indicate your presence to drivers.
The Halo Belt uses fiber optics for lighting and comes in bright white or blazing red. Wearing this belt, you know drivers will see you wherever you are on the roads or sidewalks, making accidents easily avoidable and keeping you safe.
9. FireFly Bike Grips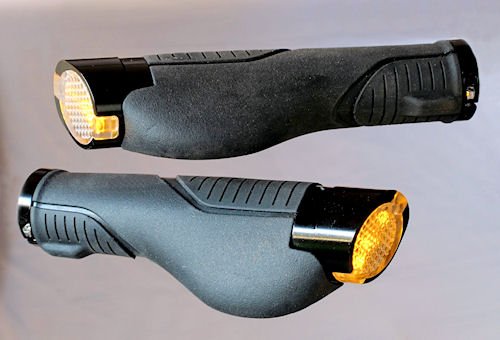 Say goodbye to slippery handles and avoidable spills! Cushion your hands while improving your grip with Firefly Bike Grips. Firefly's innovative technology has turn signals built into the grips. Installation is fast and easy, and the bright LED lights that flash when the handlebar's switch is flipped can be seen from over a block away.
Although these handlebar grips are so far only sold at MCU Sports in Boise, Idaho, RideOut Tech's website allows you to order them online for less than $40, making your cycling experience not only safer, but more economical as well. Furthermore, Firefly Bike Grips have been endorsed by police as effective safety tools for cyclists.
More info here.
10. Fibre Flare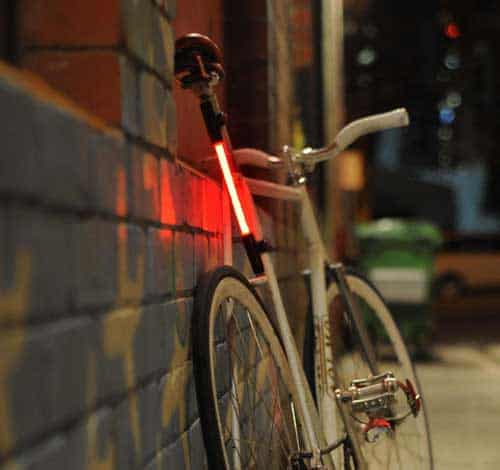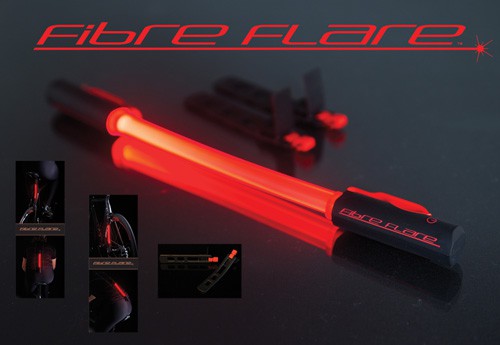 Take the universally powerful flare and turn it into a nighttime light set with the Fibre Flare! Unlike other bicycle attachments that use set lighting systems for the front and back of your bike, Fibre Flare can bend and attach to anywhere you choose. Attach it to your clothing for a late night or early morning jog when visibility is at its lowest.
When it's time for a bike ride, attach the Fibre Flare to your helmet or bike frame. Fibre Flares are up to 20 times more illuminated than regular bike lights, and the battery life of the light is an astonishing 75 hours. The Fibre Flare runs on two AAA batteries, so no recharging is necessary. Simply replace the batteries and get back on the roads!
Grab yours here.
11. Light spur heel clips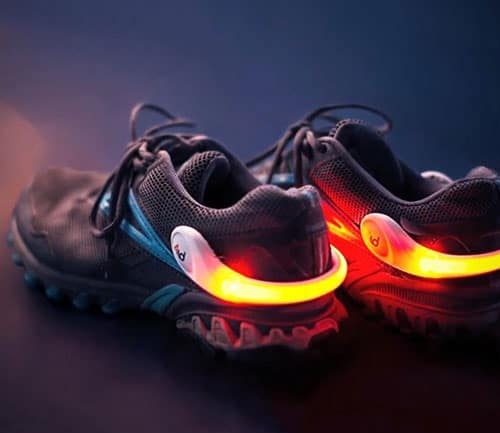 Do you want a bike light system that attaches even more easily and follows your motions to alert drivers to your presence? The Nathan Light Spur is a lightweight shoe attachment that has bright battery-operated lights built in to make other cyclists and drivers on the road aware of you.
Thanks to the Nathan Light Spur's multi-settings, you can adjust the brightness of the lights depending on visibility conditions. High visibility days mean you won't need the lights to be as bright, so you can save battery power by turning them down to a comfortable level. The Nathan Light Spur is waterproof, so you can go jogging or biking in any weather without worrying that you might ruin the equipment.
Find out more here.
12. Double O Light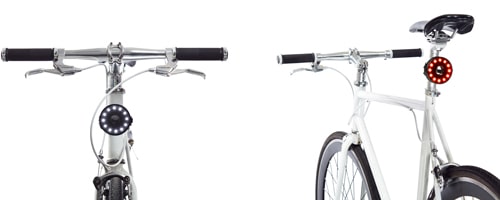 The Double O Light makes customizing and danger-proofing your urban cycling experience easy. The two lights, one for the front and one for the rear, easily attach via an elastic strap. This makes it easy to attach the lights exactly where you want them to be, whether that's on the handlebars or frame.
With the Double O bike light, you'll be able to see farther ahead with the spaced lighting on the front, and your brake light will let traffic see you from behind. Opposite traffic won't be blinded by your front light, despite it's brightness, keeping both you and other drivers safe.
Hit up Double-O-Light to learn more.
13. Brightest Bike Light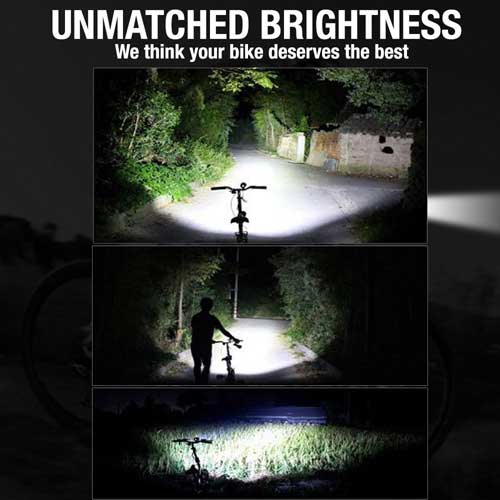 When it comes to quality, it's hard to surpass Divine LEDs' Brightest Bike Light. The amount of night accidents due to poor visibility has prompted Divine LEDs to develop a bike light that's sure to catch the attention of other drivers and improve the cyclist's line of sight.
Brightest Bike Light includes five different light modes, including Focused, Defocused, Dimmed, Spotlight and Strobelight. The bike light attaches quickly and easily to your bike handlebars and requires no tools for installation. Front and rear-facing lights let you illuminate the path ahead, as well as shine a light to let cars know you're there.
Check it out here.
14. Light Up Armband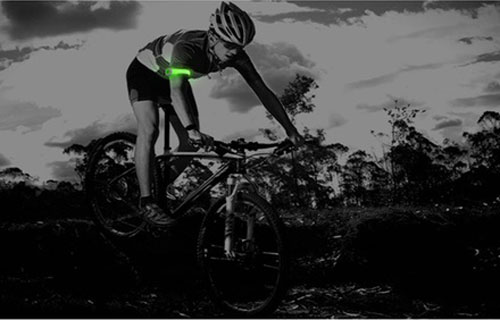 Keep your bike light where it will be the most secure with the 4id PowerArmz Light Up Armband. This armband has bright LED lights that shine clearly in the dark, and you won't have to worry about it falling off or detaching from your bike.
The comfortable band is adjustable to any size and comes in colors green and blue. Whether you're out for a simple stroll or biking through a metro area, this armband highlights you in a crowd to make you stand out and be noticed.
Order here.
15. Loud Bicycle Horn
Sometimes proper lighting on your bicycle just isn't enough. There are always drivers who either don't notice you or aren't keeping their eyes on the road. You need a way to make them notice you, and if you can't do it by sight, then you can certainly do it with sound.
The Loud Bicycle Horn has an incredible 112 decibels and can easily be heard through the thickest of car windows. Drivers tend to react to the sound of a car horn, and with the Loud Bicycle Horn, they're sure to pay attention to you. The horn also comes with anti-left locking devices to keep would-be thieves from snatching this little wonder.
Head to Loud Bicycle.
16. See Sense Bike light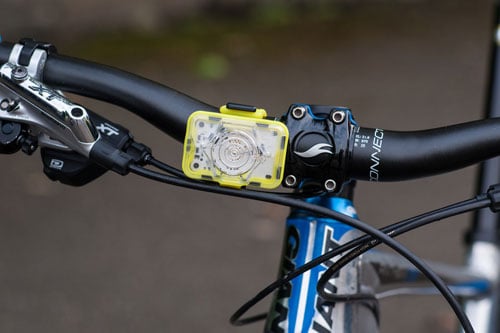 Adjustable settings for your bike light come in very handy, but what if you didn't have to worry about doing it manually? See.Sense is a smart bike light that gives you just the right amount of light in whatever environment you're in.
The intelligent design is able to sense the level of lighting needed at any given time and will adjust accordingly. For darker corners or roundabouts, the light's flashing will increase in brightness and frequency. A USB cord comes with See.Sense to charge the light.
More info here.
17. Lumigrids While Cycling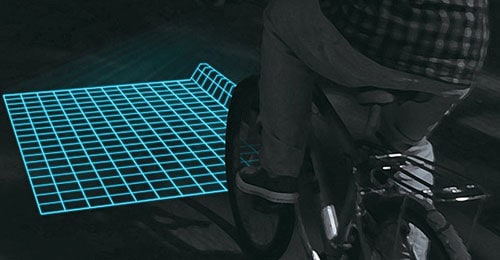 No, it's not the latest movie effect from Tron. Lumigrids is a state of the art ground mapping system that uses grid technology to guide cyclists safely along dark routes. The projection of the grid, which is blue and lit by LED lights, will show a deformity in the squares when the road is no longer flat or experiences changes in landforms.
The bulb can use either battery power or can be charged by the rotation of the bike tires, meaning you'll have a constant power source if your battery dies. Although the release date has yet to be announced for Lumigrids, cyclists and motorists alike eagerly await its arrival.
Order at GadgetFlow.
18. Turn Signal Cycling Gloves
Many cyclists use biking gloves to prevent wear and tear on their palms. Biking with blisters is no fun at all, but neither is having an accident on the roadways with cars or other cyclists. Zackees has come out with a pair of cycling gloves with turn signals built into the material.
These sleek, stylish gloves have large arrows that flash left or right when the thumb of the glove is pressed. This allows you to keep a firm grip on the handlebars while alerting others to your upcoming turn. The gloves are completely hand washable and have sensors built in to boost light levels during the day.
Grab yours here.
19. Hövding Airbag Helmet
When push comes to shove, the battle of car versus bike typically results in the cyclist being injured, while the driver's airbag keeps them safe and cushioned. Wouldn't it be great if cyclists could have this safety measure as well?
The Hovding Airbag for Cyclists makes this possible with its cushioned hood design, making sure that when accidents happen, your skull will be protected from impact. This airbag is three times better than regular bicycle helmets and can absorb a significant amount of impact. Hovding reacts just like a car's airbag does, inflating when an impact is felt.
Hit up Hövding to learn more.
20. Bicycle Mirror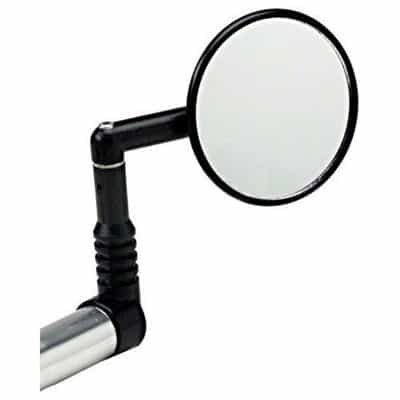 Sometimes a cyclist's best defense is simply being aware of their surroundings. Knowing who's within any given range of your bike can help you improve your reaction time and be conscious of any dangers around you. Mirrycle Bike Mirrors make it easy to see what's going on behind you with a wide-angled convex mirror. It attaches to the ends of your handlebars and can be adjusted just like a car mirror.
Find out more here.
21. Hammerhead bicycle navigation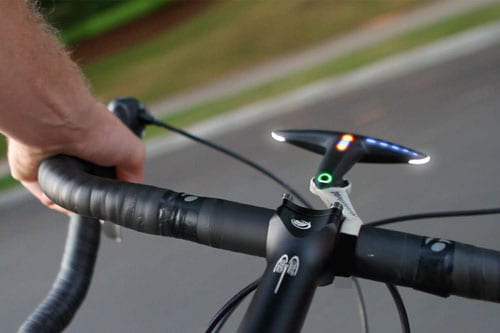 GPS navigation is given a futuristic makeover with the Hammerhead One. The Hammerhead is a t-shaped navigation system that uses a series of moving dots to direct you to your destination. This device sticks out far enough from the handlebars for you to see without having to take your eyes off the road, saving you from accidental collisions and distractions.
The Bluetooth energy-saving system Hammerhead uses gives you long-lasting battery life, up to ten hours of continuous use. The Hammerhead One's companion app, which shows you the best routes specifically for cycling, can be used in conjunction with the device.
Grab yours at Hammerhead.
22. HandleBand
It's difficult to use your phone when you're trying to concentrate on guiding your bike's handlebars through the crowded metro streets. You need GPS to navigate you, but holding your phone out in front of you is out of the question. What if you lose your balance and get in an accident?
With the Handleband, you can use your phone to guide you through the sprawl of city without having to sacrifice a steady hand. Handleband lets you attach your phone to your handlebars, effectively making it hands-free to operate it while you're biking. It's a safe and convenient solution that helps you avoid imminent disaster.
Order here.
23. Icedot Crask Sensor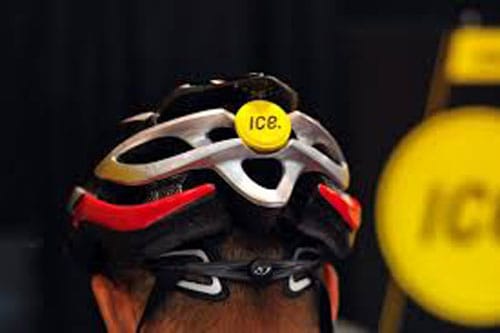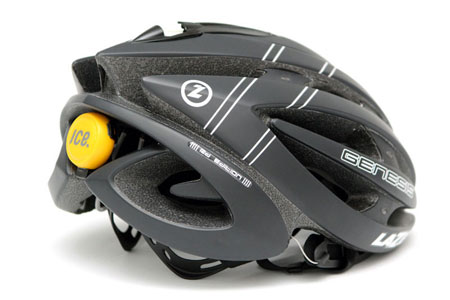 Specifically geared towards more fast-paced biking sports, the ICEdot Crash Sensor device can also be used for casual biking trips or city rides. Using sensors in conjunction with the ICEdot app, it keeps track of changes in velocity and monitors impacts.
When the impact is powerful enough, the device initiates a countdown that, unless turned off manually, will send out an alert to emergency services that there has been a crash. Should the unthinkable happen, you'll feel a little safer knowing that emergency services will be contacted if you are unable to do so, leaving you free to bike wherever you choose with that assurance.
Check it out here.
24. Monkey Light Bike Lights
If you want to make absolutely sure drivers see you, this is a fun way to do it. Monkey Lights are both ostentatious and a fabulously fun safety accessories for your bike. Your night ride has never been quite so spectacular; use your favorite symbols and graphics displayed with LED lights attached to your bicycle tires.
Choose from solid neon colors, emoticons and symbols, or full-fledged recognizable pictures that you can download using the Monkey Light Pro features. The images displayed are visible from both sides and shine at an astonishing 2500 lumens. There's not a single person that won't see you coming!
Find out more here.
25. Dual purpose bicycle brake light
This accelerometer activated brake light shines brighter when you slow down. When pedaling it illuminates on normal brightness but its speedometer registers when you slow down or hit the brakes. Then it immediately starts increasing brightness up to a maximum of 30 lumens.
The bundled mounting bracket allows for easy mounting the light on the rear section of the bike frame, the seat post, as well as the back of your helmet or bagpack.
You may be interested in…
Last Updated on July 18, 2022 by Tyler