Last Updated on September 6, 2019 by hobbr.com
Looking for a stylish, well-designed wine cabinet for your living room, rec room, or office? Need a bar cabinet to use as a mini bar for your man cave?
These 10 popular wine bar cabinets let you you store your vintages, liquor, and bar supplies in style.
This top ten includes various types of wine cabinets including; hide-a-bar cabinets, a cabinet with fridge space, consoles with locking doors to keep the unprivileged out, and more.
Top 10 Best Liquor & Wine Bar Cabinets
---
1. Half sideboard wine cabinet with cooler space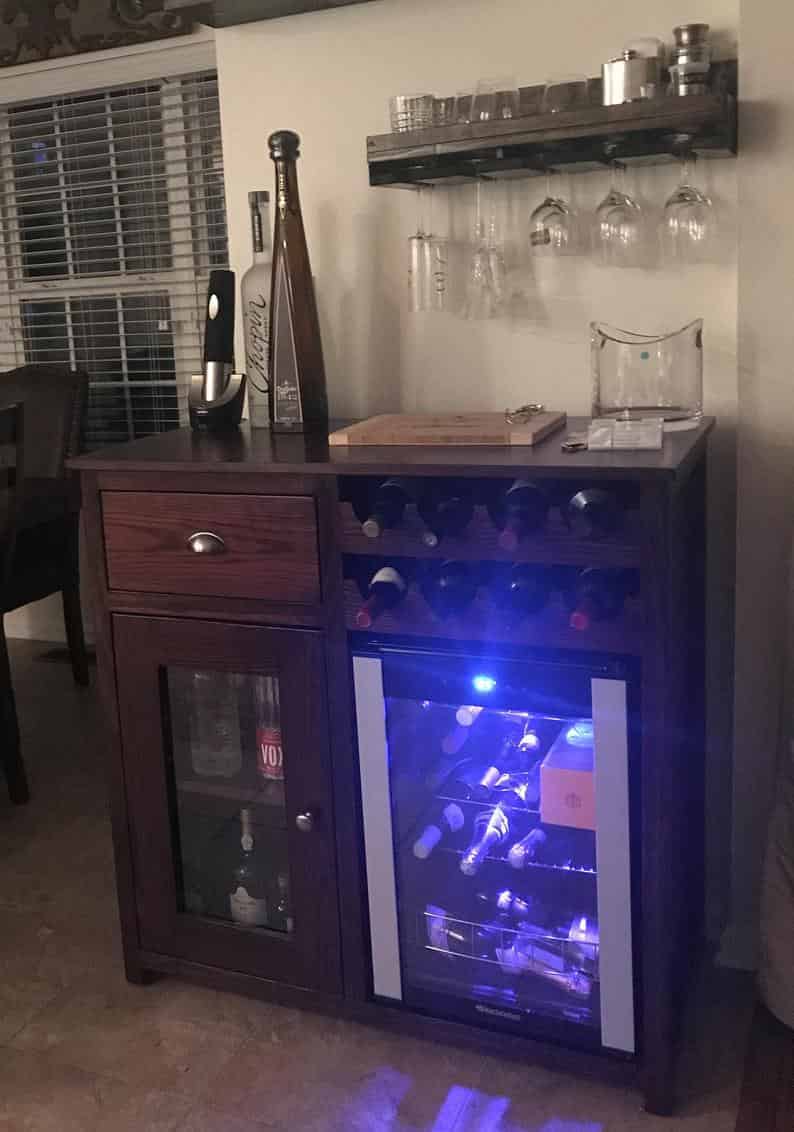 Wine connoisseurs sneer at storing wine bottles in non-refrigerated cupboards. Genuine snobs and true wine lovers store their wines in a wine fridge at the exact correct temperature.
Custom made wine cabinet with fridge space offers the aesthetics of a stylish cabinet with the functionality of cooled storage.
When ordering this half sideboard cabinet make sure to communicate the dimensions of your cooler to the seller. The standard cooler space dimensions are; 18(W) x 20(D) x 26(H).
Also keep in mind that by default the cooler opening is facing the sideboard which is on the left side (not on photo). You can even customize the type of wood stain on the sideboard.
2. Stylish, contemporary wine bar cabinet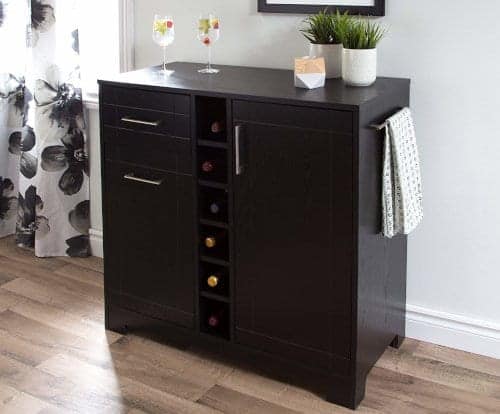 This contemporary design black oak bar cabinet stores 6 wine bottles and 8 glasses and will fit in modern and more classic interiors.
The wine slots offer sufficient space for larger wine bottles. On top of that it features a 12 bottle deep liquor drawer which you could alternatively use to store more of your favorite wines.
The handy top drawer to keep your bar tools and other accessories and the aforementioned spacious bottom slide out drawer for large bottles.
The fact that it allows little to no sun light to reach the bottles helps maintain the quality of your wines. Artificial light from bulbs is unlikely to damage your wine but sunlight does.
What makes this bar cabinet so versatile is that it allows you to store not just wine glasses but champagne glasses, tumbler glasses, snifter glasses, or your large Olivia Pope glasses.
It's not the most sturdy wine cabinet on the market as things like the rails of the slide out drawer being secured with only two screws or the flimsy back panel leave a bit to be desired in terms of robustness.
Putting the South Shore bar cabinet together can be a bit daunting and might take up to a few hours or more. However in it's price range it's relatively robust and quite stylish.
3. Modern, industrial wine cabinet
Based on the splendor of the roaring twenties, this retro, industrial wine cabinet brings along the fruitful atmosphere of the era.
Just like the prohibition of alcohol made it glamorous and romantic to drink alcohol, this elaborate cabinet makes it exciting to store your wines, corkscrews and aerating pourers.
Made out of raw steel, cast iron, and weathered wood, this ultra stylish buffet-style wine cabinet is the perfect piece to make a deep-rooted impression on you, your family and guests.
Hand-made with absolute craftsmanship this vintage-style credenza bar cabinet can be made custom size per request.
4. Modern, mid-century wine cabinet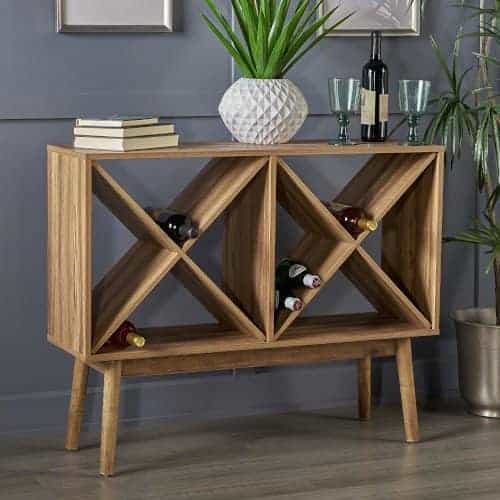 If a minimal, mid century style wine bar is what rocks your boat than the elegant Britney might be for you. Store up to 24 wine bottles on the two X-shaped shelves.
There's not much room to keep your accessories in the faux walnut wood cabinet, but sometimes less is more. This modest-sized bar could make the perfect addition to small spaces.
The Britney offers a simple yet sleek display of your favorite wines to anchor your dinner or wine tasting party. Don't be surprised if your guests will sing praises about your new piece of furniture.
5. High-end, hide-a-bar cabinet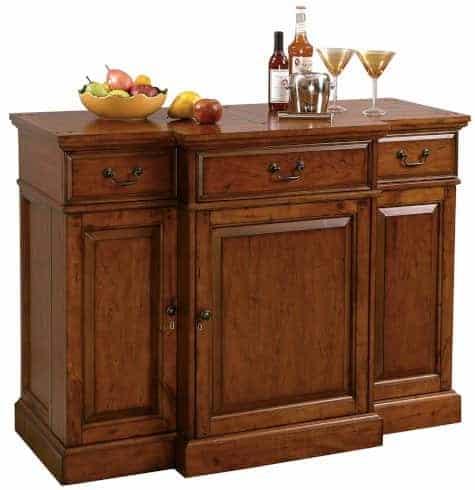 For those who don't want their collection to be out in the open, this hide-a-bar wine cabinet ensures your wine stash is stored discretely. What's more, its center pivoting door lock lets you lock up your wines and booze.
This high-end hidden wine cabinet, finished in Indian Summer on quality hardwoods and veneers features raised door panels, a hanging stemware rack, adjustable shelves in the sides, and storage on the inside of the doors. The center cabinet sports a revolving door with two fixed shelves.
Contrary to many cabinets on the list, the Howard Miller's Shiraz Wine & Bar Console comes assembled (except for two interior shelves) making it great for wine enthusiasts with two left hands.
When bought from WeatherBuffs (through Amazon) you'll get white glove delivery on top of that.
6. Small footprint wine cabinet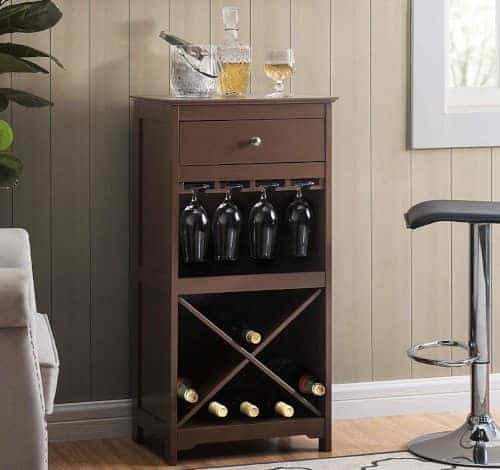 Looking for a modest sized wine cabinet to store your wines and glasses in a small space? The affordable, high quality Paxton wine cabinet makes optimal use of square footage while able to store up to 8-12 glasses and 6-20 bottles.
Its sleek appearance expressed by an espresso finish, X design bottle storage and nickle brushed knob fits various interior aesthetics.
Assembly is relatively easy, especially if you have some experience with assembling knock down furniture. Yes, it comes with a lot of pieces, they are, however, well organized. Which isn't always the case with similar products.
The functional, modern wine cabinet stores 6 bottles of wine, whereas the pull-out drawer stores your wine decanter, self aerating wine glasses, and other bar ware.
In a studio apartment or other small spaces, 2L Lifestyle's Paxton wine cabinet could be just the right size as it's tall, but slim having a modest footprint. Bonus, it's not too difficult to put together.
7. Small, black wood wine rack cabinet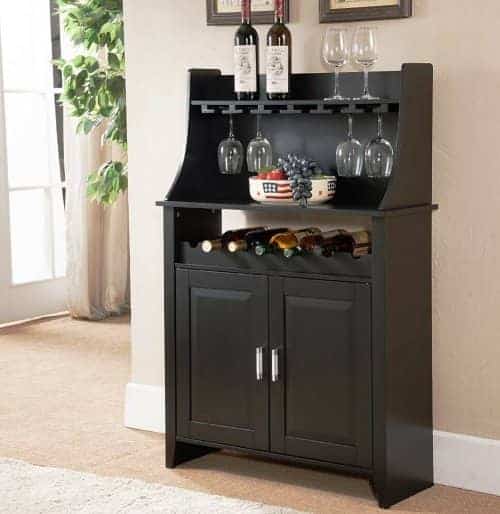 Another modest-sized wine cabinet for those with limited space, this two-door cabinet features an adjustable interior shelf, a seven bottle wine rack, and six glass slots that will hold stemware with wide bases too.
Keep in mind that the closed storage behind the two doors won't hold those extra large liquor bottles as it's simply not large enough (the cabinet is 48″ high in total).
This shorty (it's quite a bit shorter than many other cabinets), however, will easily keep about 18 standard size standard liquor bottles behind its doors.Can be used as a small buffet cabinet for cramped space too allowing you to eat, drink, and be merry.
So whether you'll have a short or stick with wine, Kings Brand's wine cabinet has got your back. Good quality for price and Ikea difficulty level assembly.
8. Glass door, espresso wood wine cabinet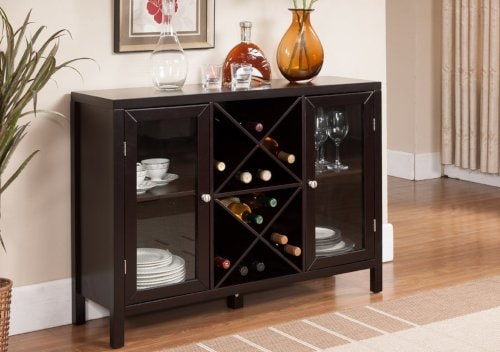 Looking for a wine cabinet that puts all your bottles, glasses and other necessities on display? This might be the one for you. With its open bottle compartment and glass doors it makes no secret of your taste in wines and stemware.
This wine sideboard is not too big, not too small. However, do note that, like the other Kings Brand wine racks listed here, this one too, is in reality a bit smaller than you might assume from the photos. Take this into account when purchasing and make sure to view the photos reviewers made after they had put theirs together.
Wine and dine in style with the Kings Brand sideboard that will match most decors, especially those with dark wood furniture. In direct sunlight the cabinet reveals a tint of cherry red.

It's interior shelf is adjustable so you can house larger (1.75 ltr) liquor bottles. Assembly shouldn't be too difficult nor time consuming if you follow the well-written instructions.
9. Multi tone bar cabinet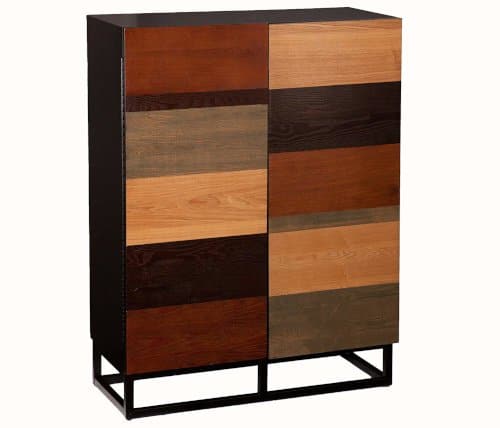 Good wine needs no bush just as this classy wine cabinet doesn't need much promotion. You fancy it or you don't. Both in terms of aesthetic as well as functionality.
But one thing is undisputed, with its multicolored grain look doors it really ties all the woods in your room together.
The eye-pleasing wood veneers aside, this retro-style bar cabinet features multiple (wine) compartments, shelves, and a drawer.
Its minimal design, with doors that hide everything in case you opt not to display your wine and glassware collection, is practical as glasses and bottles can be real dust collectors.
Whether you intend to house pop wine in your den, or store your collection of fine wines in your dining area, Southern Enterprises' Multi Tone bar cabinet does it in style.
10. Pulaski Walden wine cabinet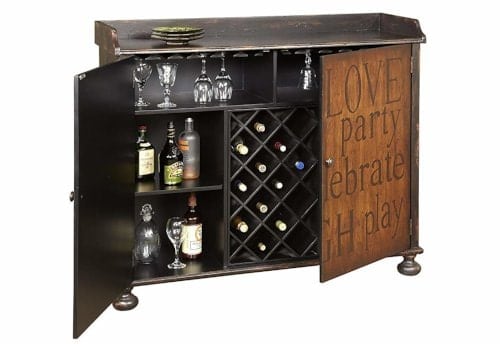 Weighing approximately 100 lbs, made out of solid wood this is quite a robust wine cabinet that lets you house your everyday bottles and fine wines for special occasions. Its hand-painted design makes it unique.
Its stained brown front and rough aged black painted body make it stand out in many interior. It has adjustable shelves allowing you to store large 1.75 liter bottles.
Also nice, no need to put the Pulaski Walden bar cabinet together as it arrives practically assembled. You only need to screw in its five feet.
What's your favorite wine bar cabinet?