Last Updated on May 24, 2019 by hobbr.com
Considered having your desk on a piece of fitness equipment before, but never acted upon it? Perhaps now is the time.
Just think about it.
At least a few days a week you head to the gym after office hours to negate the detrimental effects of sitting all day long.
Or so you should.
Because sedentary sitting really hurts your wellbeing as studies show.
Now picture this.
It's almost 5 p.m. You're tired from work, fed up with your coworker, or frustrated about that looming deadline, but you go to the gym anyway. Because your health is important to you. And also because your workout makes you feel good.
(Of course it does, we're meant to move, not slouch, sit sedentary behind a screen for the large part of the day.)
So you spend a large chunk of your scarce free time in the gym.
Let's say your post-office work out lasts 90 minutes and you go three times a week. That's 4,5 hours. Then you also run twice a week because you're health-conscious and you know that you have to exercise this many hours to negate the sitting. A decent run costs you about an hour and then there's the changing of clothes, the showering and so on. So let's say that's 2,5 hours Total time spent weekly to combat sitting sickness: 7 hours.
That's almost a whole freakin' work day!
Now imagine you could keep that time for yourself. Spend it like you want to. Go pick up your son from pre-school for instance. Work in your heirloom vegetable yard. Or just be lazy and lie in your hammock while enjoying the chirping of birds.
Just by skipping your post-work exercising and getting your crucial exercise while you are working.
It's like your weekend just got one day longer.
That's essentially the key benefit of an exercise bicycle desk.
But there's more..
Another major advantage of a desk exercise bike: increased productivity.
Simply put, because your body is active your mind is too. It's our evolutionary inheritance, when we were hunting and gathering we were focused, concentrating on dangers such as poisonous snakes and catching the prey itself. Back at the camp fire we sat down and our minds could rest too.
Wait what? there's even more benefits..?!
Gamers and full-time, writers and bloggers can take advantage of these devices too. Basically anyone who spends hours daily behind a screen.
Relatively affordable compared to approximately $1,000 costing treadmill desks, these gadgets keep even the most budget-strapped nerds and geeks fit.
Also, treadmill desks make you bounce which does not help with typing and other desk work.
Whether you're a Netflix binge watcher, a World of Warcraft addict (that's a pleonasm), a writer with agoraphobia, or a lazy blogger, now you can pedal away from obesity and atrophy.
The top 6 best productivity-boosting, health-improving, time-saving exercise bike desks
---
1. Exerpeutic Workfit 1000:  foldaway semi-recumbent bike desk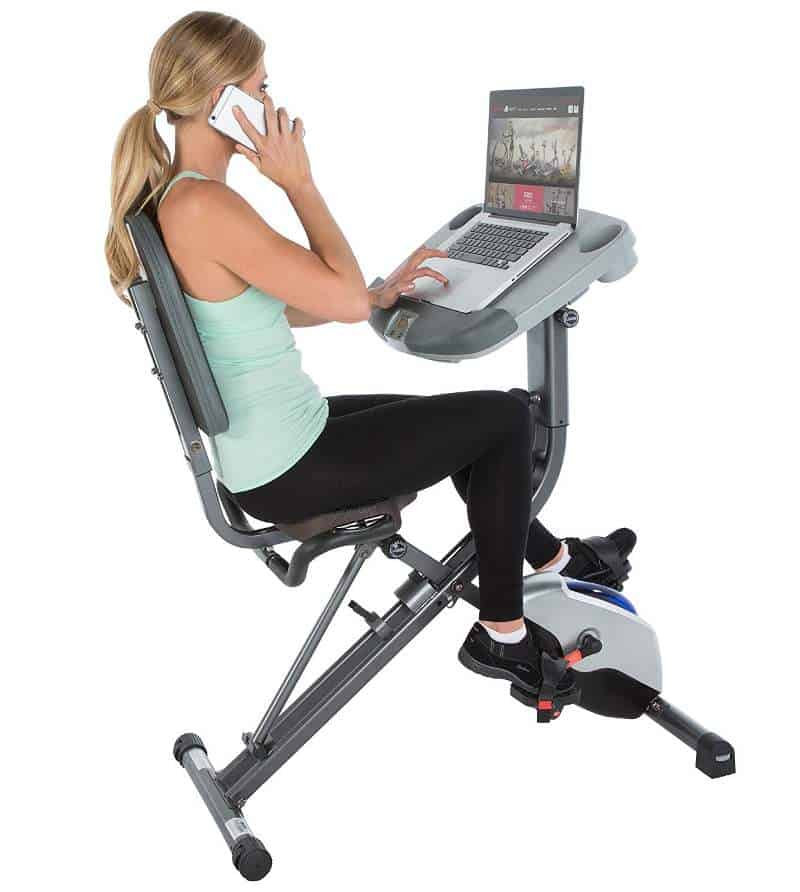 Do silent operation and compact storage top your list? This exercise bike desk station might be your best bet as it folds up for storage while its reclining ability lets you sit, stand, and lean back.
How about that while doing your web surfing, office chores, or Youtube watching? Like the others on this list, the Exerpeutic Workfit has an LCD display and a modest swiveling desk.
Work and workout or exercise and entertain yourself simultaneously while you stretch your back. So lean back, throw ya hands in da air, increase your mental alertness and work your body while getting shit done.
2. DeskCycle (floor model)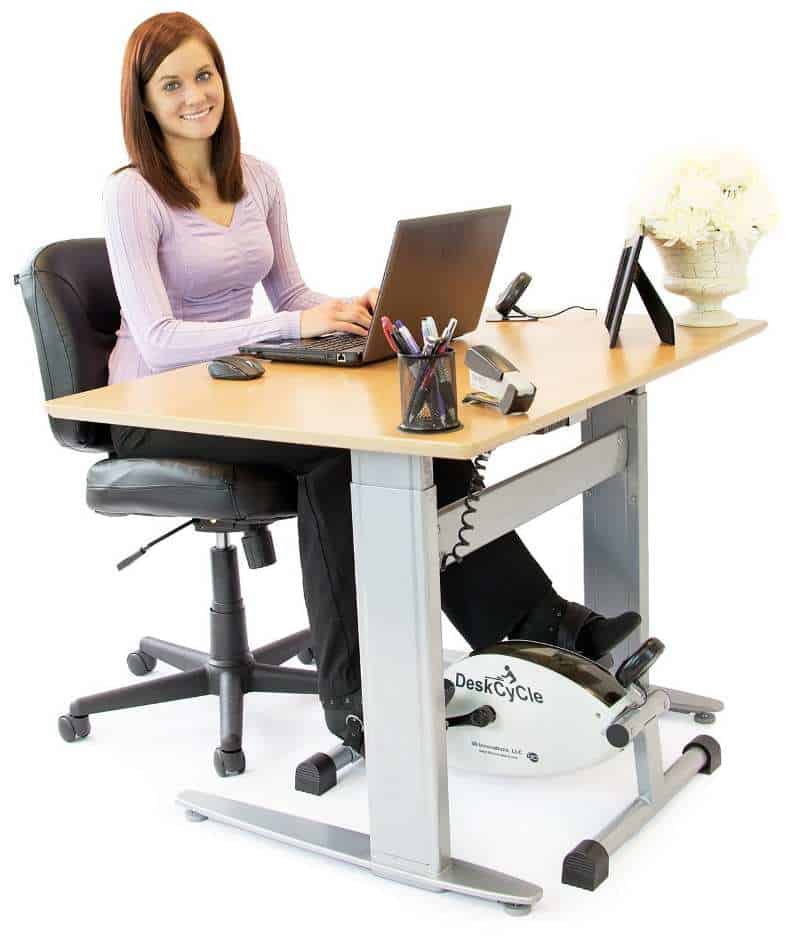 Portability makes this magnetic-based desk bike exerciser stand out. You can easily take it with you to the office, the home office, kitchen table or yard. Besides versatility the DeskCycle also has a really wide resistance range and, like the FitDesk, comes with a display to keep track of the time spent, mileage, and calories you've burned.
It lets you choose from 8 pedal settings that range from super light to ultra heavy. Its lowest setting lets you pedal at one rotation per second at which you're already using more energy compared to when standing behind a desk.
3. FitDesk 3.0 (with massage bar)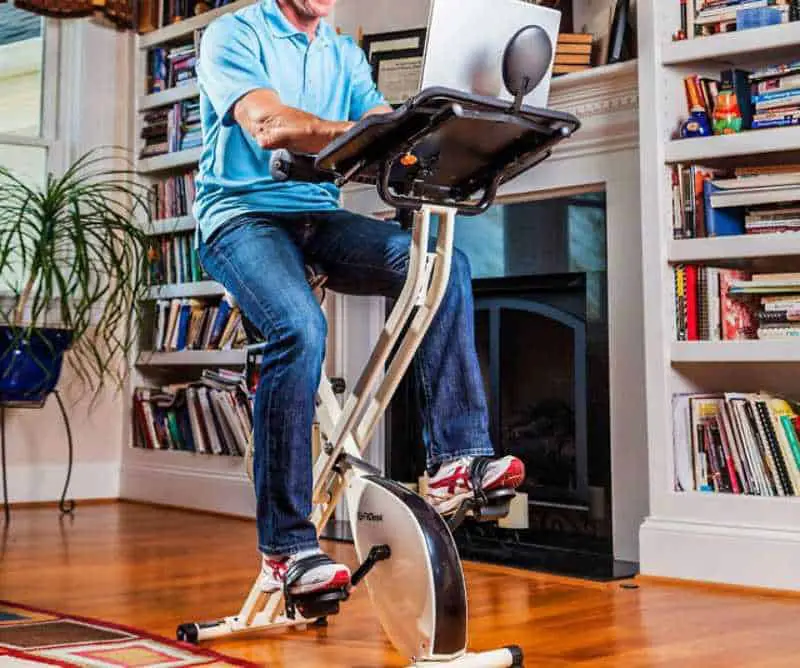 The FitDesk 2.0 folding exercise bike * features a non-slip surface sliding desk platform so you can use your tablet, laptop, or pen and paper while you're indulging in a stimulating cardio session.  This desk utilizes a magnetic flywheel to create silent resistance so you can work undisturbed. Or watch TV in peace and quiet.
* The Fitdesk FDX 3.0 is the newest model currently available.
Its forearm massage rollers offer support during typing and can thus help prevent RSI or carpal tunnel syndrome. Or just making typing when bicycling actually doable. The drawer allows for easy storage of pen and paper or the TV remote while cycling. Note: there's currently a FitDesk 3.0 too.
4.  Wirk Ride Bike: exercise workstation & standing desk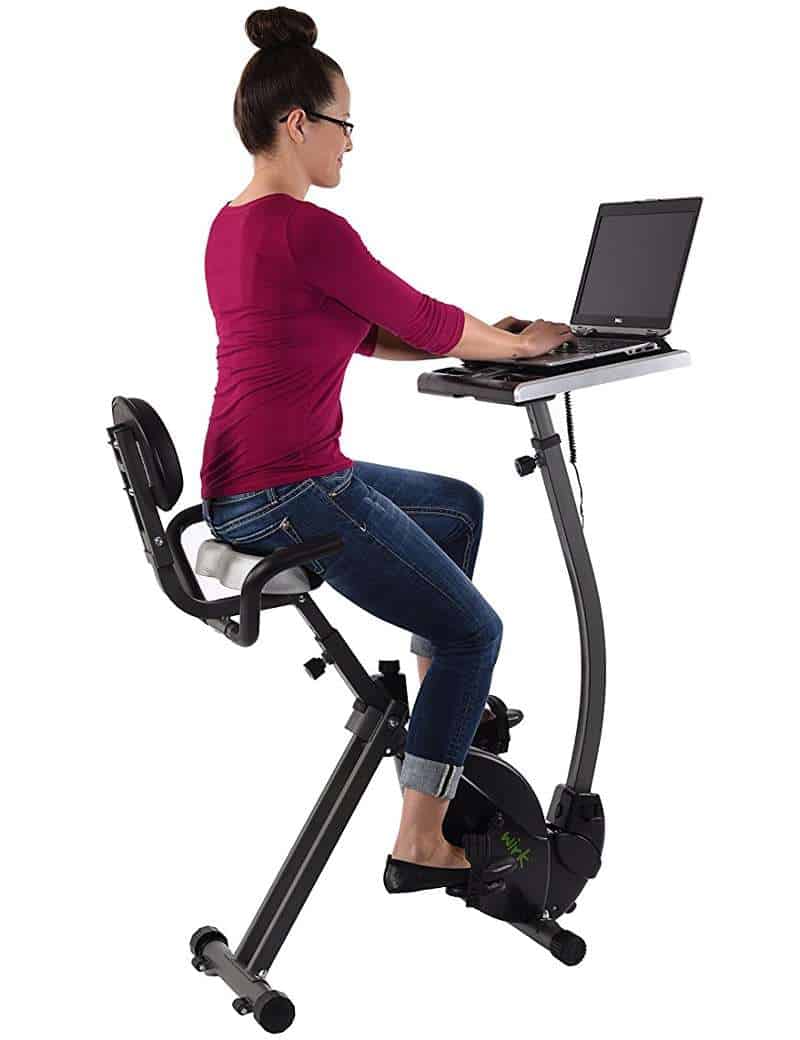 Another compact and robust bike desk that doubles as a standing desk. Its approximately 50 resistance settings let you choose virtually any pedaling tension. The desktop fits a 17 inch laptop easily. Some users noticed a sound during pedaling, otherwise it's completely silent.
Wirk Ride lets you feel more alert, be more creative, fight depression, burn fat, tone muscles and feel better by staying active while watching a screen.
5. Flexispot DeskCise Pro bike desk & stand desk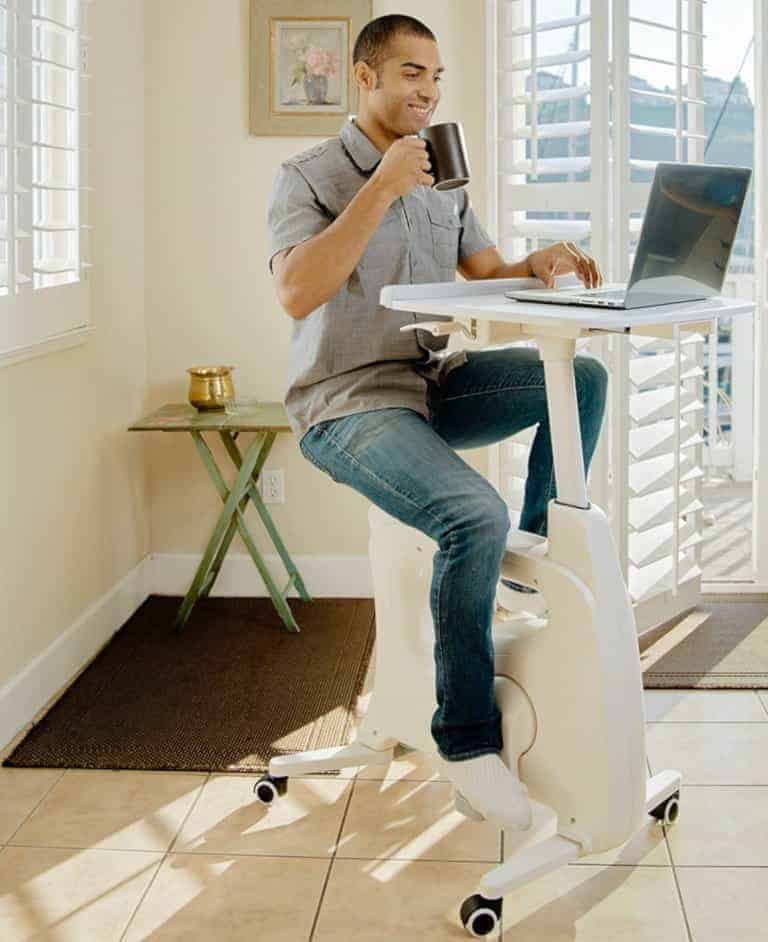 Exercising at your desk, aptly named 'deskcising' at the (home) office is the latest craze. Flexispot's DeskCise Pro not only allows you to do cardio while doing your office chores but it's a standing desk too. So once you're fed up with biking you can either stand up or stay seated while working along.
It's a quite heavy, stable, portable, compactly stored, sleek bike desk that operates quietly. The desk surface is relatively large yet still modest fitting a 15.6 inch laptop and mouse. What's more, it has an ergonomic wrist rest and a bottle holder.
The latter could have been located more optimally. Both desk and chair can be height adjusted while the desk can be positioned closer to you or away from you. The seat, however, can not be adjusted to the front and back. Which may cause problems when trying to accomplish the ideal pedaling position (i.e. knees straight above the center of the pedal).
Other cons include: the desk nor the seat have a tilt feature so no tipping it forward or backward say 10 degrees. Barefoot runners might find the pedal covers too rough for their foot soles. No universal seat post so it's not possible to change the seat.
According to some users the seat is not very comfortable if you have a wide pelvis whereas others complain the seat is too wide whereas most reviewers mention they find the high-density gel foam seat comfortable and are able to sit and bicycle comfortably for hours on end.
Keep your legs moving, your blood flowing, circulation, mood and productivity optimal with this CES 2018 Innovation Awards honoree. You might start with a mile a day but soon you could be doing marathons per day.
6. Sunny Health & Fitness desk bike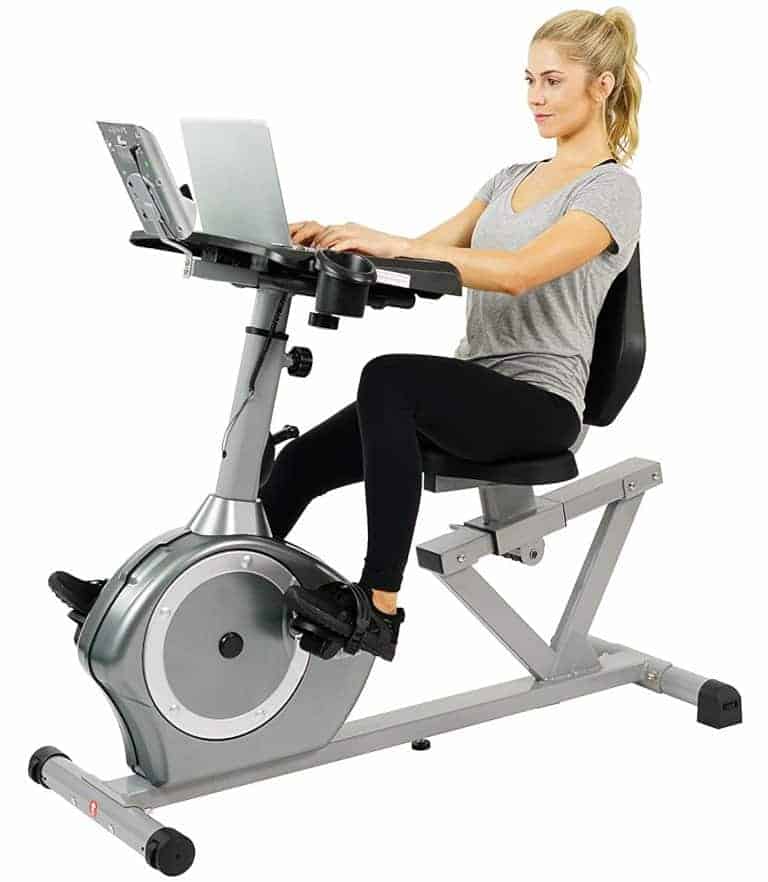 The only fully recumbent bike desk on this list sports a simple LCD display to monitor your time, speed, distance, calories burned and more. The display is small so you may find it hard to read while biking.
It's the most robust bike desk with a weight limit of up to 350 lb. The whisper silent bike desk features a rather large height adjustable tray (fits big laptops) and lets you adjust the well-padded seat while seated.
The Sunny Health & Fitness SF-RBD4703 has a full back for optimal support and offers ample adjustment for body size. The desk surface can be taken off.
Downsides include; the seat does not recline, it doesn't have arm support bars. Smaller users find that the gap between the seat and the backrest is too large for them, making the seat uncomfortable. They need an additional cushion (i.e. memory foam) to fill up this gap. Yes, it's got wheels but as it's a rather bulky and heavy machine it's not easily stored.
Treadmill desks are expensive and make you bounce while typing or watching your screen

 
What to consider when buying a exercise bike desk?
Keep in mind that these are not intended for heavy workouts or strength training. Even when peddling on the highest setting you might break a sweat, it's still a cardio workout.
See if the specs match your body weight and height. If you're 5'3″ the machine might be too high for you. You could feel uneasy as the seat can't be lowered to match your height. These specs are often displayed like this: For riders 4'10" to 6′, up to 250 lbs.
Consider if storage is important to you. You might want to go for a foldaway exercise bicycle desk.
Size. Also find out what it's exact footprint is so you know whether you will be able to put it in, for instance, the living room without having to rearrange furniture each time you'll use it.
Noise. Pay extra attention to reviews if absolute silence is a must, for instance during conference calls or just because you need it to concentrate.
Make sure that your machine allows you to peddle with your knees in a proper angle. Also ensure that your bike desk does not tighten up your core or put pressure on your back.
Wrapping it up
Overall, desktop space is limited on these machines. A laptop and a mouse are often easily fitted but mouse movement is restricted.
If this is essential to you make sure to consider a device that offers an additional mouse tray. The same goes for drinks and magazines/paperwork. As these may not be available, customers have hacked their machine by simply attaching a larger surface on top of the existing desktop.
What do you think? These make for some pretty great treadmill desk alternatives huh?
This post has been updated for 2019