When you're looking for a standing desk for the home office or student room you will have other requirements then for a dedicated office desk. These 10 desks combine the best of both worlds. The versatility and health benefits as well as modest-sized and able to fit in home interiors.
1.Vari Desk Pro 36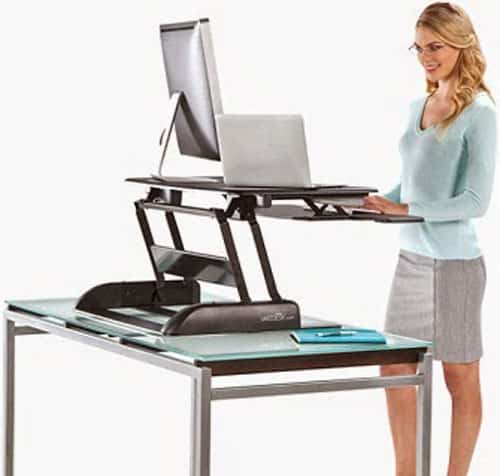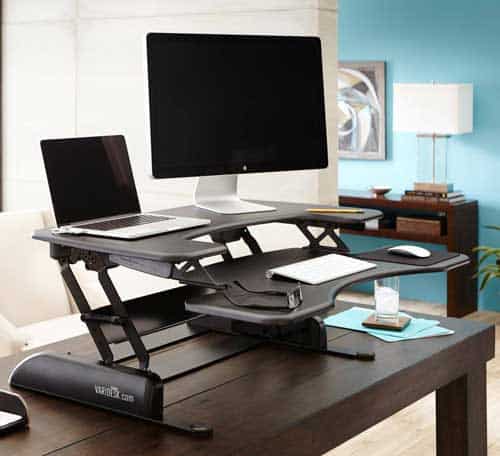 Graphic designers will be pleased with the Varidesk Pro's spacious work area and sit/stand capabilities. This desk can hold up to 35 lbs and has enough space for dual monitors, and it can be placed on any work surface. Its adjustable height makes it convenient for most, and the spring-assisted lift helps prevent straining while raising or lowering.
Installation is quick and easy. Though sturdy, the desk does tend to get heavy and is large enough that it isn't ideal for smaller work spaces, but users will appreciate its durability. However, it's recommended that this desk is used only with a wireless keyboard and mouse, as it is difficult to arrange cords when raising or lowering the desk. More info here.
2.Uplift Sit 900 Ergonomic Sit-Stand desk
The Uplift Height Adjustable Sit/Stand Desk allows you to customize your work area with convenient online ordering, allowing you to choose color, width, frame style (T-shape or C-shape) and more. The motorized lift is especially good for those who have a bad back or other spinal issues.
Electronic controls mean you don't have to lift the desk yourself to adjust the height, and the quiet motor used to lift or extend means you won't disturb coworkers or sleeping cohabitants.
You can even fit a treadmill underneath the desk for an extra workout while standing. Electronic controls mean you don't have to lift the desk yourself to adjust the height, and the quiet motor used to lift or extend means you won't disturb coworkers.
Although adding all the accessories you want can get a bit spendy, there's a myriad of options, anything from casters and a CPU holder to an adjustable monitor arm. You get to build the desk that's just right for you, increasing your productivity and preserving your spine's health.
3.UpWrite Desk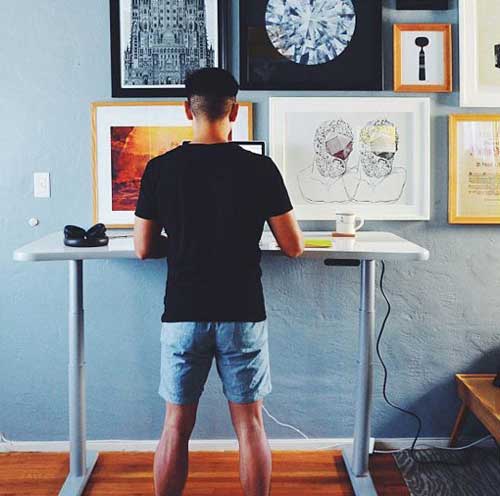 The robust yet heavy UpDesk UpWrite is an artist's dream; complete with a laminate surface you can write on, designers and writers who often engage in note-taking or doodling will love this sit/stand desk (its writable surface is the everlasting equivalent of the proverbial napkin.
Aside from saving you money normally spent on paper, or time and frustration on losing your business idea containing napkin, the UpWrite allows the user to program heights with a simple touch of a button.
The electronic lift is quiet and uses minimal electricity which will appeal to the frugal and eco-conscious. The UpWrite desk
 keeps wires and cables out of your way when working, and steel footings keep it firmly in its place with absolutely no wobbling, keeping your hand steady and your mind at ease. Compatible accessories, specifically designed for this desk, such as a mountable surge protector, cable, net, standing mat and more, are available at UpDesk.
4.Stand Steady Standing desk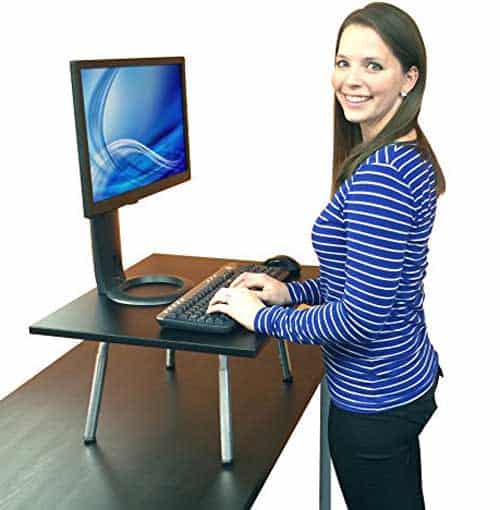 The Stand Steady Desk makes it easy to turn any flat surface in your home into a standing desk. Perfect for college dorm rooms, the desk is large enough to hold all the essentials while being compact enough for tiny spaces. The space underneath the desk allows you to store other items, saving you precious room.
With this desk, you won't have to worry about pesky cables getting in the way when you adjust it; the desk adjusts directly upward to avoid tangled cords and accessories placed behind it (the downside being that monitors and accessories need to be removed before adjusting).
5.Kangaroo Pro Junior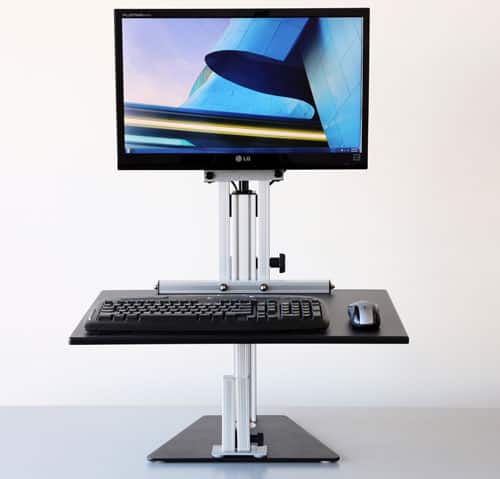 The Kangaroo Pro Junior has the unique ability to adjust your monitor and work surface separately, easing the strain on your neck while simultaneously keeping your arms and wrists at a safe and comfortable level. Unfortunately, the desk doesn't accommodate laptops (although the regular Kangaroo Pro does), but it works well as a home office accessory for computers with a separate hard drive.
The sturdy build has virtually no wobble – the desk weighs 35 pounds, so smaller users may need a buddy to help move or lift it. You can set it on a desk or counter to create an instant standing desk, saving you the space you would use up with a full-sized desk.
The product testing team at The Wirecutter was able to test out the desk's functionality and was overall pleased with the results recommending this desk as the best DIY solution to transforming your existing desk into a standing desk.
The removable stabilization leg isn't really necessary, but it makes the desk even sturdier when place in between the platforms for your monitor and keyboard. More info here.
6.Techni Mobili Mobile Laptop MDF Cart with Storage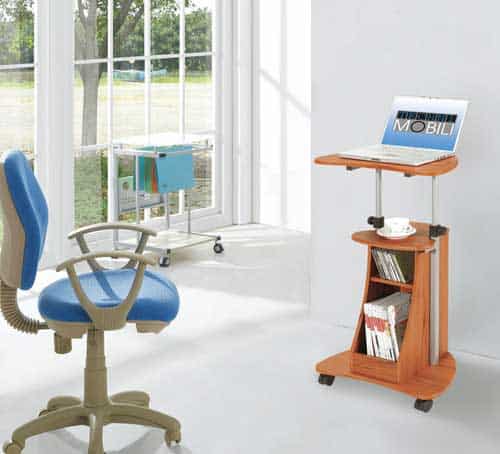 For the thrifty college student, it's hard to recommend anything but the Techni Mobili MDF Cart. The value, function and price make it affordable to almost anyone. The podium style has two shelves beneath the desk for storage, a smooth-rolling set of wheels (which work even on carpet) and a fairly adequate range for height adjustment.
Despite being slightly large for a dorm room, the amount of space you'll save by using the shelving and mobility features makes up for it, as well as a handle for safe lifting and a sturdy but lightweight build. Order here.
7. Safco AlphaBetter Desk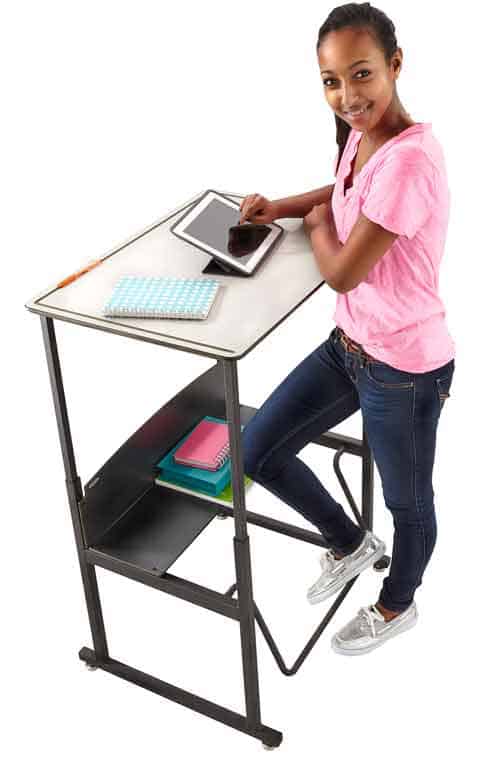 The AlphaBetter Stand-Up Desk is a great way to encourage healthier learning for grade school students. Complete with a swinging footrest for proper posture and increased circulation to the legs, this desk gives students the option to sit or stand when learning, increasing concentration and better retention of information.
Books and writing utensils are easily accessible via the under-desk tray and bookshelf. Overall, the AlphaBetter desk makes a child's time in school much more enjoyable and productive.
8. Adjustable Stand-Up Desk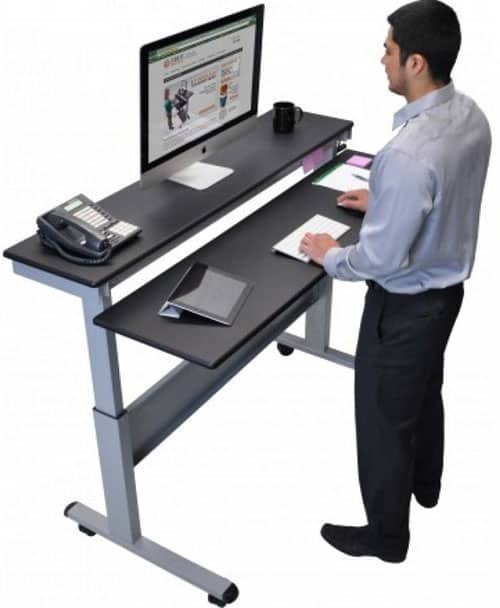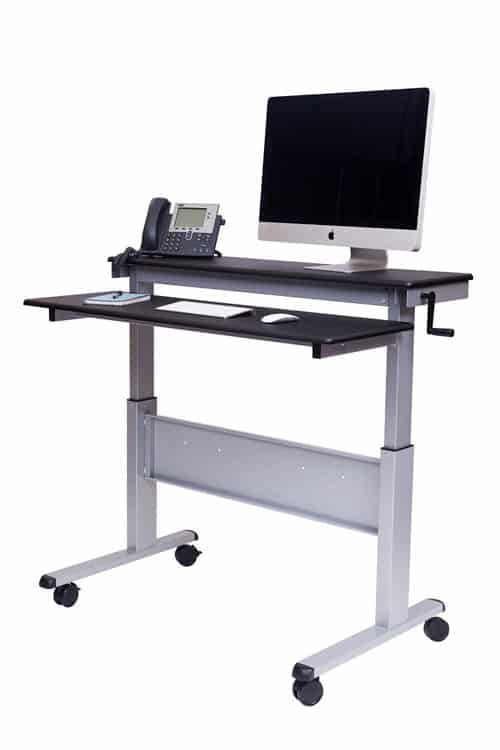 For extra durability and a larger work space, the Stand-Up Desk exceeds most people's standards. It's one of the biggest desks available and is perfect for designers and animators who typically use more than one monitor. The crank handle makes adjusting the height simple, and users will be pleased that the monitor and keyboard spaces adjust separately.
Even with a significant amount of weight on the desk, it still lifts easily and requires little pressure to adjust. The wheels on the desk's base may cause some to worry about shaking or wobbling, but the casters and locking brakes keep the wheels firmly in place.
9. Savco Muv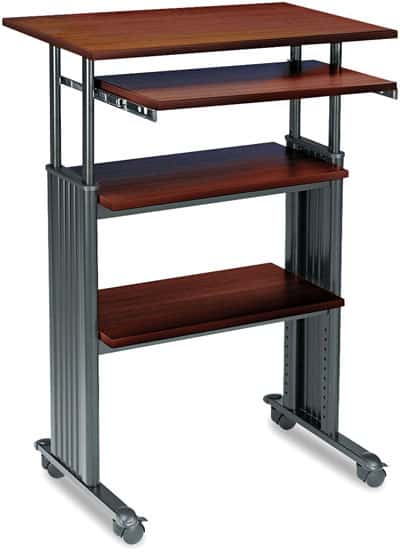 The Safco Muv Stand-Up Desk is a serious contender for those who just don't have space to fit a full-sized stand desk. The Muv not only keeps cables out of the way; it also keeps them out of sight, maintaining a more tidy, professional image.
Those without a designated office space or who work at home will find the desk's mobility quite useful, and the wheels' locking mechanism keeps the desk firmly in place when being used. The Wirecutter team had little to complain about when it came to the Safco desk, except that it is more cheaply built than other similar desks. Aside from that, they praised the low price, multiple platforms and shelving, and the wide range for height adjustment.
10.Focal Locus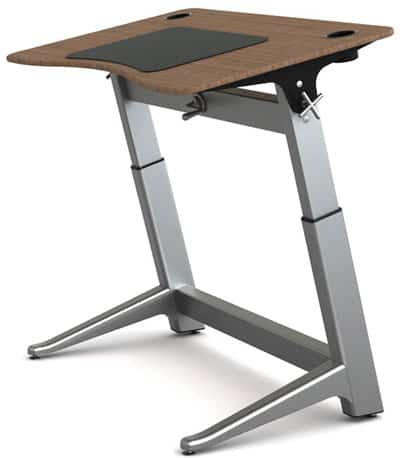 What makes the Focal Locus Standing Desk special is the ability not only to adjust the desk's height, but the angle of it as well. Work-at home architects and artist will find this incredibly useful for when they need to convert from a work station to a drafting board, saving you the hassle of having two separate desks that you would normally switch between.
A person of just about any height can use the desk easily. Focal has specially designed a companion stool to get the most out of this sit/stand desk to boost your work day into a helpful exercise routine. Other prime features include a cable management system, cup holders and weight capacity of up to 180 pounds. Click here to order, more info, and reviews.
11. ReadyDesk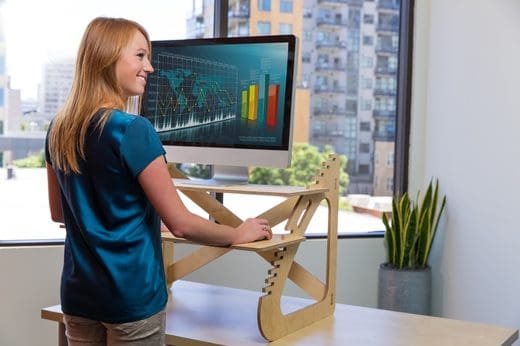 Also shown in the featured image, the ReadyDesk 2 is one sexy piece of office furniture. Its natural curves and use of material make it blend in elegantly in both homes as well as office settings. ReadyDesk is robust, affordable, has got the looks, and does what it needs to do: get you in a more natural and healthy position while doing desk work. Another plus, RD2 when used as a sit-down desk it forces you to sit upright thus avoiding detrimental slouching.
In sum
Stand-Up desks decrease the likelihood of heart disease by having users stand rather than sit; not only does this increase circulation, but energy levels are higher than they would be with a sitting desk, keeping fatigue and leg cramps at bay and increasing productivity.
Last Updated on November 22, 2016 by Tyler