Last Updated on March 27, 2014 by hobbr.com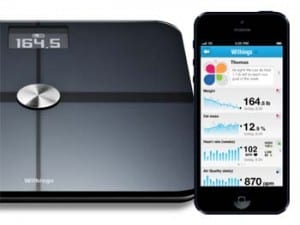 This smart scale or body analyzer does much more than showing your weight. It also calculates body fat, resting heart rate, and even indoor air quality. The accompanying app gives you insights on your progress and how to optimally manage your physical health.
You can set weight goals which the app will break down into weekly achievable targets while motivating you with relevant tips and reminders on your smartphone or tablet.
The Withings smart scale provides body data such as your fat-lean ratio and Body Mass Index and gives tips to optimize your weight loss efforts. Recognizes up to 8 different users and works over Wi-Fi and Bluetooth. Works with over 100 partner apps such as Digifit, TargetWeight, Runkeeper, and Endomondo.
Learn more at Withings.