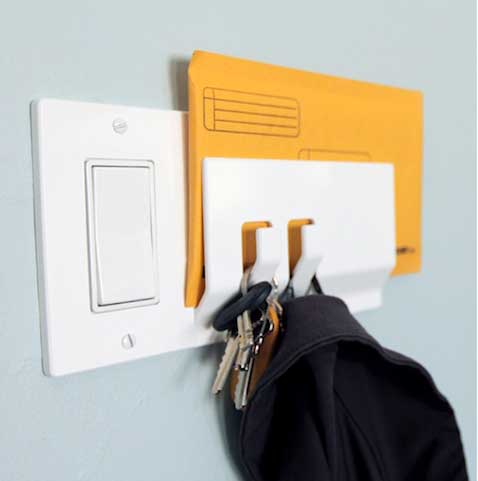 Keep your keys, jacket, earphones, scarf, umbrella, or that mail you keep forgetting to send at the most logical location. The last thing you touch when locking the door behind you.
The Wallhub switch cover not only saves you space and helps you be more organized. It also makes optimal use of your underutilized switch plate. You can charge and store your phone on it too.
This clever multifunctional light switch plate is easily installed without drilling.
Wallhub comes in two types, Onehang and Keeper. Respectively the cover with hooks and the one with hooks and storage space.
Both are available for both toggle and rocker switches, and in configurations for both single and double switches. Walhub can be positioned in either a left or right configuration.
Like so often, the simpler ideas are the better ones. This particular one is so great because it gives your transitory belongings a home at the most obvious place.
Want to transform your underused switch plate into the hub it should be? Check out the short video below to learn more about its possibilities, how quickly it's installed, and how the idea came about. More about wallhub here.
Last Updated on April 1, 2014 by Tyler