Last Updated on March 26, 2014 by hobbr.com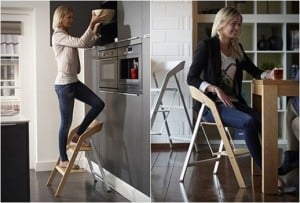 Another great example of merging multifunctionality with beautiful design. The stylish Usit comes in a two-step version for use as a chair, and a high stool three-step version. With its comfortable armrests and wraparound backrest it makes for a comfortable seat.
As a stable ladder, it has spacious steps featuring non-slip grooves. The Usit is sturdy, lightweight, and collapsible too but who would want to hide away this sleek piece of design. Available in three colors; wood nature, solid white, and nature black.