Last Updated on November 26, 2014 by hobbr.com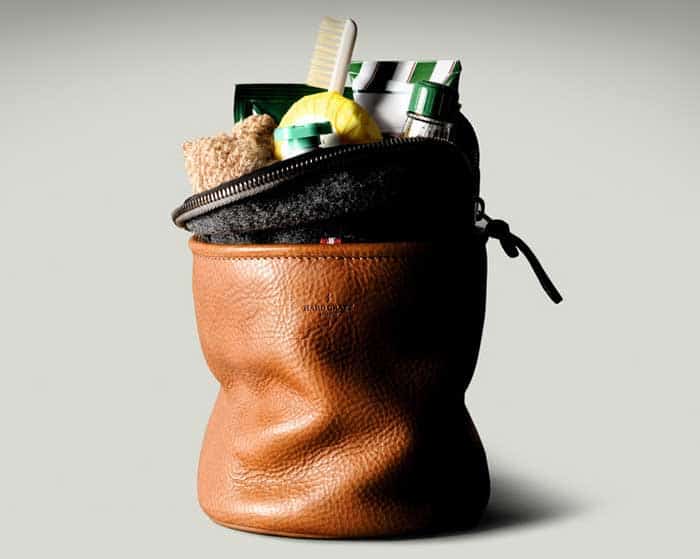 The Hard Graft Refresh Dopp Kit is the perfect gift for the man in your life. I know many men are probably saying they don't need a new Dopp kit, but this one is special and one we think most men would appreciate.
One of the things that makes the Hard Graft Refresh Dopp Kit so special is that it is handmade and extra sturdy to stand up to what a man puts its through. The beautiful Italian leather gives it that old world look that makes it pleasing to the eye and the British wool lining helps protect whatever toiletries and stuff you may pack in it.
But that's not the biggest thing that makes it special, the Hard Graft Refresh Dopp Kit stands up instead of lying flat like all the other Dopp kits on the market.
This upright toiletry bag can hold all the toiletries and other items you may need to pack in there and have easy access. I always thought it was silly when practically everything you put in a Dopp kit is made to stand upright, why on earth would they make them lay flat?
Just think about it. Maybe you have. Ever wondered or frustrated over the fact that all your bathroom utensils such as toothbrush, razors et cetera are made to stand up while most dopp kits are designed for flat use? Doesn't make sense right?
No more, the Hard Graft Refresh Dopp Kit holds all your products in an upright position. You won't have to worry about your shampoo or cologne spilling inside your bag during traveling, your toothbrush and razor stay upright and are easy to get to also, no more having to dig to the bottom of the bag to find something. Not only does Hard Graft Refresh Dopp Kit stand upright, which makes it perfect, the size and fact that it sits upright makes it ideal for small hotel shelves and airport restrooms.
With the Hard Graft Refresh Dopp Kit you can pack all your toiletries and necessities in the bag and not have to worry about anything spilling all over the place, no more finding the bottom of your carryon bag wet because your toiletries leaked out because your Dopp kit didn't stay upright.
Funny how something so simple as an upright Dopp kit was never thought of before.
Grab one at Hard Graft.