Your pc screen might be large and cutting edge but if you can play behind your big ass 4k TV in the living room you won't think twice.
Well, actually you might.
A hardcore PC gamer might find that couch gaming brings a sorta disconnected feel to it. The sudden distance from the screen, the out of touch experience because you're not at your desk / in your trusted command center where you keep everything at hand.
Not to forget that when you head over to the couch in the living room you'll find yourself slouched on the couch instead of sitting fully supported in your comfy gaming chair.
But that's easily solved with the right gear. A lapboard for instance. Which basically is a keyboard with built-in mouse pad. Or you could go ghetto and use a piece of wood or ironing board. Either way you're still stuck with a wobbly surface.
Or, alternatively, grab a Steam Controller which is admittedly better than a normal controller. But hey, nothing beats a mouse and keyboard for playing PC games right?
You scratch your head and wonder, there must be an ideal solution to this drawback of couch gaming?
Something that makes you feel you're still in your trusted control center. A setup that allows you to wield your mouse and keyboard just as skillfully as when you're seated behind your desk.
And you are right, the perfect couch pc gaming setup does exist.
A gadget specifically designed to enhance your PC gameplay while sitting on the couch.
* Drumroll  *
The Nerdytec Couchmaster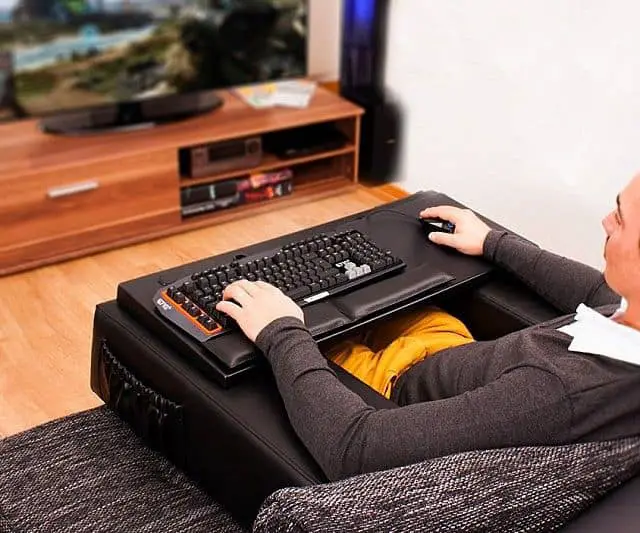 Don't be fooled by its elementary looks. The Couchmaster is the embodiment of "simplicity is the ultimate sophistication".
This lightweight, ergonomic item is basically a lapboard on steroids. It has two spacious armrests that alleviate stress on your shoulders and neck, and a desk surface with ample real estate. It comes with optional wrist rests and mouse pad.
Besides bringing the 'desk feel' to the couch it cleverly manages your cords and cables. Has a USB 3.0 extension cable and, hidden in the surface, a USB 3.0 hub aptly named Nerdyhub.
The mouse storage pouch attached to the surface allows you to store your mouse when it's not needed. Side pockets to store your most essential gear such as lighters, smokes, chewing gum, Kabang or Life Savers.
To hack your couch even more into a full-blown mission control you can expand the Couchmaster with the following add-ons.
Add to this pc couch gaming station an optional Nerdytec ashtray (gotta put your glowing blunt somewhere), optional smartphone holder (gotta stay connected to the real world out there), optional tablet holder (must keep cheat codes at hand).
But wait, what? No cup holder?
Nope, that's a minor flaw. Hey Couchmaster developers Chris and Roman, better up your game for a future release!
To make your setup perfect you could always add a Cup Cozy Pillow to store your game time potions such as Monster or Mountain Dew.
Nitpicking aside, Nerdytec's Couchmaster brings pc couch gaming ergonomics to the next level.
So, to recap:
Sit comfy, ergo-approved while playing pc games on your couch? Check!
No wobbly on your lap solution but actually steady control of your mouse and keyboard? Check!
A fitting desk away from your desk? Check!
No entangled wires and shizzle? Check!
Tablet and phone at hand and in eye sight? Check!
Ashtray and lighter within reach? Check!
That's pretty much the war room you're used to if you'd ask me. Plus you're gaming on the largest screen in the house. And you can comfortably have friends over to join you.
Ready to order your optimal pc couch gaming solution?
Keep in mind that the Couchmaster comes in a Basic, Cycon, and Cycon Titan edition.
Need alternatives?
If, for any reason the Couchmaster doesn't appeal to you, you might want to consider a lapboard for couch pc gaming. The three most popular models are the Corsair Lapdog, Razer Turret, and Roccat Sova
One of the major downsides of these gadgets is that you're not using your trusted gaming mouse and (mechanical) gaming keyboard. The Roccat Sova MK's keyboard for instance isn't per se the best gaming keyboard you can get.
The Corsair Lapdog, however, doesn't come with a keyboard so you could use your own. Sadly it's quite bulky and not very ergonomic. Moreover, it's quite expensive.
You might find the Razer Turret's mouse and mouse pad are too small plus the keyboard isn't geared for games that require speed.
Not convinced yet? Watch this short video review
Last Updated on September 14, 2018 by Tyler