Last Updated on April 12, 2014 by hobbr.com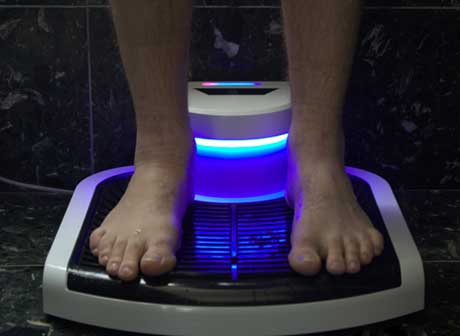 The Body Dryer, a bacteria free drying system that eliminates the use of bath towels. You can argue about bacteria present in towels. And whether or not they pose a health risk. In other words, if the Body Dryer really offers a better way of drying off.
And whether this device will actually reduce your energy bill remains to be seen. According to its creators the Body Dryer is a environmentally safe way of drying. Of course there's a whole lot of towels that don't need washing or drying anymore, at least that is if you wash and dry your towels after every use, which nobody should be doing.
Not having to use towels does have advantages though. If you suffer from that annonying itch caused by dry skin after showering that especially occurs in fall blasting yourself dry may be a good alternative. It seems like a better option than dabbing yourself dry with a towel which is recommended in such cases but feels so ineffective.
On top of that there are people that just dislike toweling off. For those, such a device could be an outcome. Oh and apart from a body dryer it's a scale too.
The Body Dryer has variable temperature controls, and uses highly-compressed ionized air up at strategic angles to completely dry you off after showering or swimming.
Learn more at IndieGoGo.