Putting your make-up on at your dressing table while glancing to your iPad next to you is a pain in the neck.
Why not place your indispensable gadget right in front of you with this, handmade from eco-friendly bamboo, makeup organizer, display center, and universal docking station for your smartphone and tablet?
This time your daily makeover routine essentials are placed  steady. No more your wobbly placed tablet that's sliding from your dresser, causing a mess of fallen hairpins and spilled lipgloss.
So you can brush, bristle and work with cosmetics in confidence.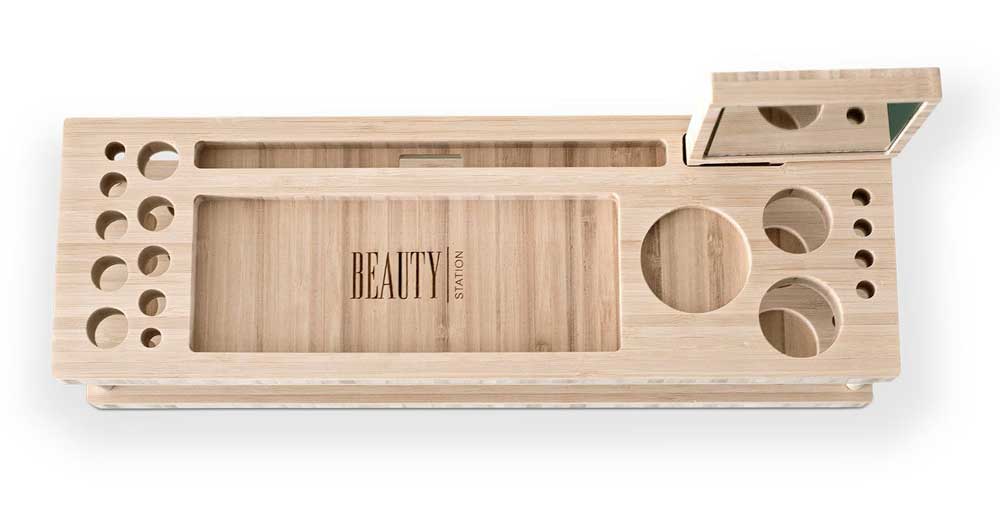 Or use the ModiFace or YouCam app to make selfies, check your eyeliner, lipstick and teeth when there's no large mirror available (btw, it comes with a hand mirror).
Watch that makeover instruction video on your favorite beauty and fashion YouTube channel.
FaceTime with mum while curling your eyelashes. Elevate your vibe with funny videos while applying eyeshadow.
The possibilites are endless. All because of a simple, but genius invention; the Taylor Beauty Station, the foundation for your tablet or smartphone-guided makeup efforts.
Last Updated on January 13, 2016 by Tyler