Last Updated on July 15, 2014 by hobbr.com
When I switched my pc for an iMac I suddenly had an esthetic problem. The iMac's sleek design is unforgiving when it comes to clutter and day to day desktop chaos.
O did my new computer look awesome on my robust oak table but my other stuff, my office paraphernalia looked so out of place. Normal everyday office and desk tools suddenly looked like litter on a polished floor.
A solution to this visual pollution is provided by stylish desk organizers. To help you pick one that suits your uncluttering and esthetic needs best, here a list of 5 of the best looking, most functional wood desktop organizers. Because a tidy desk is a productive desk.
1. Modo Modular Desk Organizer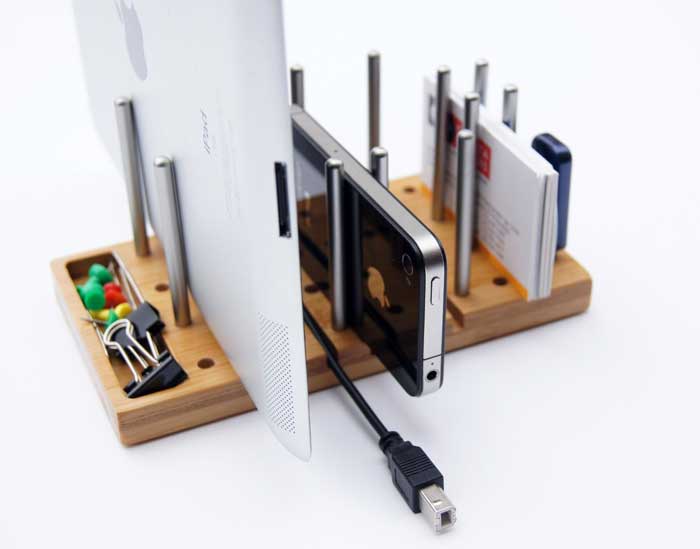 Raised more than twice its intended Kickstarter goal, this modular organizer offers more than just housing your pens and smartphone.
Its unique selling point is adaptability or flexibility. Modo's bamboo board with its 36 holes and 20 aluminum pins lets you conform your organizer to your gadgets and tools instead of the other way round.
Everything is thought out. The pins for example sport capacitive silicone caps which lets you use them as a stylus too. Because the pins have various sizes you can easily position a tablet in just the right viewing angle.
Modo by B&A Studio also features 4 cable management grooves, 3 USB flash drive slots and a storage cutout for small items such as paperclips, keys, rubber bands and the like.
Apart from being highly functional we think the Modular Desk Organizer is playful too. We're not the only ones who are think it brings back good memories to peg solitaire right?
Grab your Modo for 39.99 on Amazon.

2. Kesito Desk Organizer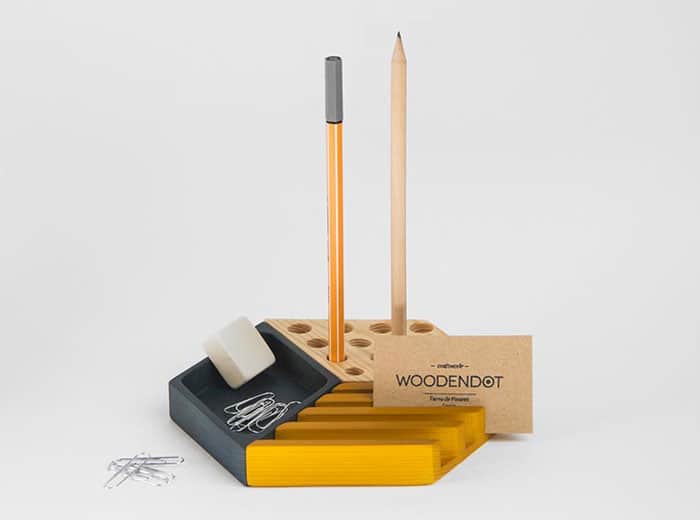 Kesito is characterized by its arrangeability. The three diamond shaped pieces can be arranged to form a rectangular, a hexagon, or placed separately.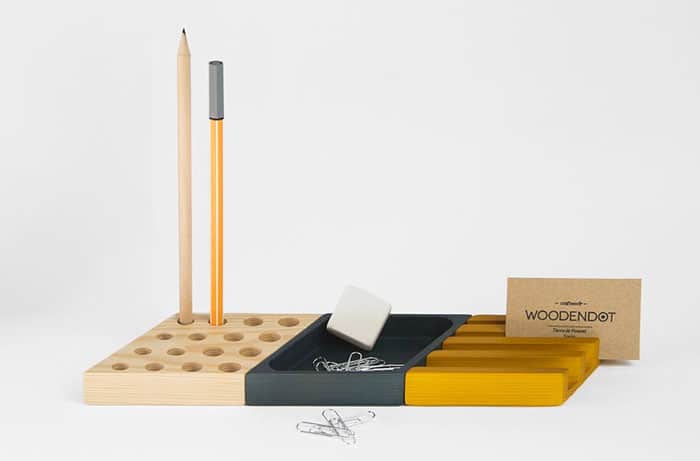 The yellow piece is intended for smartphones or business cards, the natural wood piece for pens, styluses, and pencils, the black storage piece is for small stuff like paper clips, push pins et cetera.
This organizer is crafted from pine wood by master craftsmen of the Spanish Tierra de Pinares.
Pick one up at Woodendot. $43,07.
3. Lifta Desk Organizer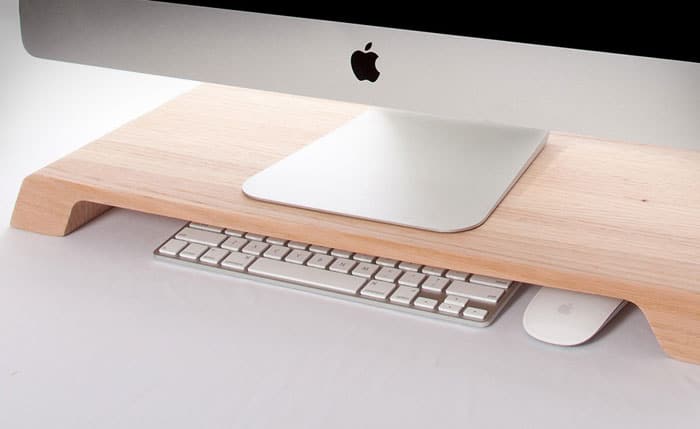 Although its name may give the impression we are dealing with an Ikea product its looks are all the more convincing.
The Lifta desk organizer lets you hide your peripherals while adding a natural touch to your office setup.
Are you uncluttered by nature and just want an attractive desk organizer that puts your screen in a more ergonomic position? Stylish Lifta could be your ideal desk upgrade. Considering its looks it may lift your spirits as well as your screen.
Lifta comes in three types of wood and is handcrafted in Nashville Tennessee.
Find out more at Made by Cardinal. $125
4. Station Caddy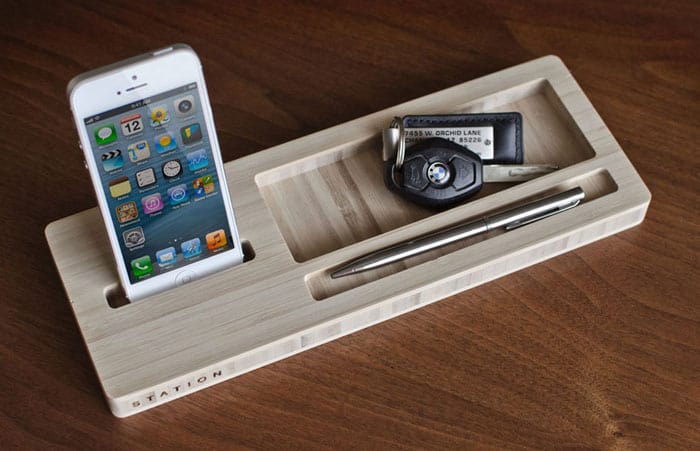 What we like about Station Caddy is that it also accomodates your sunglasses or car keys. Something other organizers do not. On the other hand, this particular desk organizer isn't customizable nor modular.
It's just a minimalist desk unclutterer but a pretty one for that matter. Made by Skelter from 100% eco-friendly bamboo this piece can be a great help in combating desktop chaos.
Check it out at Bite My Apple. $39,99.
5. Grovemade's Walnut Desk Collection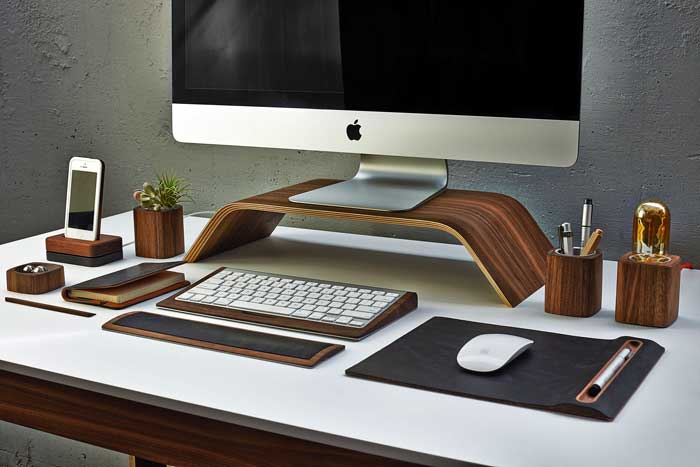 How about that for a desk in style? Grovemade's walnut desk collection consists of an ergonomic monitor stand, an Apple keyboard tray also with storage space, a mouse pad with room for a pen, a wrist rest, pen cup, ruler, paperclip holder, desk lamp and two differently shaped planters.
This set isn't the most affordable option you've got but it sure is an exclusive uncluttering solution.
More info and prices at Grovemade.
6. 'Oldskool' Less&More Hardwood Desk Organizer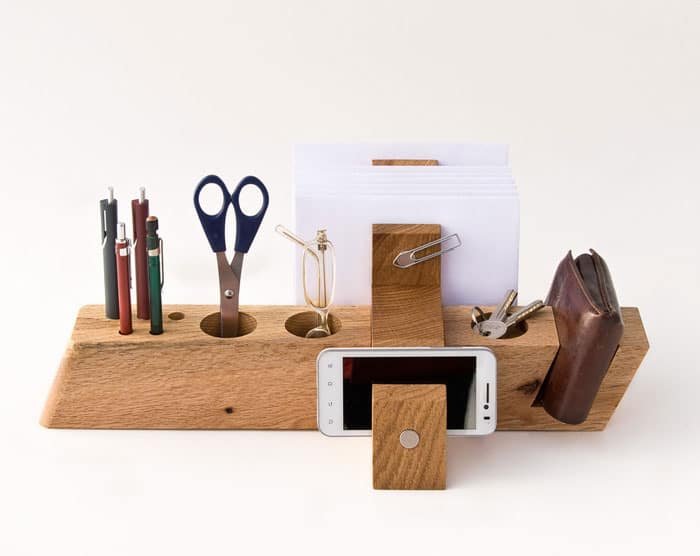 We labeled this piece by Less&More oldskool since it accomodates more conventional desktop items such as scissors and envelopes in lieu of tablets and usb flash drives.
Crafted from heavy-weight hardwood oak this organizer sports five differently sized holes for pens and pencils, two large deep holes for items such as scissors or reading glasses, one large shallow hole for example for keys, and a compartment (1,6″/4cm wide) that will hold a purse.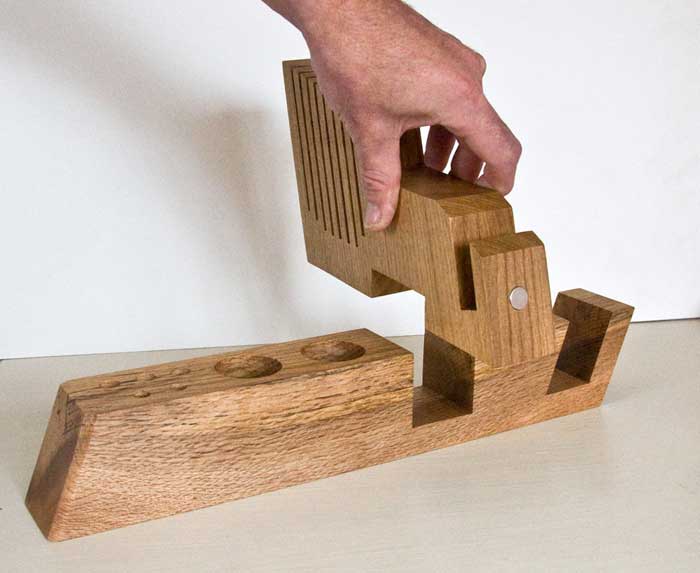 The vertical base features eight sorter compartments for organizing mail and notes, one wider compartment to display a smartphone, and two high-quality magnets on the front parts for small accessories like paperclips.
Get your hands on one at Etsy. $216.00