Looking for a new RV sofa or seats? Whether you're remodeling, doing a truck conversion, or just updating worn out furniture, it's good to know that reclining RV theater seating is available in all kinds and shapes.
Including; recliners, wall huggers, zero wall loveseats, models with or without seat belts, as well as seats with heat and massage.
Literally one of the major bottlenecks when choosing new RV furniture is the limited size of the doorway. Other factors that may limit your range of choice are weight and the space available.
Which is why the best RV theater seating offers optimal comfort and is space saving at the same time, is durable so that it will last for years, keeps weight down and is compactly designed to fit smaller alcoves as well as larger frames. On top of that it has to  be easy to install in your motorhome or 5th wheel.
Don't make the mistake trying to find regular furniture to fit through the door opening of your RV. Searching for seating built specifically for RV's or "recreation vehicle friendly" furniture will save you a lot of time and hassle.
Here's an overview of the best space-saving RV zero wall recliners, loveseats, recliner sofas, and center consoles with cup holders.
Note: our apologies for the various furniture pieces in this post that are currently unavailable. Choose different colors and fabrics for more availability options. This post has been updated per July 31 2020. We will keep an eye out on the market and add new products here as they become available.
1. Thomas Payne Left Hand Recliner – Heritage Series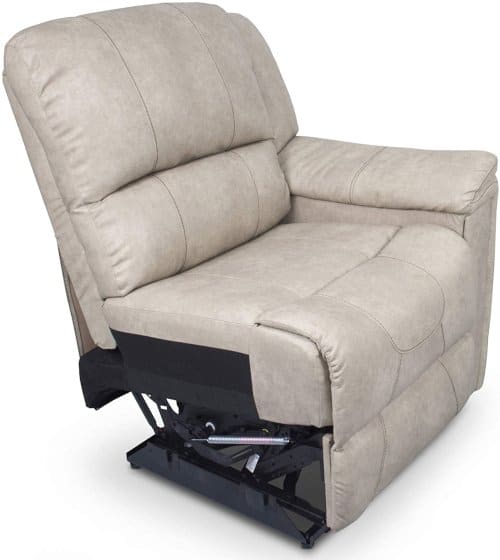 The Thomas Payne Heritage Series left hand recliner for RVs fits through 26" motorhome entry doors. The Grantland Doeskin PolyHyde upholstery feels comfortable and is easy to clean. In order to be able to fully recline this love seat, 4″ of wall clearance is required.
Combine left and right hand recliners optionally with or without a center console. If you prefer so you can choose for an armless recliner version. Heritage Series seating does interlock with Seismic series seats seemingly allowing you to combine furniture of both lines. Check with the manufacturer to be sure.
Specs: Chair Size: 23″ x 35″ x40″. Sitting Surface: 23″ x 21″ x 20″
2. Thomas Payne 377054  push back recliner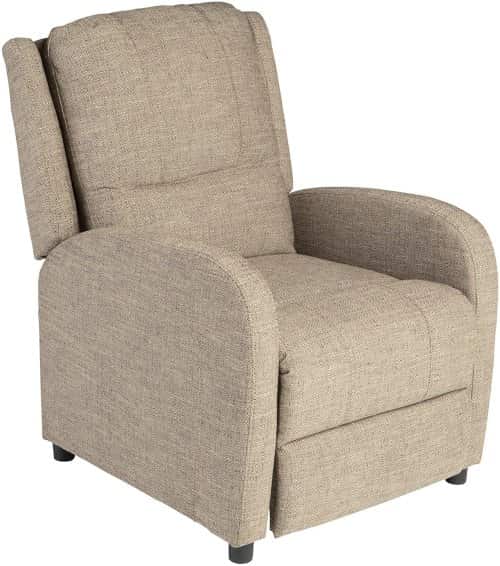 This comfortable recliner features supportive high-density foam with low maintenance upholstery.  The unassembled parts fit through a 24″ wide RV door opening.
This RV pushback recliner is compact so it doesn't take up too much space in your RV or fifth wheel yet still sports a 20. 75″ x 21″ x 19″ (W x D x H) sitting surface.  You will need 24″ wall clearance at the bottom, and 17″ at the top of the chair.
When in chill mode, that is when the chair is fully extended it measures 58″ from the headrest to end of the foot rest according to a customer. The manufacturer states 63″. When not fully extended, it measures 52″.
3. RecPro Charles Collection double recliner RV sofa & console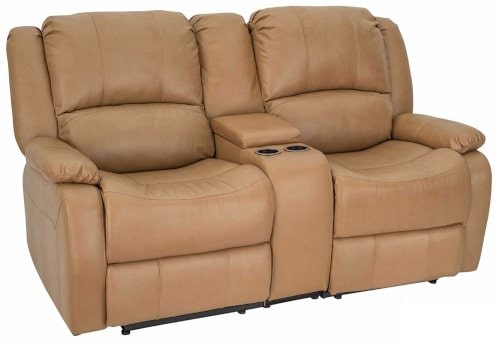 If sitting comfy and painless installation (no tools required!) is what you're looking for then perhaps you don't have to look further. These RV recliner seats sit like seats you'd expect in those half a million dollar celebrity RV's.
No exposed side handle as the recline pull handle is cleverly and discretely placed where it's easy to reach; between the cushions.
Together with the robust center console this space saving RecPro Charles double recliner RV sofa makes for a luxury upgrade to pretty much any RV.
Moreover, this 67″ lushly padded double recliner zero wall hugger with lumbar support actually requires zero wall clearance. The sofa is delivered in 3 packages including 5 pieces so that it will fit through 22″ doorways and up.
Installation of the modules is a breeze in pretty much any RV even though there's no documentation included. Simply slide on the backs to the seats and hook them all on to each other on the bottom.
4. RecPro set of 2 Charles Collection 30″ swivel glider RV recliners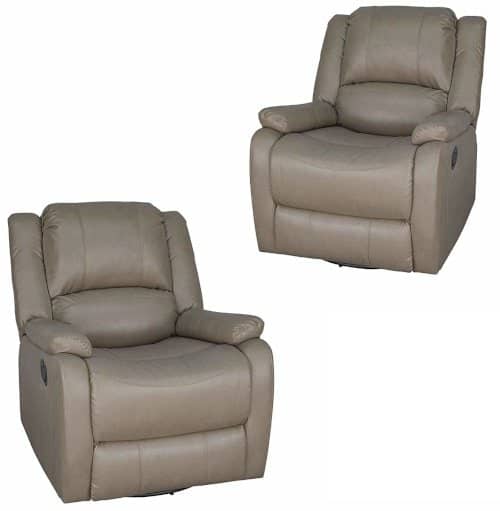 These RV swivel rockers with contemporary, high-end look let you recline to napping position (with feet rest up and tilted back) as well as put your feet rest up and back upright.
Even large people can put their feet up and relax comfortably in this well-designed RV theater seating. These seats let you glide, rock back and forth, and spin 360 degrees.
Do keep in mind that RV seating is compact due to obvious size limitations which makes them automatically less luxurious than recliner seats you may have at home.
Still, these seats are likely to enhance your RV experience. Taller users might want to add a pillow to support their head. Nonetheless the well-padded, supportive seats that recline almost flat are very comfortable.
The soft leather-look fabric dog scratch proof so even Fido can safely experience the joy of sitting in a genuine RecPro Charles 30″ RV swivel glider recliner chair.
One minor piece of criticism, some users find the recline mechanism too stiff as it requires a lot of effort and, since there's no side handle, it takes too much effort to put the leg rest down.
Fit through a 23″ RV door opening. Requires 12 inches of clearance to recline, 9″ from wall to fully rock back and forth
5. Divano Roma Furniture leather recliner loveseat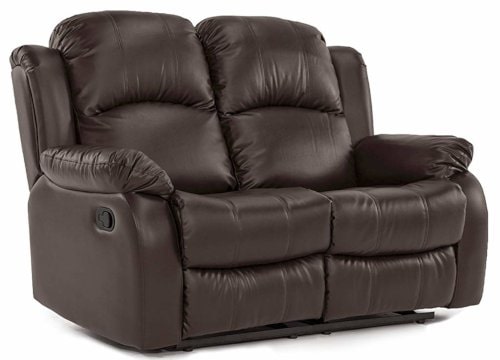 Keep in mind that this is not a specifically for recreational vehicles designed seat. It is a so called RV friendly two seater. This basically means that size is limited so it's not the best choice for taller people. But then again, most RV seats are not.
If you're over 6″ tall your feet may hang a bit over the footrest. Through the smooth reclining mechanism, the faux leather Divano Roma recliner loveseat's sides can recline independently and the footrest can be raised to a certain degree while keeping the backrest upright as well as allow for a full recline and 360 swivel.
Its rich looking, easy to wipe off mat finish faux leather plush doesn't sweat, doesn't make your skin stick to the fabric, and makes wiping it off quick and easy.
They're quite comfy if you like firm cushioning. In that case you might run the risk of becoming RV couch potatoes. Kick back while enjoying a Netflix binge marathon. In terms of durability, these seats are probably not as long-lasting as the aforementioned seats. They make for an affordable option for those who use their RV occasionally and do not require the highest comfort standard.
6. La-Z-Boy 64″ RV theater seating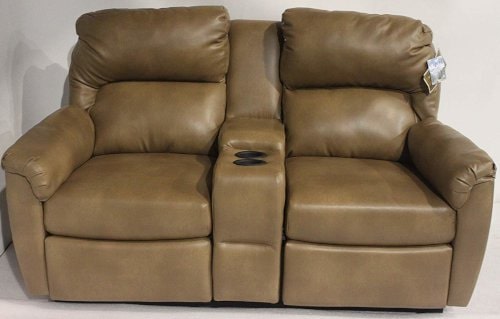 From the renowned brand, this power recliner couch (plugs into a standard 120V wall outlet) is made for RV's and campers. Kick back in your luxurious La-Z Boy theater seats while watching a movie or catching a game after a day of touring the country.
Vinyl fabric ensures it's easy to clean. Do note that this is not a zero clearance RV wall hugger as it needs 4″ from the wall to fully recline. Overall depth when fully reclined: 65″
Even though the home theater seating is bulk packaged, the sofa is easily disassembled to fit through most RV door openings. Make sure to measure your camper door first before ordering.
The La-Z-Boy RV theater seating couch measures approx. 64″ W x 38″ D x 38″ H. For information on measurements of the separate parts contact the manufacturer (England Furniture).
7. Thomas Payne Heritage Series modular automotive theater seating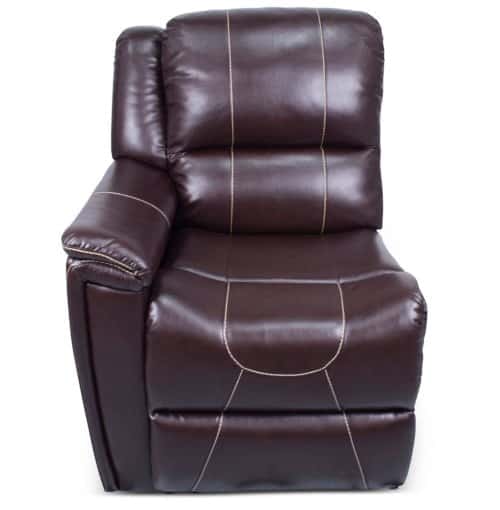 Thomas Payne Heritage RV theather seating is built specifically for RV's of the highest quality. Its luxurious look with its contrasting cream colored stitching, the excellent sitting comfort make these seats hard to beat.
What's more is that assembly is virtually effortless (slide the back on and click it in), the parts are easy to get through the door and the chairs are easy to wipe off with water and mild soap making them great for RV'ers with kids or pets.
Choose the setup that fits your RV best by ordering just one seat, or a left and a right seat with our without center console to keep your drinks and snacks close.
You can either opt for clipping the modules together or leave them separate so you can easily move a seat around your RV. The good thing is that even when they are not secured together, the seats are very stable and aren't prone to shifting when driving. Wall Clearance required: 6. 5″ bottom and 1. 5″ top
A few buying tips – What to consider
Obviously the first prerequisite is that you have to be able to get your new RV seats through your no doubt narrow entry door. Make sure to check this before making the purchase.
No matter how huge your rig, space is always limited so make sure to check how much clearance you  need. What's the absolute minimum (top and bottom). Is the seating advertised really zero wall clearance. Make sure to read the reviews and small print.
Budget is a no brainer. Often we encounter various appealing options that simply don't fit our budget. Make sure to check prices at RV and camping stores and compare. Ordering on Amazon is popular as they regularly have good deals on RV recliners and theater seating. Sometimes up to half the prices in other venues for the same item.
Types of recliners: Glider vs push-back RV recliners.
Pushback recliners, as the name implies, recline by leaning back. In other words, by pushing the backrest back by exerting pressure with your body. They recline without using a button or lever. They are also called flex-back recliners and do not have a foot rest feature.
Gliders offer a more gentle experience as sway back in a smooth horizontal motion whereas rockers require stronger movement to slide back and forth.
Luxury
If you desire more luxury than 110v power recline or simple center consoles in your new to install RV theater seating you'll have to look beyond Amazon.
Other online stores offer high-end brands such as Lambright with luxurious features such as 110V power headrests, consoles with pop-up usb ports, slide out rollers, optional ultraleather fabric and more good stuff.
What's your favorite RV theater seating?
Want to upgrade because your existing RV seating is uncomfortable? Finally got to replace your jack knife sofa because the imitation leather is peeling away?
The good thing about getting new seating is that often these aftermarket addons are better than the original equipment of your RV.
After remodeling your rig with new theater seating you're probably much more comfortable, have saved some space and the new look can make it feel like you've got a brand new RV.
Last Updated on July 31, 2020 by Tyler