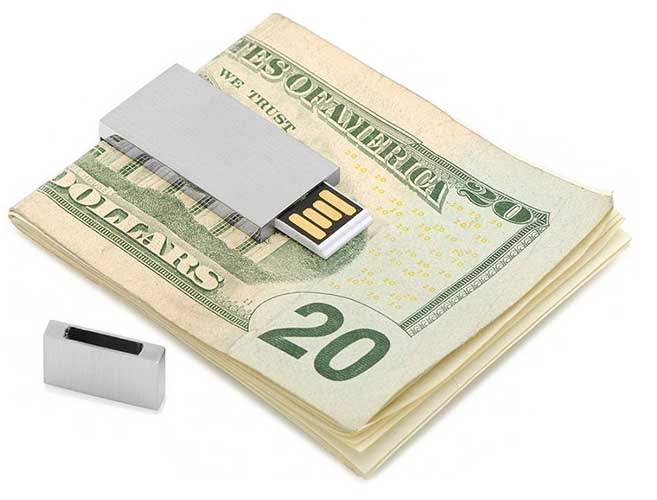 There are plenty different types of keychain USB sticks out there. Although not bulky or a pain to carry with you, incorporating it with an item you already have on you has some significant benefits.
Of course there's the sake of minimalism. No extra addition to your keychain. But that's just a minor perk. Although, if you like using a space saving key organizer it isn't.

Loss prevention is a biggie, every year hundreds of thousands of memory sticks are lost in taxis, dry cleaners and other places. Especially when you haven't encrypted your flash drive you may be in for a treat.
So merging the USB flash drive with your on the go goodies. Yes, great idea. Like in a money clip. Especially since it's something you're observant to anyway.
This sliding USB money clip embodies an 8GB flash drive allowing you to carry your bytes and bills in one place. Ravi Ratan's USB flash drive money clip is available in elegant polished and brushed silver finishes.
In case you weren't convinced yet, having a USB drive with you at all times is just plain handy. You never know when you may need one. Well actually we do, here are a few reasons to always carry a memory stick with you:
Reasons to make a USB flash drive part of your everyday carry gear.
keep emergency information and current project files always at hand
have your browser and other program settings with you for secure use on any computer with a USB port
keep your crypto-currency wallet addresses with you
troubleshoot computer problems
reinstall your operating system when it suddenly crashes
run a different operating system without changing your hard drive
keep your medical records, contact lists, with you.
Get your hands on one here. $80
Last Updated on May 28, 2014 by Tyler