Last Updated on January 4, 2015 by hobbr.com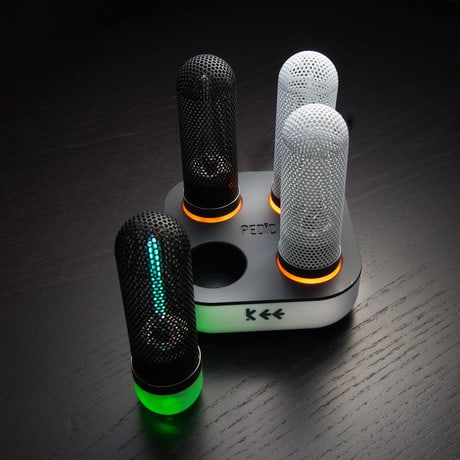 Most shoe sanitizers are either portable (thus less powerful or not able to dry two pairs simultaneously ) or standalone devices.
This shoe sanitizer is innovative because it's a combination of both. It consists of a charging dock and four portable sanitizer units. It also comes in a version with only two units.
This device allows for a convenient way to reduce that dreaded shoe odor. It works by killing the bacteria in your shoes with UV light as a microbial sanitizer.
Pedic makes it very convenient to internally sanitize your shoes. It's as easy as inserting the units into each shoe when you take them off.
The 1.5W UV-C germicidal lamp can be used 4 to 5 times without recharging once fully charged.
The units will automatically shut off after sanitizing activation. When you are ready to put on your shoes you just put the units back on the charging cradle so they are fully charged for the next use.
Drying and sanitizing your shoes and boots by killing off bacteria thriving there is a powerful weapon in combating smelly feet.
Washing our feet is a normal daily practice and strangely we never made an habit out of cleaning our shoes each day. (Except maybe for some dirt on the outside).
Are you ready to freshen up your shoes? Pedic by South Korean company Kee is now on sale at TouchOfModern.