OK Ladies, how many times have you been out and about and then you find out your phone or tablet battery is low? If you're lucky enough to have one, car chargers can help in a pinch but you have to stay with your car, not go about your day.
You could stop some place and plug your charger in and sit around, if you even remembered to bring it with you. The problem with these methods is that you have to stop what you're doing to charge your phone or tablet and you aren't free to go about your business.
The Pearl Compact Mirror & USB Rechargeable Battery solves the problem of needing a charge when you are on the go, just plug your phone or tablet into the Pearl and it will charge it up for you and you can still go about your business.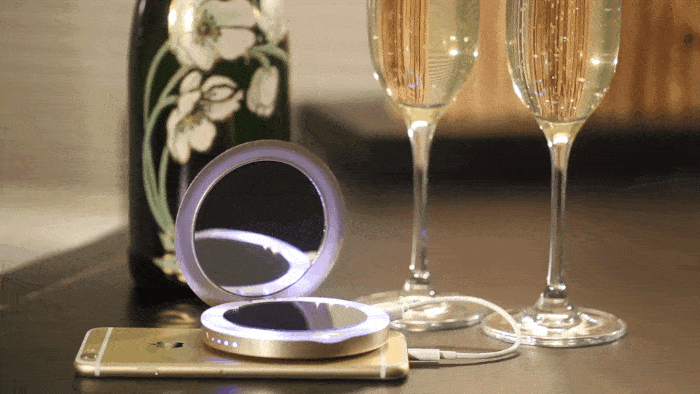 But that's not all, it still serves as a compact for the ladies with two mirrors so you can check your makeup and you won't have to worry about it being too dark at night because there is a bright LED light around the mirror. One mirror is normal magnification and the other is 3x magnification for when you need to see up close.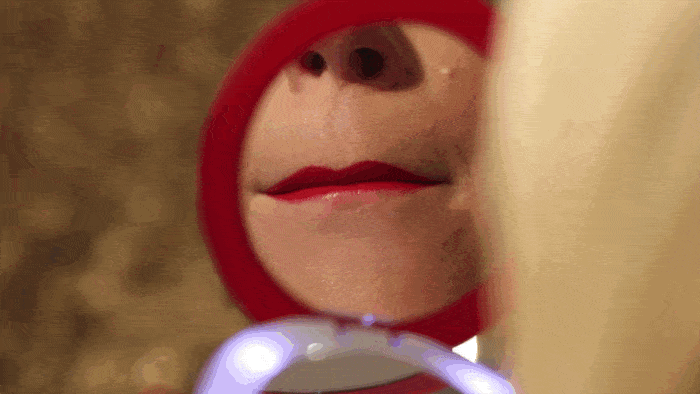 Pearl comes in a little over 3 inches wide and less than a half an inch thick, small enough to go anywhere you go.
It also comes in three different colors, the silver or gold one will go with just about anything and the red one gives you a splash of color instead of some mundane hue that many compacts come in.
Not only is the Pearl small enough to fit anywhere, it is durable enough and is kid friendly so that even your kids can use it to charge up their device without you worrying about them breaking something.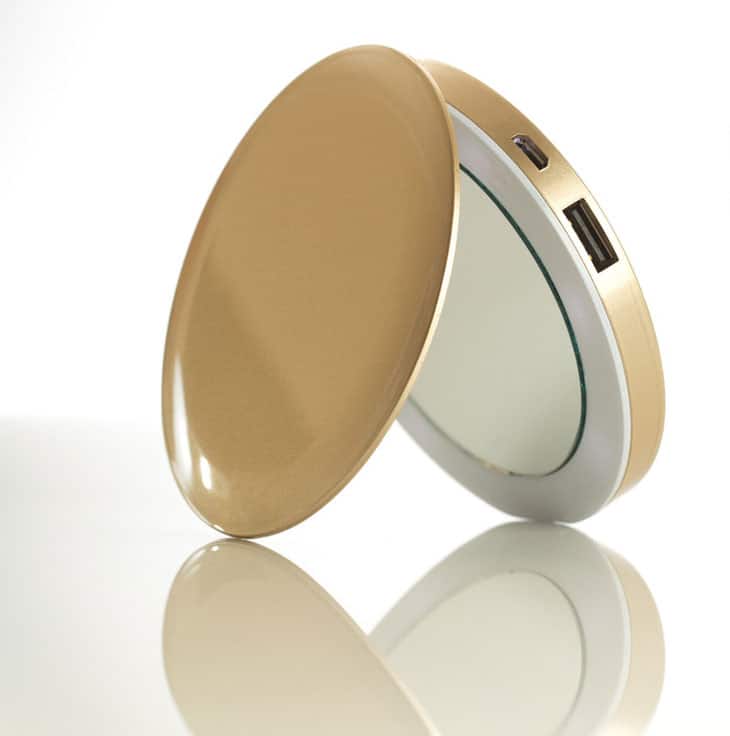 Sure, there are other chargers out there you can buy, but none of them can double as a compact with two mirrors. Try buying a LED lighted compact and one of those other chargers and together they will be more expensive than the Pearl Compact Mirror & USB Rechargeable Battery and you would then have to be carrying around two extra things instead of one.
The Pearl Compact Mirror & USB Rechargeable Battery is perfect for any lady on the go and one idea I wish was thought of years ago. Doesn't this make a great Christmas gift? Go grab one on Indiegogo. Cheers!
Kathy
Last Updated on December 11, 2014 by Tyler