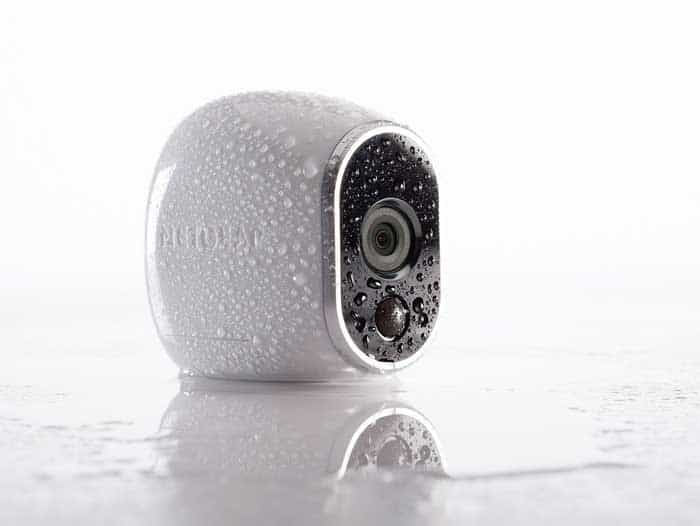 The fact that Netgear's Arlo Smart Security Camera does not need wires to run is a huge step forward in home security. Not only does it save you the time and energy while setting up your cameras, it allows for a major increase in usability since no cords limit the placement of the cameras.
Just think about it, you can discretely set up your modest-sized cameras wherever you want. As long as they are within range of the base station.

Here's just one example of why this new 100% wireless camera system is such a leap forward in home protection.
Finally you can inconspicuously set up a hi def camera close to your car parked on the drive. Let's say you hide it in the hedge. This time the footage of that air-bag thief will be clear enough to recognize the burglar on either national TV, the internet or via police interference. After all, if you occasionally watch these crime suspect TV shows you'll know that all too often the footage of the perpetrators is grainy, unclear and not really useful.


There's more that makes the Arlo Smart Security Camera stick out from the rest of security cameras on the market. First of all,  the cameras are 'smart', they talk to the base, which can also talk to other devices, it's also where you can use the mobile app to control your cameras.
If being wireless wasn't enough, the camera can send you the videos on the mobile app in 720p high definition, no grainy video feeds here, you'll be able to see everything in beautiful clarity. And don't worry about having to leave a light on to get a good view, these little babies have night vision capabilities also.
They use motion detection, so when they are turned on they will be in standby mode until they sense motion, once they detect motion, they will automatically turn on and start recording and they can send you an alert on the app too.
Compared to that other popular home security camera system, Dropcam, that system needs wires to run, Arlo does not.
A commonly heard complaint is that both Dropcam and Arlo use cloud storage with the monthly fee to the service provider. Dropcam however asks a considerable monthly fee whereas offers 200 MB for free. This may seem insufficient to some but do keep in mind that you don't need cloud storage, you could opt for real time viewing as well. Also,

when you hit the storage maximum, the oldest clips are automatically deleted first.

While we're comparing, Dropcams aren't waterproof, whereas Arlo cameras are.
For the price point, you wouldn't expect the Arlo Smart Security Camera to be weatherproof, but they are and with the wireless capabilities it makes it easier than ever to place these outside. They come with mounts you will have to attach, but the cameras themselves attach to the mounts using magnets, making them easy to move from place to place as long as you have the mounts set up. What does weatherproof actually mean? According to Netgear, it means they are waterproof and will hold up in any weather conditions. I'm guessing they mean regular conditions like snow and rain, nothing was mentioned about extreme temperatures. We'll have to wait to next year when they come out to be sure.

The starter kit comes with two wireless cameras, four mounts and the smart base station that can talk to other devices. Not only can this talk to your phone or tablet through the app, you can also have it talk to LiFX radio enabled LED light bulbs. With these bulbs it can be set to tell them to turn on when you are due to arrive home from work, turn on when the alarm sounds or even flash when the alarm sounds. Each base can support up to four cameras, so unless you have an overly large place, one base unit should do. Individual cameras can be purchased separately if you need them.
Netgear provides free apps for viewing the video feeds and managing the cameras via Android or iOS smartphones or tablets.
The long lasting batteries in the wireless cameras means you won't have to be switching out batteries every couple of months like other wireless devices, the batteries in these can last for up to six months, generally needing to be replaced within the four to six month mark.
The Arlo Smart Security Camera gives me and hopefully you, a peace of mind in being able to keep an eye on things when away. The mobile app works on both Android and iOS so just about everyone is covered and the free 200MB of cloud storage is definitely helpful until you can transfer it somewhere else.
The Arlo Smart Security Camera is perfect for home security, inside and out and they are small and inconspicuous so you really have to look to find them, you won't notice them with a glance. 
If you're in the market for a new security system, you definitely need to check out the Arlo Smart Security Camera, one of the best security systems out there that aren't monitored by the professionals.
The next generation home security camera kit with two cameras will cost $349.99. Arlo will be released on January 31, 2015. Visit Amazon for more info.

Want more home security?
Check out these 16 anti-burglary gadgets
Last Updated on October 6, 2015 by Tyler