Last Updated on April 23, 2014 by hobbr.com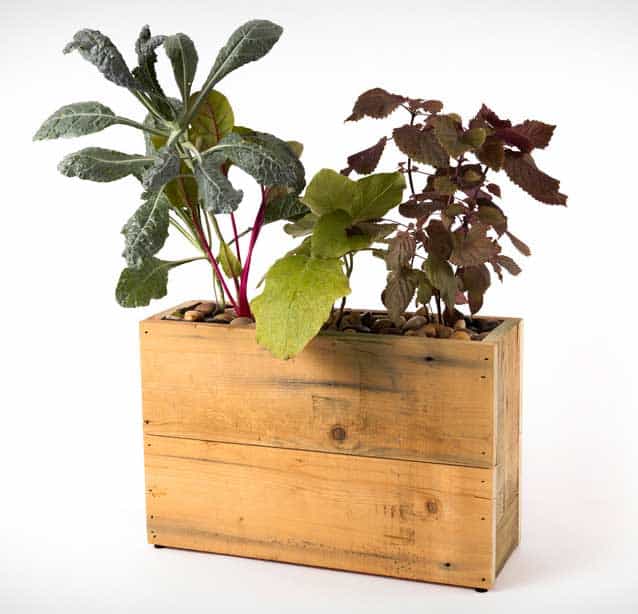 Hydroponic planters for in the home are abundant but not many are as goodlooking as this one. Or should we say ordinary?
Looks can be deceiving though since behind its traditional looks is a hydroponic system hiding. Delivering a nutrient solution (water & organic fertilizer) to the roots of three separate plants.
Modern Sprout is a very easy to use, self-sustaining windowsill planter box that automatically waters and feeds your plants for you.
The only thing it needs is a rather sunny place and to be plugged in (there's a solar version too) and you can grow herbs, tomatoes, lettuce, spinach, basil, strawberries and many more almost automatically in your kitchen.
Why hydroponics?
A soilless medium such as the clay pellets in this planter lets the plant's roots breath better than soil and absorbs less water and nutrients. Less loss and easier mineral absorption allow plants to invest more in growth above the root system. As a result, hydroponic growing yields bigger, healthier plants. Another advantage is that you don't need to water or repot your plants.
Hydroponic growing also uses up less water than growing plants in soil. Generally up to 10% less water than irrigated soil crops.
The electrical cost to run this planter is estimated at about 5 to 7 bucks per year. In return you get to grow strong, healthy plants or produce with minimal effort and stable, high yields.
Modern Sprout is available in reclaimed wood, weathered gray wood, gloss white, and chalkboard. More info here.