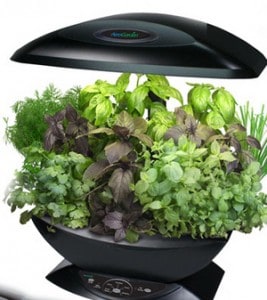 Use Nasa growing technology to your advantage and grow herbs, veggies, salad greens and cherry tomatoes on your kitchen counter.
The energy efficient, 2 bulb, 50 watt CFL grow light hood produces 3000 lumen and allows for healthy and up to 10 times faster growing than in soil.
Save money on store-bought, less tasty herbs and ensure your own supply of fresh produce. The Miracle-Gro AeroGarden has automated water and  nutrient and comes with seed kits that contain pre-seeded planting pods.
More information and reviews on Amazon.
Last Updated on March 27, 2014 by Tyler