Last Updated on April 1, 2014 by hobbr.com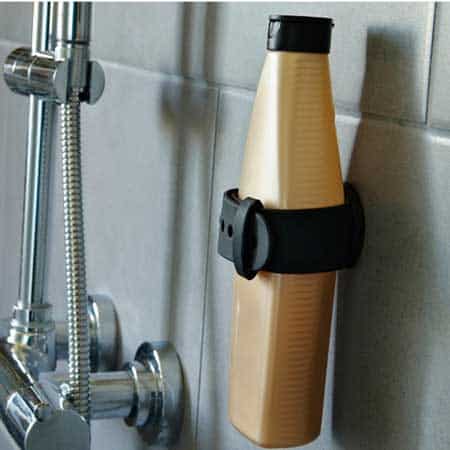 Ideal for small bathrooms, these magnets and adjustable straps that keep your shampoo bottles attached to the wall thus utilizing unused space.
Also great for more roomy bathrooms since you can keep your shampoo where you need it.
These Magnetic Shampoo Wrappers put an end to the annoyance of unintentionally pushing over those wobbly, almost empty shampoo bottles.
Moreover, keeping them upside down will effortlessly let you squeeze out the last drops.
And yet another benefit, keeping your shampoo and conditioner bottles from touching surfaces will prevent unsightly limescale.
The strong magnets are sticked to the wall, the bottle is wrapped in the adjustable silicone strap and then Shampoo attached to the powermagnet.
Since the strap can widened or tightened various size bottles fit (up to 250 ml per strap) and changing them is done quickly and easily.
Easily installed without drilling holes, the powerful wallmagnet comes with strong sticker at the back.
Order your package now at Reenbergs.