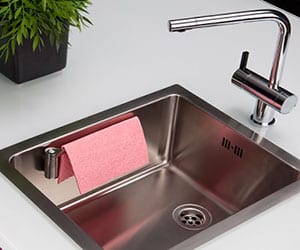 Place your kitchen cloth out of sight and on a more hygienic location with this magnetic kitchen cloth holder. Many kitchen cloths are dirtier than a toilet seat and even if you wash them daily with hot water and detergent, a cloth hanging over the tap or lingering on the kitchen counter doesn't look appealing.
The Magisso, available with curved or straight handle, is easy to clean around and install.
For more magnetic cloth, brush or sponge holders visit Reenbergs.
Last Updated on March 28, 2014 by Tyler