Last Updated on December 22, 2014 by hobbr.com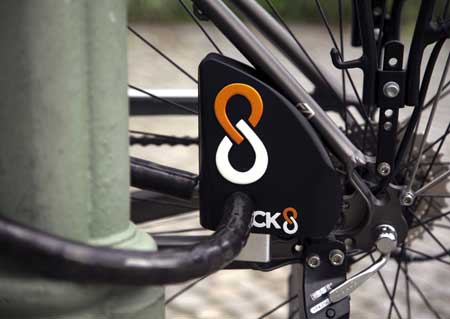 A bike lock with siren alarm and GPS tracking allows you to repel thieves as well as track and share your bike.
If someone tries to steal your bike an alarm will sound. If the crook would manage to get away with your two-wheeler you will be able to track it with the GPS tracker.
Bikes are great, they are affordable, healthy, convenient ways to get around. But bikes are booty too. Most bike owners have at least one bike stolen in their lifetime and after a few times you will always be wondering, will my bike still be there?
Now you can protect your wheels better with Lock8. The painfully loud 120dB bike lock alarm will repel any potential thief and send an instant push notification to you and other Lock8 users nearby.
Its sensors (there are 6 of them) can detect vibration, motion, cutting of the lock and even sudden changes in temperature from freezing or burning.
There's no need for conventional bike lock keys anymore because Lock 8 allows you to lock and unlock it with your smartphone. (A back-up is provided in case your battery dies). The smartphone app is your e-key. Inser the cable and swipe the app which will secure the smart cable into the lock.
Forgetting to lock your bike is almost impossible since when you walk away, the Bluetooth technology will automatically secure your bike. What's more, that same proximity setting will unlock your LOCK 8 as you approach your bicycle. Which is neat if you make a lot of stops because it makes locking and unlocking so much easier and less time consuming.
You can also share your e-key via Facebook to make sharing a bike among colleagues, housemates or friends even easier. The app also has an 'Offer' option. With it you can lend your bike to verified Lock8 users and Facebook friends. No more handing over physical keys (and the need to get them back) Great, for example, if you are using Spinlister to rent your bike out.

Lock8 was successfully funded on Kickstarter and can be pre-ordered now.