Last Updated on September 16, 2019 by hobbr.com
Looking for a live edge table and not sure which one is best for your particular needs? Here's a selection of different types of popular live edge natural wood tables. Some with epoxy resin others with the natural gaps and cracks left open.
The best live edge tables in particular, and natural wood slab furniture in general, are those that are durable, robust, functional, and aesthetically pleasing.
If done well, the artisan, by incorporating the natural edge of the wood into the design of the piece, creates a work of art.
If you've looked into live edge wood furniture before you might know it can be quite expensive, most items on this list, however, are rather affordable, especially the smaller ones.
Some artisans are particularly environmentally conscious and opt to exclusively make use of wood slabs from fallen trees.
"Live edge wood tables bring natural charm, warmth, and nostalgia into your home. The organic forms, asymmetric shapes as well as the fact that each table is truly unique -as each wood slab is different- add to the appeal of this type of furniture."
1. Natural edge coffee table with mid-century hairpin legs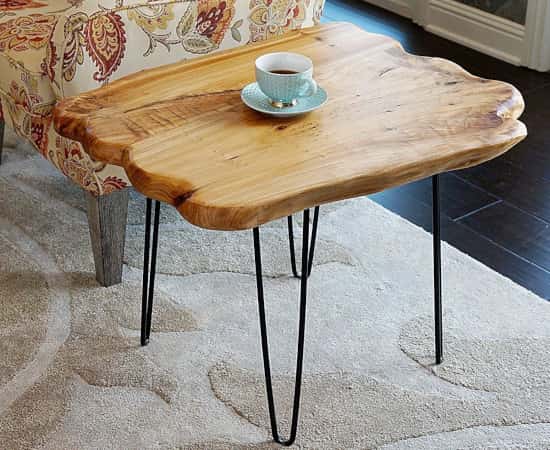 These unique tables are crafted out of hand picked, reclaimed, 100% solid, cedar wood slabs from stumps.
Besides the obvious craftsmanship, this alluring little table is quite multi-functional. Use it as a stool or bench, a little side table, accent table, coffee table, nightstand, speaker stand or plant stand and instantly inject atmosphere into your interior.
Do note that, depending on your couch size, it might be a little bit too high for a coffee table. The standard coffee table height is approx. 16-18″. This table is 21″ high. If you have a higher couch this table would fit perfectly though.
Its natural lacquer ensures low maintenance, however keep in mind to apply sealer to keep the naturally relatively soft cedar wood's color and shape protected. Read reviews on Amazon.
2. Live edge Resin River table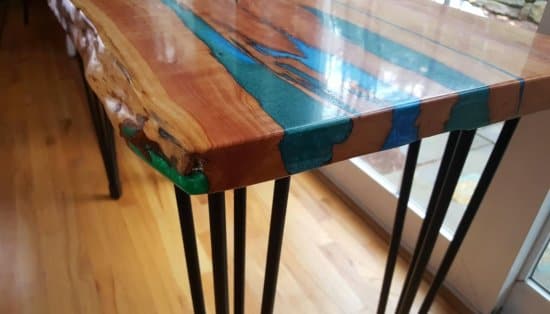 Are you looking to purchase a live edge, epoxy resin natural wood table? One of the best spots to go online is Etsy. Crystal Ridge Woodshop is one of the various stores that let you do custom orders.
This way you can request tweaks so that the end result matches your particular wishes perfectly.
This specific live-edge table is made out of cypress wood, comes with a satin finish and clear blue epoxy resin details. Epoxy resin in natural wood tables seals the wood and fills up cracks and other uneven and porous areas.
If the cracks are long enough, ideally spanning the whole length of the table, a so called "resin river table" is created.
The irregular shapes and natural imperfections combined with the bright colored resin makes for a unique, very classy look that will match modern interiors as well as rustic or mid-century aesthetics.
3. Clear blue epoxy resin live edge natural wood dining table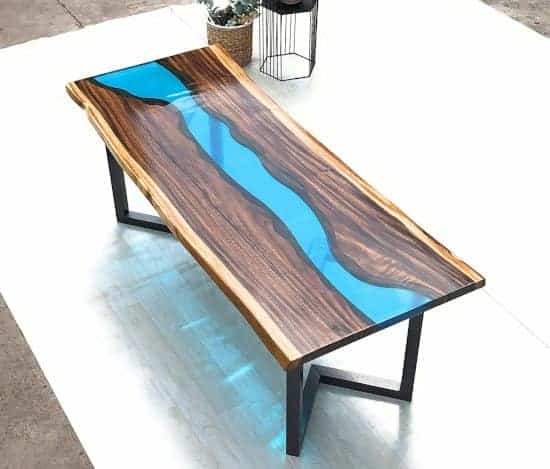 This hand-crafted American walnut wood resin river dining table can also be made to order. (Standard dimensions: L 200cm × W 80cm x T 5cm.)
The sleek yet natural surface is carried by robust, angular steel legs. Despite its relatively polished onlay, and therefore, quite modern look the table top breathes nature.
Regarded from above it resembles a wide, crystal clear river flowing through its naturally eroded banks manifested by the unique wood grain. This elegant, natural spectacle is embraced by two live edges making this table a piece of art.
No wonder this genuine eye-catcher will fit perfectly in many interior, modern or classic as a home dining table, in a restaurant, bar or even as an office table.
4. Teak burlwood side table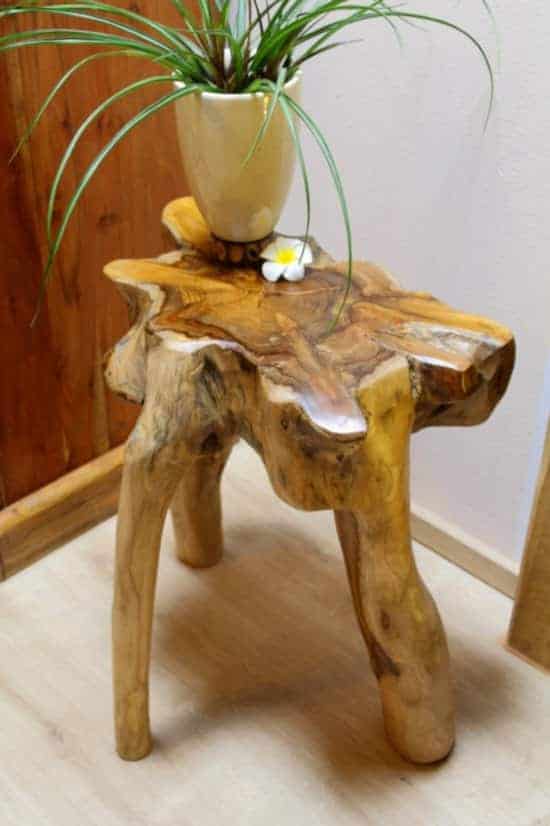 With its natural, whimsical form, this teak burlwood side table emanates rustic charm. Made from a tree root it makes for a fitting plant stand. It will shine as a minimal bedside table or side table too.
Small cracks, dents, scratches and discolorations only add to the appeal of these natural wood tables. Each piece is unique, some come with three legs, others with four. The solid teak wood table measures approx. 47 x 40 cm. More variations on Etsy.
4. Natural wood salon table?
Natural wood furniture infuses interiors not just with nature but with authenticity. It serves the increasing urge for reaching back to archaic times. This natural edge end table is composed of several, hand-picked cedar wood slabs sourced from sustainable tree roots.
The four 100% solid wood slab sections are then joined and carved into natural shapes by seasoned woodworkers. During the process, making sure the growth rings, knots, burls and wood grains are displayed optimally as befits a true work of art.
Keep in mind that here too, each piece is unique, the shape you'll receive at your doorstep is random. So you might not get the flower petal shape that's on the photo. Check out the various photos of reviewers to get a rough idea of what you can expect when ordering the Welland natural edge end table.
5. Natural edge wood, multi-purpose table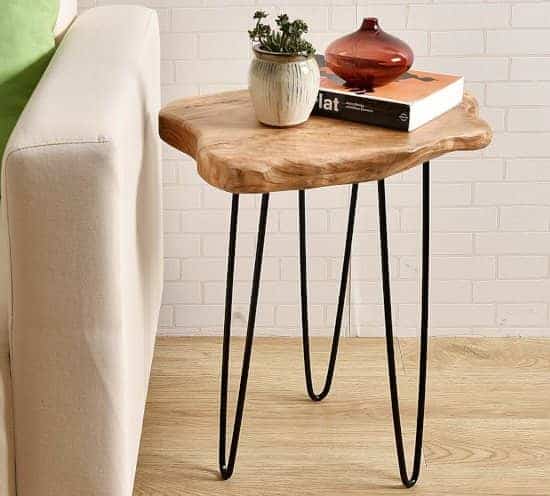 Our 'modern times' are plagued by, among other things, artificiality. Mass production of consumer products and an increasing urge to conform to the norm has led to bland, thirteen-in-a-dozen interiors.
As a reaction, the interest in authenticity is surging. Live edge tables such as this cocktail table with its mid-century hairpin legs are a manifestation of this larger trend.
From display stand to side table, from nightstand to plantstand, these natural edge tables are made from carefully selected wood slabs that keep their original shape. View price here.
6.Live edge tree stump side table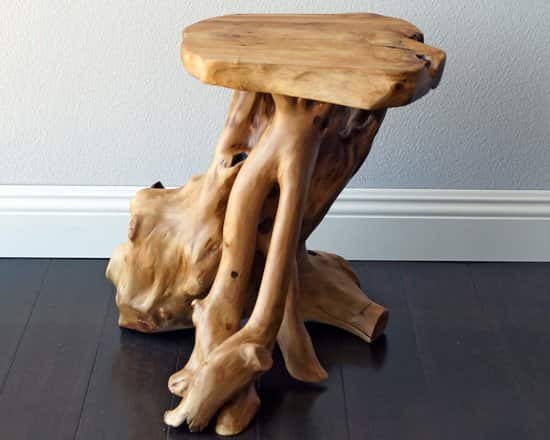 Whether you're decorating your self-built Scandinavian log cabin or your refurbished farmhouse, these primitive looking tables match contemporary as well as classic decors.
The workmanship combined with the soothing effect of nature will infuse your home with tranquility. Again, every piece is unique. Use this natural-edge tree stump table as an accent table,  stool, or small side table.
Note, even though it's been treated with a clear coat finish you'll need to treat the table with sealer regularly to keep its color and shape protected as cedar wood tends to bump or scratch easily.
7. Live-edge natural wood table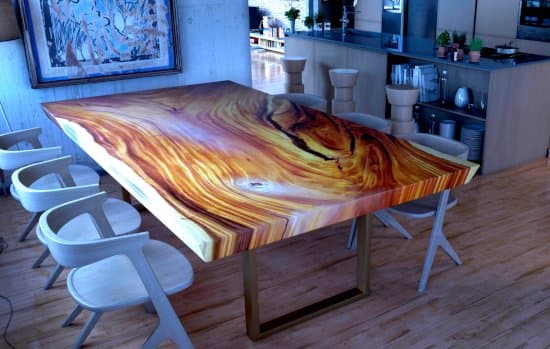 Woodworking as a practice, and hand-crafted natural wood tables as a result, are the manifestation of the symbiosis of man with nature.
This particular beauty of a table, with its two live-edges and two straight-cut edges is hand-crafted from acacia wood.
The exposition of its natural wood structure characteristics such as bark circles, burl grain, growth rings, knots influence the light reflection from the surface.
The aggregation of sleek, strong metal legs with the congenital aspects of the wood surface make that this table fits a variety of decor styles, from modern urban to mid-century retro, to bohemian or rustic.
8. Natural teak wood live edge salon table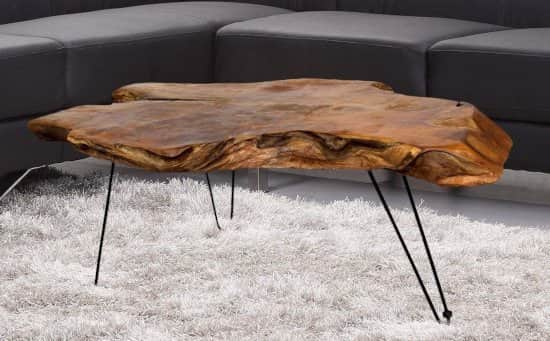 The popular aesthetic standard is ever changing. We want to keep up with modernity while at the same time we yearn for personalization and simplification.
Enjoy the pristine, natural beauty of wood in the middle of your home in the practical form of a furniture piece.
As is clearly depicted in the photo, the exquisite, natural wood texture and shape makes for an exciting contrasting statement with the surrounding, modern furniture. Thus fostering a refreshing escape from geometric synchronicity, omnipresent in traditional interiors.
This table can be custom ordered upon your specific wishes to maximize the enhancement of your home atmosphere. (Hesitate? Make sure to read its reviews.)
9. Designer handmade chopped wood epoxy resin coffee table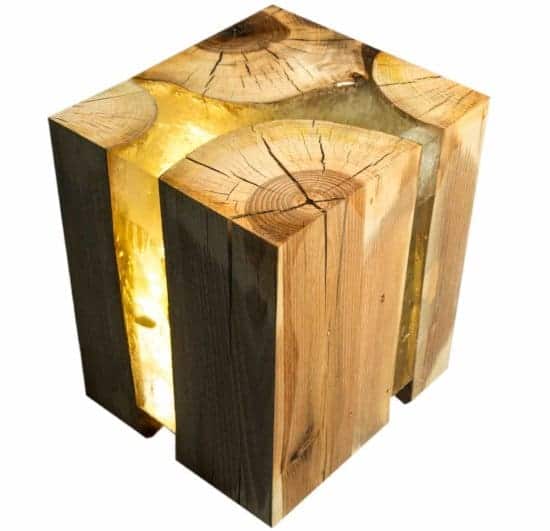 The luster of the walnut wood used in this straight-cut designer table in conjunction with the clear yet shattered epoxy resin prompts a pacifying feeling.
The resin is refilled multiple times to add a luminance and steer away from the traditional, glass-like, crystal clear resin look thus adding magnificence to the piece
It's as if you were gazing into a conserved fossil or something frozen in ice, taking you back to primordial times.
The resin somewhat resembles PaleoBond, the adhesive used to encapsulate minerals, fossils, meteorites, petrified wood, jewelry and more.
Perhaps, fossil, meteorite, or mineral collectors could have certain collectables inserted in the resin of the table, thus creating the ultimate collectors table.
This, however, is purely the writer of this article letting his mind wander off so in order to find out if this belongs to the options get in touch with the manufacturer.
They are open to discuss type of wood, dimensions, colors and as they say themselves are ; "flexible enough to follow almost any type of specifications".
Which do you think is the best natural wood slab live edge table?
Drop your comment below.
Alternatively, you could buy a custom natural wood slab at the size you want and mount legs or a frame under it yourself.
Benefits of going this route would include that you circumvent the slight stress that might occur when ordering a one-of-a-kind piece sight unseen.
Another advantage; you could pick out a wood slab yourself, choose from a plethora of wood types such as teak, birch, oak, acacia wood, macassar wood, and much more.
References
The Application of Wood in Modern Interior Design by C Lin. Source.