Last Updated on April 2, 2014 by hobbr.com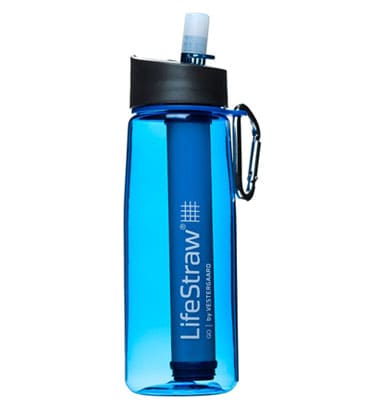 This sports bottle allows you to scoop up water from streams, ponds,or rivers and instantly drink it safely through the mouthpiece.
Lifestraw Go is a durable, toxin-free bottle that features a leak-proof lid, robust mouthpiece hinge, and most importantly, the award-winning Lifestraw filter.
The built-in LifeStraw filter is the most advanced water filter available. The world-changing filter is able to remove 99.9999% of waterborne bacteria and 99.9% of waterborne protozoan parasites and now, incorporated in this innovative bottle, it allows you to take your filtered water on the go.
With its predecessor, the Lifestraw being a straw, you literally had to drink from the river.
Lifestraw Go removes virtually all contaminants and provides fresh tasting water without aftertaste. The filter works without the use of chemicals, iodine, batteries, or moving parts.
It filters water up to 1,000 liters (264 gallons) of water, which means it will take a while before the detachable filter has to be replaced. You will know when because it will automatically stop taking in water. The bottle itself, made of BPA-free Tritan, can be reused indefinitely.
A highly useful items to have with you when you are camping, hiking, or traveling to areas with poor water quality.
The carabiner lets you conveniently attach it to your backpack.
Make sure to pack one in your prepper bag to be sure you have access to safe, clean drinking water in case of an emergency.
If you buy a LifeStraw Go, the manufacturers ensure a young African student gets clean water for an entire school year. Check it out here.