Last Updated on April 4, 2014 by hobbr.com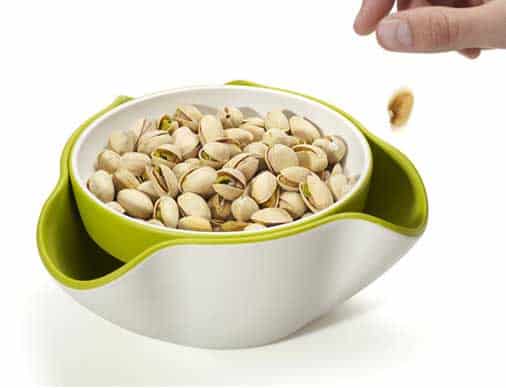 This snack bowl has an integrated collection compartment for nut shells, pits, and kernels beneath it.
It's a serving bowl and waste receptacle bow in one, thus eliminating the need to get an extra dish from the kitchen for those nut shells, cherry pits, toothpicks, or olive kernels.
What's also great is that the shells and kernels are stored out of sight. It is designed to with three outwards curves to allow disposal of pits, and shells from different angles. In the center of the bowl you can keep toothpicks or nut crackers.
The Double Dish by Joseph and Joseph is highly practical and looks good too. The two bowls can be used seperately too.
Made from 100% food-safe melamine. Available in three color combinations, white and green, green, or white.
Buy it at Amazon.