Last Updated on April 3, 2014 by hobbr.com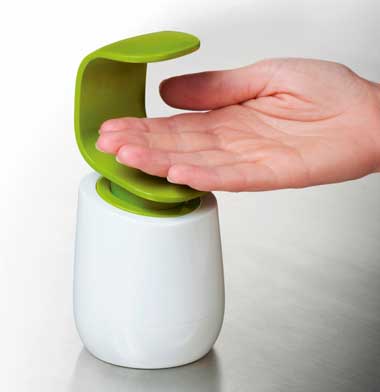 The C-shaped dispenser is a clever and stylish soap dispenser that let's you dispense soap single-handedly which is great if only one hand is dirty.
If you're one of those people who already pressed their conventional soap dispenser with the side of their hand you will know dispensing soap with the back of your hand is more hygienic. (I'll admit it, I'm one of those people)
By not having to touch the grime of the pump you will keep the pump head cleaner. But this palm-operated soap dispenser is not only great for germophobes.
Who isn't familiar with having your hands all messy with marinade, cake batter, or raw eggs? Now you can wash your hands without smearing the dispenser.
This is one of those products that makes you wonder why it hasn't been here before.
The Joseph Joseph C-Pump is available on Amazon.