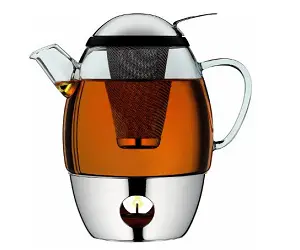 This tea pot has it all. With its 48oz it's big. Think 8 big cups of tea. The stainless steel base has a tea light opening to keep your tea warm.
A well designed rubber ring holds the lid in place and seals it off really well.
The lid holds onto the strainer so you can lift it out without touching the hot infuser. Pops off easily so you can put it back in the teapot.
An almost perfect tea pot for hardcore tea drinkers. (the only drawback if you ask me, it lacks the option of moving the infuser up out of the tea without having to take it out). Available on Amazon.
Last Updated on March 27, 2014 by Tyler