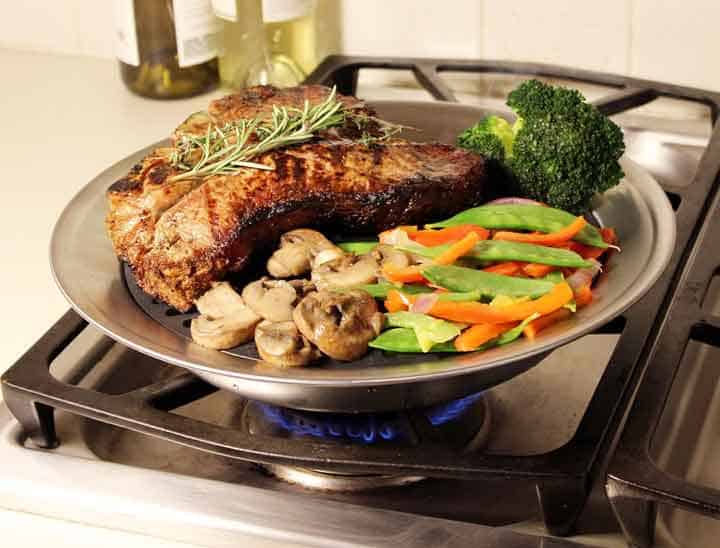 Sometimes you just want to grill but the weather doesn't really allow it. Especially when it's mid winter you may really start to miss the smoked flavor and typical BBQ smell. Dragging your outdoor gas grill into the kitchen may a tad bit too much of a hassle. Not to mention overactive fire alarms going off and what not. And if your apartment building doesn't allow grills, not even electric ones, you are royally doomed. For such crude, culinary cravings there's now an indoor barbecue, the Grill It Stove Top Grill. It's smokeless, adds BBQ flavor, and turns any stove into a low fat grill.
Picture it; endless summer days that stretch out in expansive glory, cold beers glistening in the ice box, the easy and relaxed conversation of friends and family, the slightly muted sound of music spilling out through the open French-doors from the lounge, the neighbourhood children running criss-cross from yard to house and the BBQ grill in full cry surrounded by a happy fellowship of t-shirt wearing men, their leader and host at the helm.
Much advice being offered on method, heat and timing, all eyes agaze in full reverence and respect of this ancient and most sanctified ritual; the 'cooking of the meat'. Steaks, sausages, chicken breasts, fish wrapped in foil, shish-kebabs, lamb chops, spare ribs (and even some courgettes and tomatoes thrown in for colour), all lovingly prepared, prodded and turned by the host until deemed perfect and ready to eat. Then once he has judged the food as worthy and ready, the people start to file towards the feast, plate in hand and expectations high. Let the eating begin!
Now imagine the same scene but without the sunshine. Instead it is raining and the BBQ is hidden under a tarp against the outside wall of the house. The people are wistfully looking out the French-doors which are closed against the rain. The music is low so as not to disrupt the disinterested conversation of the guests solemnly congregating in the house. The food has been prepared in the oven; the meat is lifeless and without flavour, the cook apologetic and chagrined. The guests are melancholic, the rain is descending and the angels are weeping at the grand tragedy of the scene.
There are some things in life which are too sad for words. Growing up in a BBQ-loving household, I keenly remember the disappointment of wet weather ruining what had been set aside as a 'Grill day'. If Shakespeare or Sophocles were alive today they would no doubt pen a tragedy about it. Perhaps it would be called 'Much ado about BBQ' or the 'Theban BBQ tragedy'. My fondest memories of childhood are those expansive summer days where nothing happened but everything happened. New friendships were struck, love was aroused, my mother wore beautiful flowing dresses and everyone went barefoot. In contrast to this, some of my worst memories were when the weather destroyed our summer plans through its brutal display of nature's whim and power.
So you can imagine my delight nay, my unbridled joy when I was directed to a device called the Grill It Stove-Top Grill. It promised great things; a BBQ experience without a BBQ. I was at first sceptical, then excited and then afraid. Afraid that my childish hopes were being cruelly and unfairly raised, that upon further investigation of this product they would once again be cast down upon the rocks of disappointment. Finding an inside cooking implement that made food taste like it had been BBQ grilled was, to me, akin to finding the Holy Grail. The summer boy that dwelled deep inside me was shaking with anticipation.
You cannot imagine the myriad of emotions that I felt nor the depth of relief and wonder I experienced after trying this product and discovering that rather than disappoint – it resoundingly delivered. The Holy Grail was indeed found. It was a truly spiritual experience, like I had finally found the missing piece of my internal puzzle. There was a momentous healing that took place in that moment; the disappointed child within me was finally set free. Summer had returned, and this time, forever. Life is like that sometimes.
In the aftermath of this first use of my new found saviour and cooking companion, I had a chance (once the spiritual ecstasy and rapture had subsided) to check out the mechanics and aesthetics of the product.
Firstly, it is simple; just two glorious pieces. The bottom pan is a stainless steel flavour ring and the top plate is a double coated non-stick grill surface. They are dishwasher safe and can be used on gas or electric stove tops. The flavor ring can be filled with anything from marinade to beer in order to add a true 'grill' flavour to your food. It is also – brace yourself – smokeless. Yes, you read correctly, smokeless. Which of course means it is perfect for inside grilling.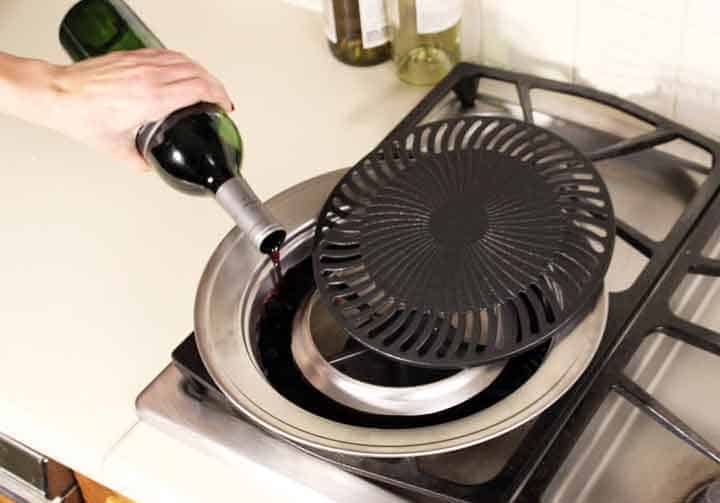 There is a lifetime guarantee provided by the manufacturer, one of the many reasons to not buy any imitations. If you are a lover of authentic BBQ grilled food then it is the best money you will ever spend. And while happiness is not guaranteed by the makers of this product that is exactly what this grown up boy has gratefully received.
For those about to grill, I salute you and wish you, happy endless summer.
Grill It. $24.
Last Updated on January 26, 2015 by Tyler