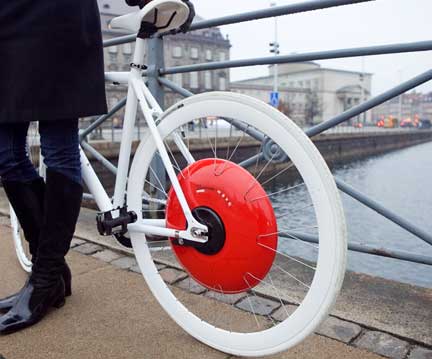 Replace your back wheel with the Copenhagen wheel and you've got an electric bike. Your now hybrid bike supports you up to a top speed of 20mph / 25km/h and has a 31 miles / 50 kilometer range.
Due to its smart technology, it allows you to bike faster, easier, and farther while keeping the normal biking experience the same.
The smartphone app allows you to choose amongst a menu of customizable rides, lock and unlock your wheel, and track your physical activity including distance, time, elevation climbed, calories burned, and more. You can share and compare these stats with friends.
Initially, hybrid bikes were perceived as for the elderly but nowadays everbody is aware of the advantages of a bit of electrical support. Especially in a simple to implement, smart invention as the Copenhagen Wheel.
Its benefits are immense. Think about not having to struggle with stormy wind anymore. Or that exhausting steep elevation on your daily route.
And what about when you are tired after a workout but love to go there by bike because you like the warm-up? Or maybe you just want to wake up on your bike when going to work in the morning but don't want to arrive all sweaty.
Another huge advantage, by transforming your old bike into a hybrid you are significantly increasing your action radius. More areas can be reached by bike, you will use your bike more often, which will improve your physical condition.
And, since it regenerates energy when you are going downhill or are braking, reduce your carbon footprint. Thanks to developements as the Copenhagen Wheel the conventional bike becomes a much more versatile means of transportation. The next generation of cycling is here. More info at Superpedestrian.