Last Updated on July 16, 2014 by hobbr.com
Who hasn't been dragging both his cooler and radio to the beach or park? Not to mention simultaneously hauling your chock-full bag with beach towel, sunscreen, food, magazines, a ball and other stuff belonging to a hot summers day gear.
What if there would be a device that combines a cooler and waterproof Bluetooth speakers?
And what if that cooler with radio could also charge your phone or camera with a USB port?
And wouldn't you go totally crazy if it featured an ice crushing blender too?
So you can be the boss of the beach and blend a Blue Bayou on the spot.
And if that's not enough, its integrated cutting board allows you to cut some fresh pineapple to add.
All this while playing some tropical tunes. Or hip hop or whatever you may fancy. You may have the gist of it by now.
Well you are not the only one who has gotten excited by the thought of such a multifunctional machine. The Kickstarter crowd for example lost it too.

The Coolest Cooler has already raked in a whopping 5 milllion dollar of funding. That's hundred times more than the 50k the creators aimed for.

 
Check out this short video to find out about this cooler's awesome features.
Of course it has extra wide wheels so you can take it with you without a hassle both on and off the beach. It has a gear tie-down to take your additional goodies with you.
A LED light in the lid makes sure you can retrieve the right beverages past sundown. Apart from its awesome features it (of course) sports a bottle opener too.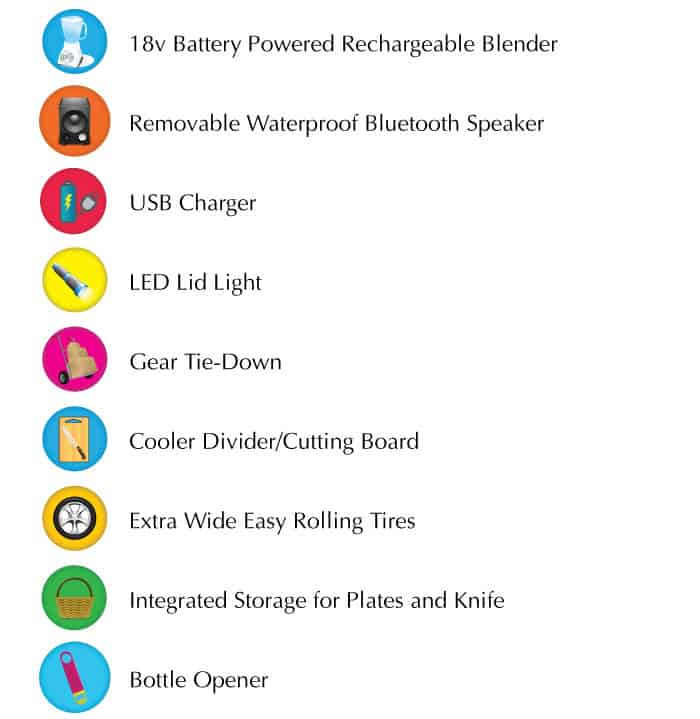 What's not to love about this highly versatile cooler? You can be your own bartender and DJ while providing your gadgets with juice too.
Back this project at Kickstarter.  $185