Last Updated on April 7, 2014 by hobbr.com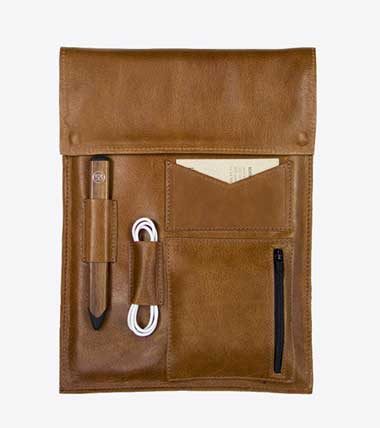 Can it get any better? An iPad case with a built-in battery for on-the-go charging. And for that matter, one that looks great too.
Actually, there's a collection of these cases for the iPad Mini and the 9.7-inch iPad.
They sport a 7000 mAh battery with an integrated lightning cable to charge your iPad while in transit.
The 100% leather-lined pouch features space for a pen or stylus, cables, and a wallet to hold your cash and cards. The elegant tablet sleeves have a strap so you can keep it close in your hand.
You just like the looks of the Cargito cases? They have non-charging variants as well.
Next to keeping your iPad protected and looking good we didn't have much demands when it comes to iPad cases. But now we know of the existence of an iPad case that doubles as portable charging station we are spoiled.
Shipping is estimated for spring this year but you can already pre-order.
Brought to you by ThisIsGround, the company that also offers those stylish cord managers.