Last Updated on May 20, 2014 by hobbr.com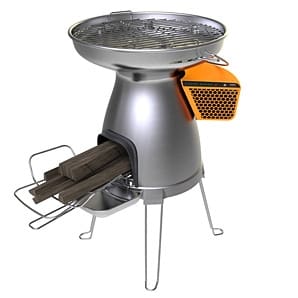 Back in the day when enjoying the outdoors we were content with a campfire, some food to grill, booze, and good companionship. Since we have become reliant to our electronic gadgets we need more sophisticated gear than some matches and a blanket to chill on.
The BioLite BaseCamp is geared towards our modern age and demands. With it you can cook on wood and generate electricity too. What's more to like than enjoying delicious wood smoke flavored foods while never having to worry your iPhone battery dies?
Off-grid living is a trend that makes total sense. It's just smart to be able to be independent and self-sufficient and this portable BaseCamp stove fits perfectly in this tendency.
You can either grill up to 13 inch foods or cook water while it generates enough electricity to charge a laptop. Featuring a battery for energy storage you will be able to use its USB port to charge devices when the fire does not burn too.
The winner of the "Best New Gear Award 2014" will be released to stores this fall. Go back the Kickstarter campaign now.