Working from home can be a messy business. Those without an office set up often find themselves cluttering up the kitchen or coffee table with notebooks, electronics and random junk.
Pretty soon, your entire house is your office, and it's just as messy as you imagined it would be. The Big Baggy chair cover knows your pain, and it's here to help you get a handle on your household clutter.
The Big Baggy is like a door organizer for chairs.
It fits over your dining room chair to provide cozy pockets for all you accessories and potential trash piles.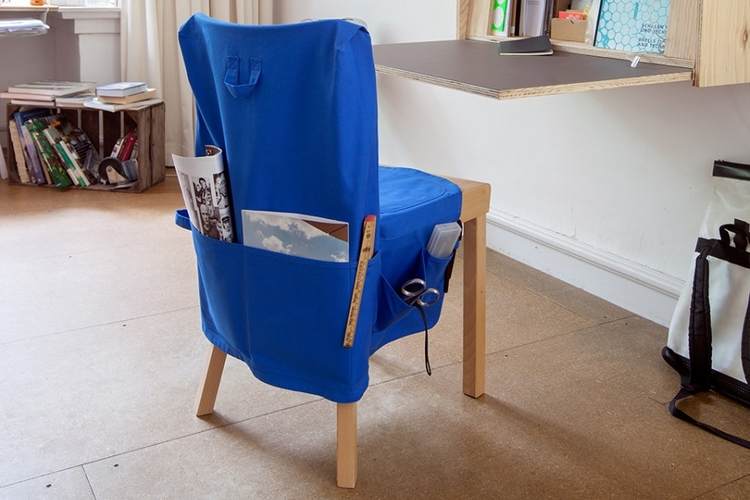 The Big Baggy can fit over office chairs and more to provide you with storage for all your supplies, leaving your kitchen table or side table clear and your accessories organized.
There's even room for your laptop if you want to take a break from work and play a few games on your tablet.
This product may initially seem like a gimmick. It reminds somewhat of the Snuggy, the blanket with arm holes that allows couch potatoes to keep their hands free to shove snacks in their mouths while laying lethargically draped the couch. But don't be fooled.
This is actually a really useful gadget for anyone experiencing desktop clutter.
The elderly or those who are recovering from illness or surgery can benefit from Big Baggy too. By keeping their remote control, pill box, glasses, and phone in reach the need to get up is reduced.
Or what about tiny house dwellers and inhabitants of small homes in general ? They can use all the clever space hacks available.
The Big Baggy makes for a great companion when you're reading your morning paper; just slip it out from the side pocket, unfold it, and put it back when you're done. The next time you want to read it, it's right there waiting for you, no searching required.
Big Baggy lets you make use of otherwise unused storage real estate.
Last Updated on December 1, 2016 by Tyler