You may not realize it but your toothbrush could be a hazard of bacteria. And then we are not talking about oral bacteria only.
What about poop and swine flu bacteria? Not to mention viruses and other sickmakers. I always thought of toothbrush santizers as useless quirky gadgets for health freaks and germophobes until I found out about this.
Besides your mobile phone and keyboard your toothbrush may be a faecal hotspot and a breeding ground for E.coli and other bacteria. As this PubMed study shows.
Among most people it is common practice (and courtesy to other bathroom users) to close the lid before flushing. Aerosolization has shown to occur when a toilet is flushed.
The aerosol effect, tiny airborne particles with big impact. Every time after flushing the toilet they spray the bathroom. Moist surfaces become bacterial hotbeds.
However the popular TV show Mythbusters found that bacteria from feces can be found everywhere. Even when you put your toothbrush away in a cabinet. Or, even more surprisingly, in another room.
Of course closing the lid and keeping toothbrushes and water glasses not too near to the toilet isn't enough. Sanitizing with UV technology sure improves the overall cleanliness of your dental appliance.
Generally it is not recommended to leave toothbrushes exposed in the bath room. Since cabinets are dark and moist (breeding grounds for bacteria) they are not a viable alternative.

 
Why a UV toothbrush cleaner?
A clean toothbrush may lower your risk on sharing a cold or the flu with family members. Dental professionals recommend to replace your toothbrush after you or family members have been sick however often this is omitted.
Harmful bacteria may be living on your brush potentiallly causing stomach issues, gum disease, ulcers and other bacterial infections. Which is why doctors sometimes recommend patients to get a tootbrush sanitizer.
Which brand and model should you buy?
According to dental organizations it's important to do some consumer research. Reading reviews is essential when deciding on a brand and model since many devices show to churn through batteries, have short life-spans, or are just plain flimsy.
We checked out a wide range of models and indeed, many do not have good reviews. We listed the best devices we found here.
Violight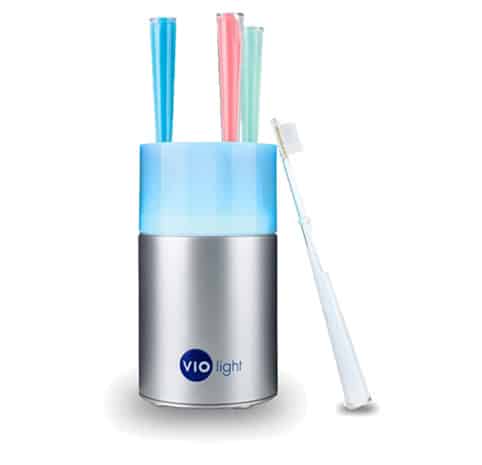 The by Philippe Starck designed Violight countertop can sanitize up to four toothbrushes at once. Got an electric toothbrush? No problem. The tiny brush of your kid? Fits in there too.
As all models the UV bulbs break down bacterial and viral DNA in between brushes. The Violight has an auto-shutoff feature. Comes in a travel and childrens version too.
$39.99 on Amazon.
Oral Stericlean Uv Portable Toothbrush Sanitizer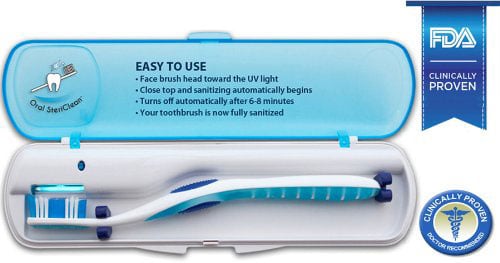 This travel-sized (or one person household-sized) sanitizer runs on batteries. It fits one brush and upon closing the lid the light starts to shine. It fits most sizes, has non-slip feet, is easy to use and is well-reviewed. Make sure to find out if it fits your bulky electric toothbrush too.
$19,95 on Amazon.
Oral Stericlean Uv Family Toothbrush Sanitizer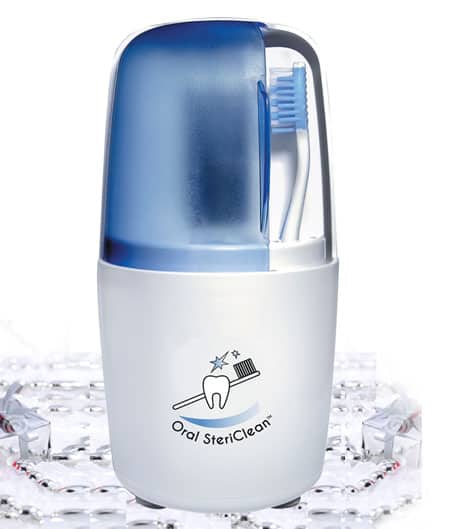 Disinfects the brush heads of four toothbrushes simultaneously. Is powered via a wall socket and fits all kinds of sizes toothbrushes. This device is clinically tested and recommended by dental and medical professionals. This is a FDA listed medical device and probably and most likely one of the best you can get.
$44,95 on Amazon.
Are there alternative ways of sanitizing my toothbrush?
You may wonder if you really need another device to ensure a clean toothbrush. After all, the less stuff you own the better can break down or need replacing. We found that there are alternatives although most of the time not as convenient, especially when on the road.
Research shows that a 20 minute mouthwash soak or another anti-microbial rinse is very effective at cleaning your toothbrush too. However this takes effort and in time this method may proof costlier than the setback of purchasing a UV sanitizer. Also storing it in 3% hydrogen peroxide and white vinegar are ways to keep your toothbrush clean.
Putting your brush in the microwave oven for 1 minute "completely eradicated life" found on toothbrushes in studies. Downside here is that you have to take your toothbrush with you to the kitchen and back to the bathroom again as well as have it cool down before you can use it.
Conclusion
Although most ultraviolet light sanitation devices aren't able to kill off all of the microbial life they come a long way killing up to 99,99% of the bacteria and fungi. Apart from that they are really convenient.
UV Technology zaps your toothbrush almost completely free of germs. They are easy to use and if you pick the right one it will give you piece of mind for years to come. And hopefully prevent an illness or two.

 
Less well-reviewed brands and models
There are various models and makes availble. Sadly most are not recommended.
The models we took a look at and deemed unworthy of mentioning here are, Zapi, iTouchless, BriteLeafs UV Ultraviolet Family Toothbrush Sanitizer, Pursonic S2 Toothbrush Sanitizer, Verilux CleanWave UV-C Portable Toothbrush Sanitizer
Last Updated on January 28, 2015 by Tyler