A portable, personal air purifier can improve quality of life to a considerable extent. They can prevent all kinds of issues, from breathing problems, to bloodshot eyes, a runny nose, or getting the flu.
On top of that they offer peace of mind that harmful pollutants and allergens are being filtered before they enter your lungs.
You might need an air cleaner for your commute through downtown smog, your hotel room, or to simply to move around the house, the dorm room or office.
Perhaps you work in a factory or near a power plant or are sensitive to mold and mildew. In any case, here's a collection of various types of popular, well-reviewed devices.
 6 Types of Portable Air Purifiers
---
1. The portable air purifier with HEPA Filter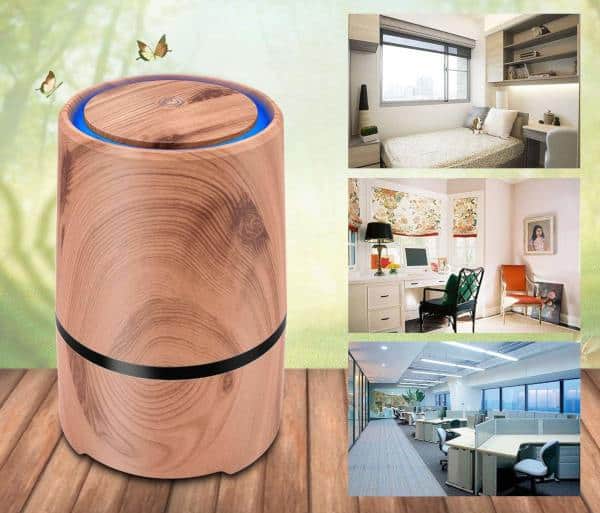 Despite its humble size this air cleaner features a true HEPA filter. Meaning that it's able to remove 99.97% of air pollution. It absorbs dust, germs, particles, pollen, mold, odors, and smoke.
Whether you want to clear up the air because your stoner neighbor's pot smoke is drifting in your apartment. Or because you want to clear up cigarette smoke smell from your own guilty pleasure. Perhaps Fido and Fluffy's pet dander acerbates your allergy symptoms. After all, the best (portable) air purifier for allergies is one with a HEPA filter.
Whatever your personal situation, this modest sized device will pretty much do it all without releasing ozone. Keep in mind that because of its size it's suitable for smaller rooms and spaces (covers approx. 108 sq. ft.). In larger spaces, make sure to keep it close for it to work effectively.
Its HEPA filter traps airborne particles as small as 0.3 microns. Nice extra feature: the DHS Desktop Air Cleaner with True HEPA filter has a cotton wick which lets you add essential oils.
2. The eye-pleasing ultrafine particle air purifier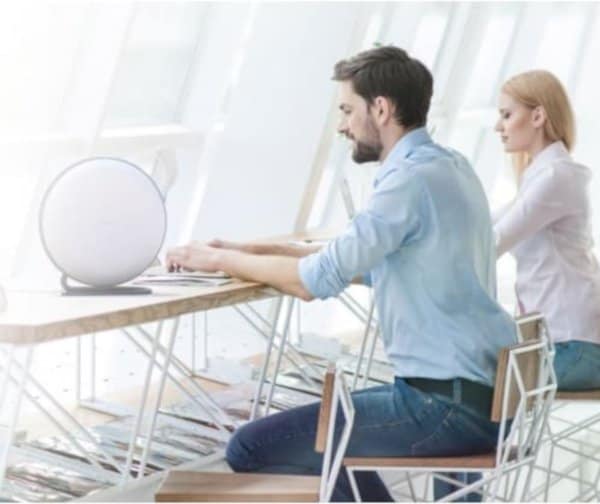 HEPA air purifiers typically filter particles 0.3 microns in size or larger such as dust and mold spores.
IQAir's Atem high end personal air purifier with HyperHEPA Filter technology goes the extra mile as it traps hazardous ultrafine particles (down to 0.003 microns).
Research has found that ultrafine particles (UFPs) are "especially hazardous as they can penetrate deep into the respiratory system." These particles measure less than 100 nm (0.1 µm /0.1 microns) in diameter.
UFPs are omnipresent in urban air, traffic, and near airports. Indoor exposure comprises particularly of cleaning activities, cooking on gas and electric stoves, tobacco smoke, candle burning, and operating small appliances such as electric mixers, curling irons, and hair dryers.
With ultrafines being so ubiquitous, a portable air purifier that captures these perilous particles can make a huge difference for those with allergies and asthma.
The IQAir Atem conveniently fits in a carry on, syncs with a smartphone app, and is sufficiently powerful to bring clean air to your personal breathing space.
3. The air purifier necklace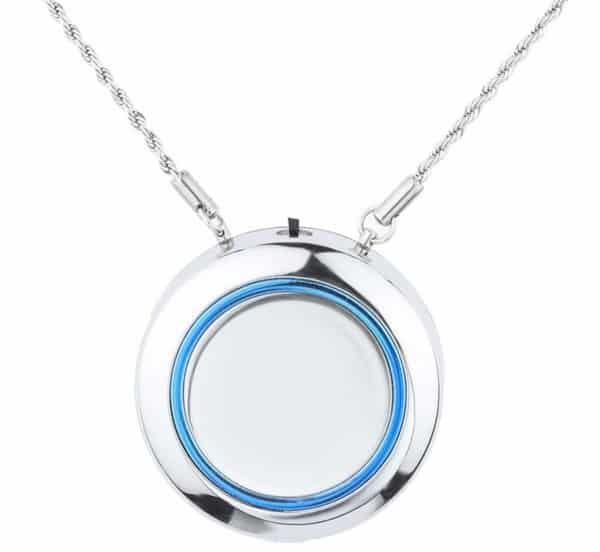 Looking for a discrete portable air purifier? Keep your personal air freshner close to the chest by opting for a little device you can wear around your neck. Nosey peers are likely to think you're simply wearing a pendant which will save you from having to explain about your allergies for the gazillionth time.
The Woolala air purifier necklace offers a stealthy solution to dealing with smoke stench so you can breathe easier and worry less about your health when visiting that chain smoking friend.
You won't reap the benefits of a true HEPA filter with this one, but adding it to your everyday carry, certainly adds to efficacy too.
4.  The electrostatic travel air purifier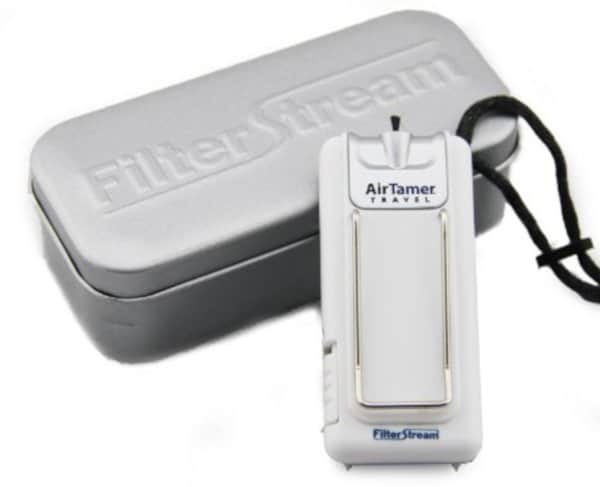 Want to avoid catching a virus during air travel, in the subway, from coughing coworkers or sneezing school kids? You could head to work donning a surgical mask like East Asians tend to do but frowns would be your part. You might find it uncomfortable too.
Whether it's to catch your breath during fire season. To discretely cope with your perfume splashing coworker who's spawning an assault on the senses. Or just because you've got allergies. The AirTamer A302 generates a 3-foot radius of fresher, healthier air around your neck protecting you against foul odors, dust, germs, smoke, you name it.
Since it uses electrostatic purification it generates healthy negative ions. It has no fans and filters.
Do keep in mind that Consumer Reports warns that "portable models that use ionizer technology could produce some ozone, a lung irritant". AirTamer informs that their devices produce no measurable amounts of ozone as a byproduct and that they can be safely used continuously. AirTamer's products "comply with U.S. government limits for acceptable levels of ozone (less than 50 parts per billion of air circulated by the unit)".
Note. Newer versions are available but this model seems to offer the best bang for your buck.
5. The smart portable air purifier with air quality tracker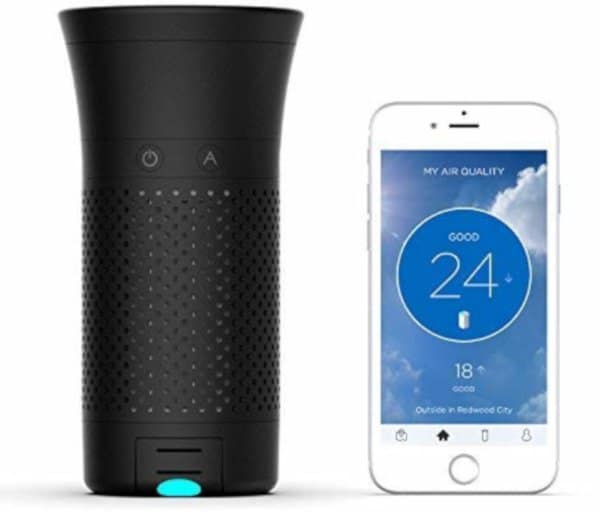 Don't be fooled by its modest size, this water bottle sized air purifier delivers. Thanks to patented-technology developed by MIT alumns it churns out over 9 liters of clean air per second. This lets you continuously breathe clean air within 3 feet of the device.
Besides powerful, it's a versatile beast as it comes with an air tracker to monitor your environment and smartphone app to control the device from anywhere. Conduct air quality monitoring wherever you go.
Use it while driving on the smoggy highway, among coughing airplane passengers, in the baby room, the baby stroller, or a moldy smelling hotel room. The travel-ready Wynd Plus helps asthma sufferers move with more confidence reducing the need to grab a rescue inhaler.
6. The portable industrial air purifier: commercial ozone generator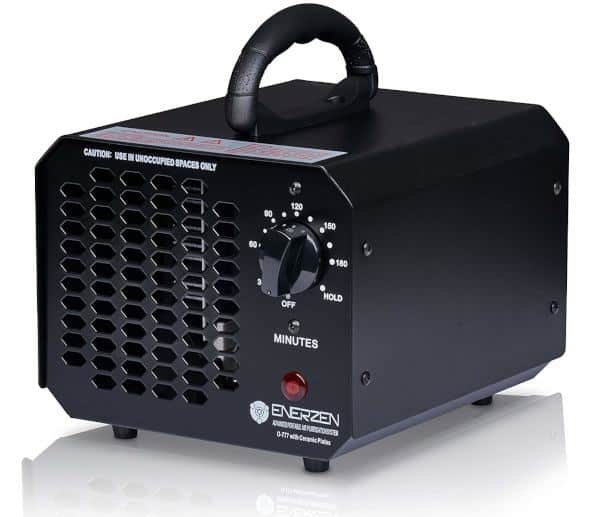 A little air purifying gizmo you wear around your neck or carry with you like a water bottle can be a lifesaver, but sometimes you need to bring out the heavy artillery.
You might need a heavy duty air purifier with superior filtration effectiveness for a job site, home, commercial building, a car or boat. For instance to get rid of persistent mildew smell or to clean up the air during and after a fire restoration.
In such situations an ozone generator is commonly recommended as the go-to solution. These machines thoroughly remove odors by emitting concentrated ozone (O3) in large amounts which breaks down airborne odors.
Do note that, contrary to the aforementioned portable air purifiers, you do not use a commercial ozone generator to freshen up air in your proximity. Ozone generators must be operated in unoccupied spaces.
The portable Enerzen Industrial Ozone Generator is lightweight yet powerful enough to effectively treat spaces up to 4000 square feet erasing pretty much any foul odors caused by cooking, dust, chemical cleaning, pets, cigarette smoke, fire and smoke damage, water damage, mold and mildew. It also helps to retard and eliminate mold, mildew, and fungus growth.
Note: keep in mind that even the most top end HEPA air cleaners generally do not filter tobacco smoke. They may get rid of the smell but not of the unhealthy pollutants. This because tobacco smoke consists of both particulate matter and gaseous pollutants. Only specifically designed devices such as those with activated carbon filters are able to trap those gases.
References
Experimental Study on Ultrafine Particle Removal Performance of Portable Air Cleaners with Different Filters in an Office Room. Source: PubMed.
Ultrafine Particles, why the concern about something so small. Source: Abatement.com
Last Updated on December 6, 2018 by Tyler