Looking for the best fireplace cabinet to fire up the atmosphere of your living room? Here's a selection of the top rated, best reviewed models on the market.
Fireplace cabinets vary in price from about $200 to almost $1000.  Some have an eye-catching style which makes them the focal point of the room, while others are so simple that you wouldn't notice them unless they were turned on.
Many faux fireplace TV cabinets are designed to double up as media consoles, but they can equally be used as sideboards or storage. The most expensive part of the set-up is the fireplace insert, and that's what varies the most between models.
Lower-priced cabinets usually have a basic fireplace with on-off settings. Sometimes you can control the heat and flames separately, so there's the option to have a fireplace effect without heat on warm summer nights, or heat without light when you're watching a movie.
Spend a little more money, and you may get a remote control to turn the fire on and off, which is great if you're relaxing on the sofa and don't want to get up.
Some prestige models have a thermostat and specific temperature controls, so the heater will cut off automatically once the room reaches a certain pre-set temperature.
This is a useful feature if you're planning to leave the fireplace unsupervised – for example, if you turn it on when you leave for work to heat the house for your partner. If you only plan to use the unit when you're in the same room, you may find that a cheaper model without thermostat works just as well for your needs.
Best cabinets with built-in fireplace
---
1. Extra-long cabinet with glass-fronted doors
58″ barnwood cabinet with built-in electric fireplace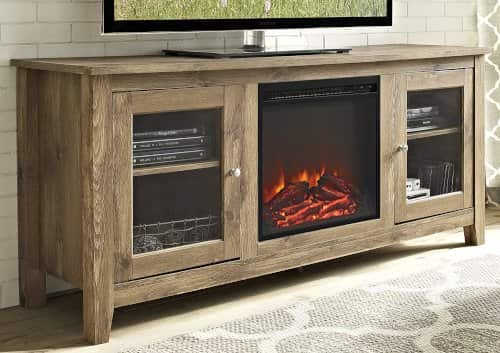 This cabinet with built-in fireplace has wide glass-fronted cupboards for media storage, so you can quickly find the game or DVD you're looking for.
It comes in a variety of different colors, from traditional brown wood to modern grey wash, and the simple design will fit easily with most styles.
One useful feature is that this cabinet with fireplace insert allows the fireplace display to be controlled separately from the heat, so you can enjoy romantic firelight even on warm evenings without roasting yourself.
An inbuilt fan helps the heat to circulate evenly and the glass remains cool to the touch, so there's no risk of harm to kids or curious pets. This fireplace is designed to heat rooms up to 200 sq ft (18 sq m), making it a good choice for smaller homes.
Unlike most of the other fireplace cabinets we looked at, this one doesn't double up as a multimedia console.  It has storage either side of the fireplace, and space on top for a TV set, but there's no separate shelf to hold a games console or DVD player. Naturally, you can house your Xbox or other consoles in the side cabinets.
2. Compact fireplace cabinet with rustic wooden doors
rustic electric heater up to 50″ TV Console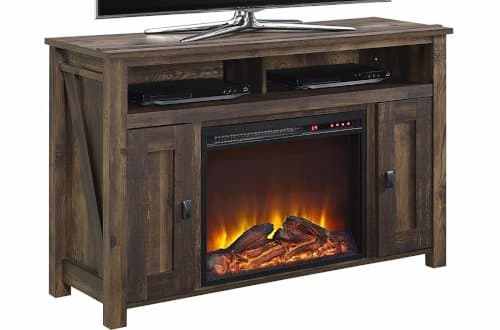 The fireplace in this cabinet can be controlled by remote, and the temperature settings are extremely precise. It's designed to heat a room of up to 400 sq ft (37 sq m) to between 72 and 82 degrees, and works great to take the chill off a room in the early morning. 
At 47" wide by 16" deep, it's fairly small and will fit easily into most homes. The large 23" fireplace takes up much of the width, so the cupboards at each side are narrow and there's not much storage space. 
It's well-finished inside and out, which means you can choose not to install the barn-style cupboard doors and it'll still look good with open shelves.  
The one big downside of the Ameriwood Home Farmington is that it's fiddly to put together. The manufacturer recommends two people for assembly, and most buyers report that it's still taken them a couple of hours to put together. 
With over 100 fiddly little screws to put in, a power drill will make assembly go a lot quicker.
3. Vintage-style electric fireplace with storage
best value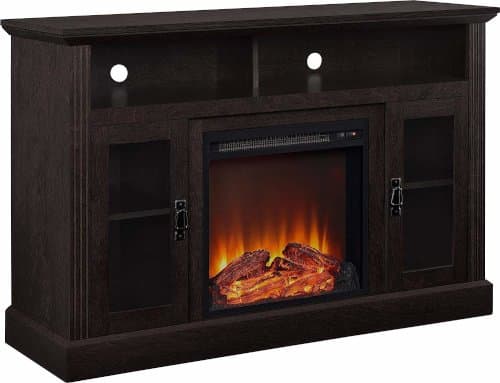 This simple cabinet with built-in fireplace holds TVs up to 55", with glass-fronted cabinets for storage and a divided shelf to hold games consoles or DVD players. 
At just over $200, the Ameriwood Home Chicago is one of the best value fireplace cabinets on the market, and it's good quality for the price point. For example, the back is a proper piece of solid MDF, not the flimsy cardboard-like layer which you often find on even expensive furniture.
There's the option to turn on the heat and fire separately, so you can have one or the other or both. The heating option is a simple on/off switch and with no thermostat, so it will keep on pumping heat into the room until you turn it off manually.
Note that there are two very slightly different versions of this model, one which comes with a remote and one which doesn't. 
If you know you want to operate it from a distance, make sure to contact the manufacturer before ordering and check whether the model you want comes with a remote.
4. Mid-century modern cabinet for extra-large TVs
for TVs up to 70″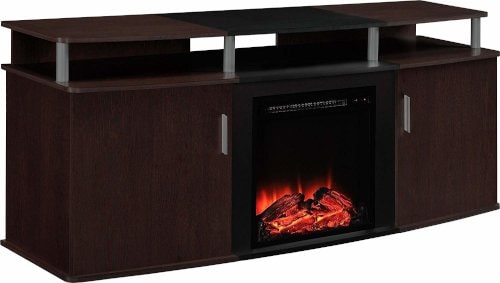 If you've got a huge TV, this extra-wide fireplace has the biggest capacity we've seen. It can hold TVs up to 70" across and a maximum weight of 135lb.
With a dark cherry wood finish, chrome accents, and a curved front profile, it has an unusual mid-century styling which makes it stand out. 
At 63" wide, it'll be a focal point of whatever room you put it in.The firebox insert is relatively small, at 18" wide, which means there's plenty of storage space in the side cupboards and open top shelf. 
Despite the relatively small size of the heating element, it can quickly heat a room up to 400sq ft (37 sq m) and the LED lighting in the fireplace is designed to last 50,000 hours.
If you choose the Ameriwood Home Carson, however, make sure that you check it carefully on delivery. A few customers have reported their cabinets being delivered damaged or with the wrong parts – two left doors, scratched laminate, or essential components which have come loose in shipping and are rolling around in the box. 
The manufacturer is usually quick to replace any parts which have been damaged in transit, but it's annoying nonetheless.
5. Solid-wood fireplace cabinet with glass-front doors
high-end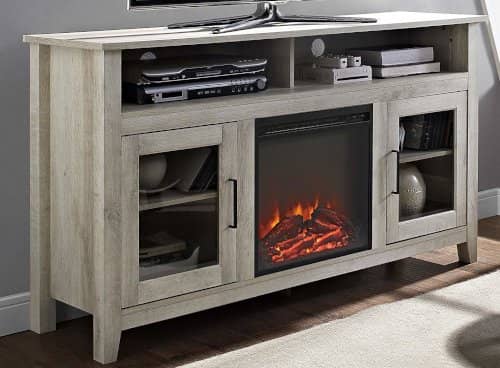 This high-quality cabinet by WE Furniture is made of sturdy solid wood with a choice of several different finishes. An unusual touch is that the fixtures and fittings – handles, brackets, and hinges – are different depending on the finish you order. 
The black cabinet comes with modern silver knobs and black hinges which are camouflaged against the surface; the oak finish has contrasting black handles and feature brass hinges.  It's also fairly easy to assembly.
Like all the models we looked at, there are a lot of component parts to fit together – but users say that the instructions for this model are especially clear and easy to follow, so the assembly takes time but not effort.
The heat and flames can be controlled separately, so you have the option of warmth or light or both. However, there's no remote or thermostat, so you may find you have to get up halfway through the movie you're watching to turn it on or off. 
As this highboy fireplace media console is one of the more expensive models on the market, it's a shame not to be able to control it remotely.  
6. Low-rise black cabinet with fireplace insert
less is more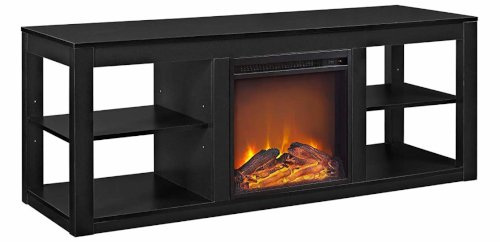 This cabinet with fireplace insert has shelves open on three sides, closed on the fourth by the edge of the central fireplace insert.

There are multiple options for how to fit the shelving on each side, so you can fit the shelves at different heights or even leave out the central shelves to make room for speakers. 
The finish is smooth black laminate, which fits well in modern homes. This model is especially popular with renters, since it heats a small room quickly and is light enough to easily transport when you move.  
It's very low to the floor – about 22" high, compared to an average of 30" for most similar models – making it just the right height to use with a very large TV. 
It's designed to hold up to a 65" flatscreen. If your TV is on the small side or your couch is high, you might prefer to mount the TV on the wall above rather than put it directly on top of the unit. Check the current price of the Parsons electric fireplace TV cabinet.

7. Cottage-style wood cabinet with cross-beamed doors
romantic look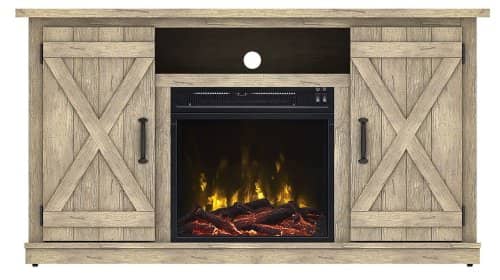 At 47" wide and 27" high, this cabinet with fireplace insert is one of the smaller models on the market. It holds TVs up to 55", but looks more balanced with smaller TVs – a 50" screen matches the width of the unit perfectly, and a 55" model overhangs very slightly. 
The cupboards have diagonal mullions on the barn-style doors, so between the compact design and the pastoral look it would fit perfectly in a country cottage.
You can choose not just the color of the finish but the style of the fireplace: both a traditional log-effect and a modern crystal style are available.
Unusually, the cupboards reach all the way to the top. So instead of having a long shelf that stretches across the whole width of the cabinet, there are two tall cupboards with a small shelf between them, above the fireplace. 
The shelf only has 4 inches of clearance so it's only suitable for holding one multimedia item – you'll have to choose between plugging in a Blu-Ray player or a cable box, for example, because the shelf isn't big enough to hold both. 
So if you're a keen gamer or a movie lover, you might prefer to choose a design with space for multiple consoles in lieu of Comfort Smart's Killian.

8. Barn-door cabinet with fireplace insert and brass accents
rustic relic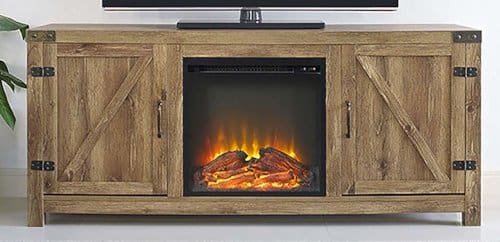 With handles and external hinges made of distressed brass, this fireplace cabinet has a warm antique style. The realistic-looking fireplace has cool-touch glass and can quickly heat a room of 400-500 sq ft (37-46 sq m). 
The shelf height is adjustable, so you can screw them in at whatever height works best for you, and doors open all the way around so it's easy to fit things in.  
Although this design is advertised as a multimedia stand, there's no top shelf to hold a DVD player and no holes drilled in the back for you to run cables through, so some owners prefer to use it as an electric fireplace with storage. However, with some minor hacking it'll be a full-blown entertainment system.

Alternatively, you can mount the TV on the wall above and put your games consoles or cable box on top of the unit. You can opt for heat radiation as well as flame effect, together or separately.

9. Modern black fireplace cabinet with glass door insets
sleek and contemporary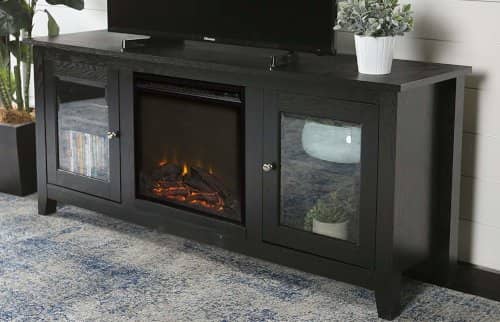 This black stand has classic square corners and a subtle matte finish, so despite its 58" length it will fit discreetly into any room. 
It can be used as a stand for any TV up to 65", but as it doesn't have a multimedia shelf to hold games consoles or cable boxes, you might prefer to keep your TV elsewhere and use this simply as a cabinet with built-in fireplace.
The glass insets on the cupboard doors are great for displaying much-loved trinkets, making this an ideal sideboard for displaying family photos or ornaments. (The glass also gives you nowhere to hide.
If you know you're the sort of person who shoves random junk into cupboards and calls it 'tidying', then a model with opaque doors might cause you less stress.) 
Manufacturer Home Accent Furnishings have a reputation for excellent customer service, so if you find yourself getting hot under the collar trying to assemble this piece, help is only a phone call away.
10. High-tech electric fireplace cabinet with storage behind louvre doors
last but certainly not least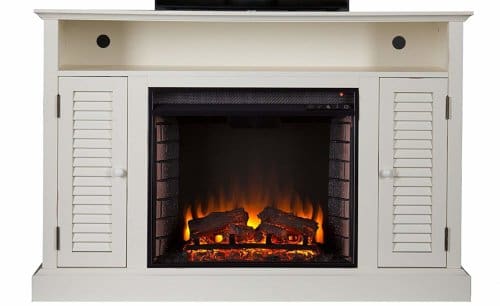 At around $500, this is one of the more expensive fireplace cabinets available, but the extra cost buys you brilliant quality.  
The fireplace insert on this model has some of the most precise controls on the market.  Plenty of models come with a thermostat and remote. Some even have a timer function.
The Southern Enterprises Antebellum electric fireplace cabinet is the only one we've seen which allows you to separately control the thermostat, timer, log brightness, and flame height. 
Temperature control is precise, with the option to heat a room between 62 and 82 degrees (at 4 degree intervals), and the 1500 watt heating unit can warm a room in minutes.
An automatic shutoff feature means you can safely leave it running even when you're not in the room.  The LED lights are long-lasting and energy-saving.
The louvred doors and off-white finish give the design of this entertainment center an antique style which won't fit into every home. 
But if you're looking for super-efficient heating and you like a farmhouse style, this is one of the best-quality models on the market.
Electric fireplace cabinet benefits
---
We hope to have helped you out with the above top 10 list in case you're wondering; What's the best fireplace cabinet? Are fireplace TV stands safe? Where to buy a fireplace with cabinet on one side? 
Here are some additional things to consider before making a purchase. Mainly regarding the benefits of these devices.
Everyone loves the romantic look of a flickering fire, but nobody enjoys clearing out the grate. Real wood fires are hard work. They need regular refueling, they spray black smuts all over the room, and they make your home smell like a BBQ.
Gas fires are a popular alternative, but they need to be professionally fitted, and can release dangerous carbon monoxide if not carefully maintained.
For all the warmth and appeal of a real fire with none of the hassle, consider getting a cabinet with fireplace insert. The electric fireplace can warm a room in just a few minutes, and the storage saves space in the room.
They're a fantastic way to save money on your heating bill, since electricity is the cheapest and most eco-friendly way to heat a large space. Rather than warming up the whole house with power-hungry central heating, you can warm only the room you're currently sitting in.
Last Updated on April 8, 2021 by Tyler