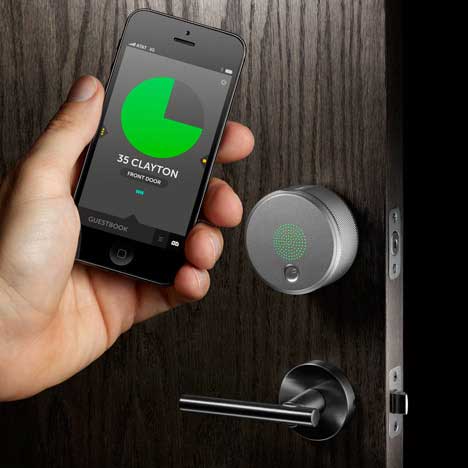 Door lock and access system with virtual keys. With the associated app you can send invitations to grant entry to your uncle or the cleaning lady.
August Smart Lock provides you with real time info on who enters or leaves your place as well as how long they stay. You'll get a message like, "Bill the plumber has closed the front door lock." You can also set it to automatically lock the door when it closes behind you.
Benefits of the keyless lock; no more having to ask your key back. No more hurrying home to let your early arrived friends in. No more searching for your keys with your hands full with grocery bags (August detects it's you and opens without any effort from your side).
August Smart Lock is placed over your existing deadbolt in less than ten minutes. The lock uses the same secure communications technology used by financial institutions for online banking.
A bit about door lock safety.
An often posed question is, aren't electronic locks unsafe because of the risk of hackers getting access?
Fact is that hacking a smart lock such as August still requires considerably more effort than picking a conventional lock or breaking a window for that matter. Door locks in general in our homes do not guarantee safety and many expensive conventional locks turned out to be easier to pick than more simple and affordable ones. As one experiment with a former burglar showed. That's why security experts recommend installation of a good alarm system.
Last Updated on March 27, 2014 by Tyler