Last Updated on February 10, 2017 by hobbr.com
Every year, more than 350,000 people are robbed. Especially on holidays. Even though they are only standing a few feet away. Let alone when they need to leave their belongings for a short while.
Typical places where bags are stolen or plundered are in cafes when tourists put them down at their feet, or when they leave them out of sight.
Oftentimes thieves don't even take backpacks themselves but just grab prized possessions such as wallets, cameras or smartphones out of them.
Option Pack is the nation's first knife-proof, plier-proof, waterproof bag cover on the market.
With the ability to expand to the size of a backpack, this bag cover collapses if you only need clothes for the gym, and expands if you need clothes for a long weekend getaway, providing as much room as an oversized backpack.
The length-adjustable straps enable contouring to any body size without compromising the size of the storage, and is convenient enough to take anywhere.
Whether you need a waterproof place to store your beach items, a secure place to stash your gym belongings, or a knife-proof bag for walking around the city, Option Pack will provide you with the strongest, most durable theft-proof design on the market.
Great for the beach too. When dogs pee on your bag at least your clothes don't stain yellow and reek.
Protection never felt so easy.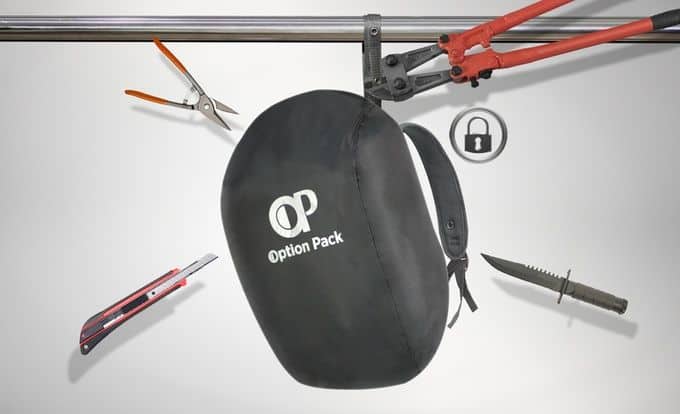 Back this project on Kickstarter.